*DISGRACE! – National debt hits $21 trillion:
The national debt exceeded $21 trillion for the first time on Thursday, a little more than six months after it hit first $20 trillion on Sept. 8. The national debt was $21.031 trillion on Thursday. The government releases total debt figures each business day, but it lags by one day. Federal borrowing has been on the rise again since February, when Congress passed legislation to suspend the debt ceiling. That move allowed the government to borrow as much as it needs to fund the activities approved by Congress.

*JITTER NATION – Americans are drinking a daily cup of coffee at the highest level in six years:
The number of Americans drinking a daily cup of coffee is at the highest level since 2012, with demand continuing to get a boost from at-home consumption and gourmet drinks, an industry study showed on Saturday. Sixty-four percent of Americans age 18 or over said they had a cup of coffee the previous day in 2018. That compares with 62 percent in 2017 and was roughly on par with levels last seen in 2012, according to results of a survey commissioned by the National Coffee Association (NCA) released during the group's annual meeting in New Orleans. The survey underscores a strong U.S. market for the caffeinated beverage even as demand for soda and juice continues a years-long decline. Coffee, bottled water and tea have been major growth categories in recent years, the survey showed.

*Trump Calls McCabe Firing 'A Great Day for Democracy'
President Trump rejoiced in the dismissal of deputy FBI director Andrew McCabe late Friday, calling the move "a great day for democracy." The president posted a celebratory tweet on the news shortly after Attorney General Jeff Sessions dropped the bombshell that McCabe would be terminated prior to his planned retirement, a move likely to deprive him of retirement benefits. Describing McCabe's ouster as a "a great day for the hard working men and women of the FBI," Trump also used the opportunity to take a shot at ousted FBI director James Comey, who he said "made McCabe look like a choirboy." The firing triggered alarm among many who fear McCabe was booted to appease the president and undermine special counsel Robert Mueller's Russia investigation. Former CIA director John Brennan was among those to see red flags in the move, accusing Trump of "scapegoating" McCabe on Saturday. "When the full extent of your venality, moral turpitude, and political corruption becomes known, you will take your rightful place as a disgraced demagogue in the dustbin of history," he wrote on Twitter.

*China's Xi Jinping Reappointed President Indefinitely
Chinese leader Xi Jinping was reappointed on Saturday with no term limits. The National People's Congress unanimously voted in favor of the move, just a week after the legislature approved a constitutional amendment scrapping presidential term limits. Xi ally Wang Qishan, who previously led anti-corruption efforts, was appointed to the post of vice president and will also be allowed to rule without term limits. Xi has been compared to dictator Mao Zedong for his recent consolidation of power, and critics warn his indefinite rule will lead to further political repression and human rights violations. After receiving a standing ovation on his reappoint Saturday, Xi vowed to "strenuously struggle to build a rich, strong, democratic and civilized" country in his next term.

*RATCHETING UP – Russia Escalates Skripal Spy Row: Shuts British Council and Expels 23 Diplomats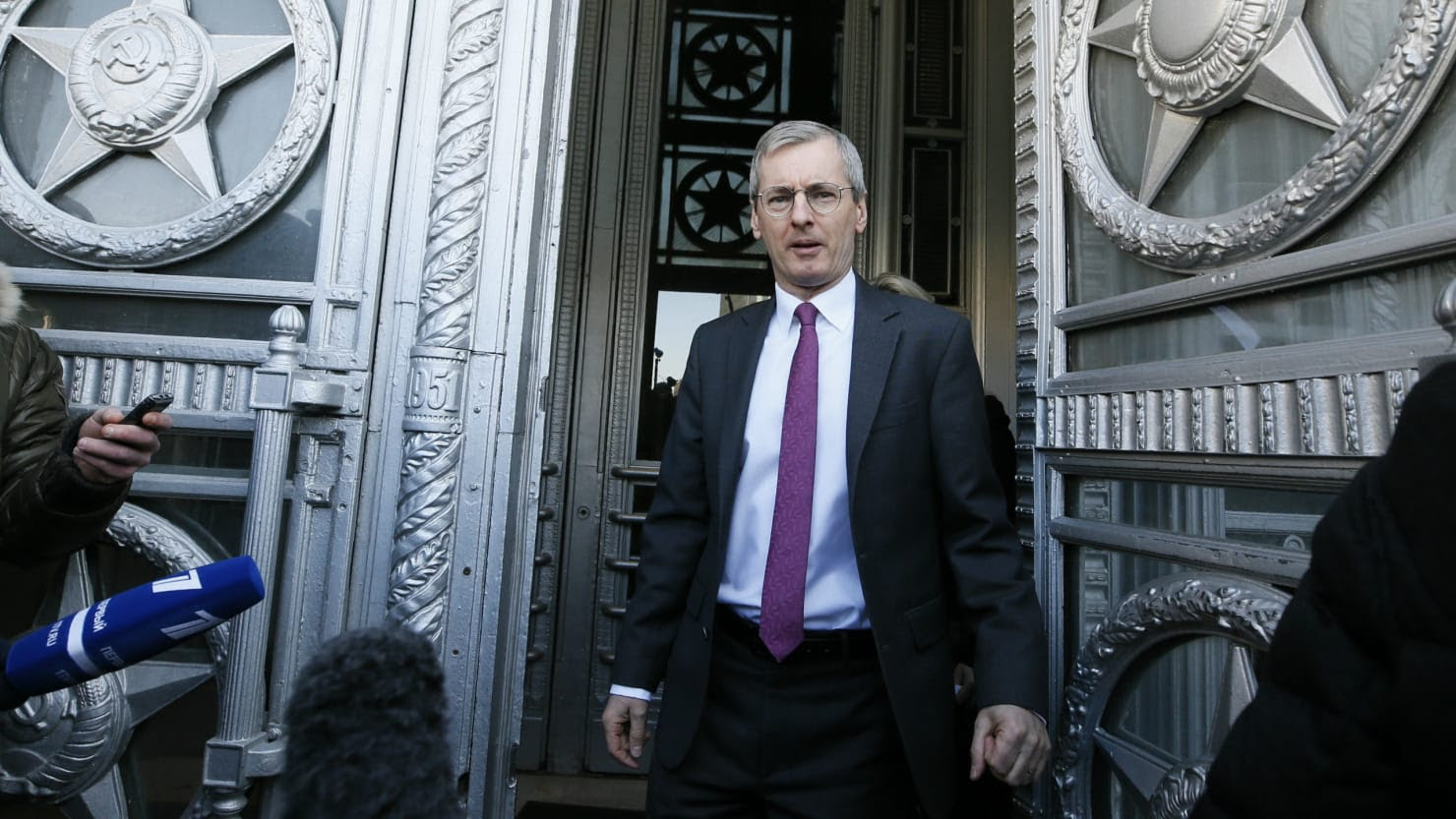 Russia's Foreign Ministry on Saturday ordered the expulsion of 23 diplomats and the closure of the British Council, a government organization fostering cultural and scientific cooperation. The tit for tat expulsions were expected in retaliation for British Prime Minister Theresa May's expulsion of 23 Russians earlier this week. But the shuttering of the Council, which is seen as a key outreach program by Britain, amounted to an escalation of the latest fallout between the two countries. A former Russian spy, Sergei Skripal, was poisoned along with his daughter on British soil with a nerve agent that Western governments say must have come from Russia. Moscow summoned British ambassador Laurie Bristow on Saturday morning to announce the retaliatory measures before warning in a statement that further action could be taken against Britain if its government makes any more "unfriendly" moves toward Russia.

*THINK FREELY – READ LBN: Now you can share LBN with your friends, family, and associates. Simply tell them to go towww.LBNElert.com and sign up (if they've got the guts) to receive.
*UMBC Beats UVA, Becoming First 16 Seed to Defeat No. 1 Seed
The University of Maryland, Baltimore County on Friday evening became the first-ever 16-seed men's basketball team to ever upset the first-ranked team in the NCAA tournament. The UMBC Retrievers absolutely dominated the No. 1 seed University of Virginia Cavaliers, making them look positively outmatched on most fronts. Thanks to a 17-3 run to open the second half, UMBC crushed UVA by a 74-54 margin. The Cinderella story will continue Sunday night when UMBC faces No. 9 seed Kansas State University, fresh off a victory over eight-seed Creighton University.

*Florida Bridge Engineer Reported Cracks Just Days Before Collapse
An engineer with the company that was in charge of a Florida pedestrian bridge that collapsed this week, reportedly told state officials that there were cracks two days before it collapsed. The engineer allegedly left a voicemail for an employee at the Florida Department of Transportation but the employee was reportedly out of the office and only got the message on Friday, after the bridge had collapsed and killed at least six people. The company did not consider it a safety concern though, according to the message left.

*PLOT THICKENS – Gawker-Killing Lawyer Charles Harder Repping Trump in Stormy Daniels Case
A team of lawyers representing President Trump requested on Friday that a suit filed by an attorney representing adult film actress Stormy Daniels be moved from state court to federal court in California. Included in the group, in addition to long-time counsel Michael Cohen, is Charles Harder, best-known for representing Hulk Hogan in a case that resulted in the bankruptcy of news outlet Gawker. Harder has also briefly represented Harvey Weinstein and Trump's son-in-law Jared Kushner in recent instances.

*Snapchat Down $800 Million in Value After Rihanna Criticism
Rihanna knocked nearly $800 million off Snapchat's market value Thursday after publicly condemning the social-media app. The parent company's stock dropped 3.6 percent following backlash it received for posting a "Would You Rather" advertisement that encouraged watchers to choose between "Slap Rihanna" or "Punch Chris Brown." Rihanna experienced domestic violence at the hands of Chris Brown in 2009, in a grisly, highly publicized incident that landed her in the emergency room. "I'd love to call it ignorance, but I know you ain't that dumb! You spent money to animate something that would intentionally bring shame to DV [domestic violence] victims and made a joke of it!!!" the singer wrote on her Instagram story Thursday. "Shame on you. Throw the whole app-oligy away." Snapchat responded, saying that the "advertisement is disgusting and never should have appeared on our service." This comes after the app's stock also tanked after Kylie Jenner criticized its new update on Twitter last month.

*Terry Gilliam says #MeToo movement has morphed into 'mob rule': 
Director Terry Gilliam is speaking out against the #MeToo movement, saying that in Hollywood, "mob rule takes over; the mob is out there, they are carrying their torches and they are going to burn down Frankenstein's castle." In an interview with AFP on Friday, the filmmaker, a member of the comedy group Monty Python, specifically went after Harvey Weinstein's alleged victims, and said, "Harvey opened the door for a few people, a night with Harvey — that's the price you pay." "It is a world of victims. I think some people did very well out of meeting with Harvey and others didn't," he added. "The ones who did, knew what they were doing. These are adults; we are talking about adults with a lot of ambition." Gilliam also claimed that some of the women didn't actually suffer, but used Weinstein to further their careers, and that he knew women who walked out of meetings with the mogul before getting sexually abused. The "Brazil" and "12 Monkeys" director also defended Matt Damon, who received public backlash in January for suggesting there were levels of sexual harassment, saying that touching someone's butt is different than rape. "I feel sorry for someone like Matt Damon, who is a decent human being," Gilliam said of those original statements. "He came out and said all men are not rapists, and he got beaten to death. Come on, this is crazy!"

*Money Doctor Neil Gallagher, Acclaimed Financial Retirement Planner, Speech Draws Raves at Brown University Forum
On Thursday, March 1st, 2018, Neil Gallagher, President and CEO of the Gallagher Financial Group, spoke at The Executive & Entrepreneurial Leadership Forum at his alma mater Brown University to rave reviews. Over a dinner attended by 50 student leaders and college varsity captains from around the country, Gallagher gave a speech on the topics of his success, failures, wisdom, and his faith journey in life. Gallagher also donated $1,000 to Brown University to put towards the event and the young leaders in attendance. Sponsored by the Cru (the Campus Crusade for Christ International in the U.S.) the forum was a smashing success, with one attendee Rob, a student senator from the University of Minnesota, saying "the quality and sincerity of Dr. Gallagher was what I liked best. Great advice! I enjoyed hearing his success stories as well hearing how he learned from his failures." Neil's motto is: "Life is for laugh'n, livin' n' loven' not for whinin' n' worryn'."

*LBN-VIDEO LINK:  Rent, Don't Buy! —  https://youtu.be/Oj2WNHNQSbM

*LBN-COMMENTARY by Lachlan Markay and Asawin Suebsaeng: Reporters gathered at the White House on Friday were stunned when Chief of Staff John Kelly shared a very embarrassing story about outgoing Secretary of State Rex Tillerson. The reporters were there with senior White House officials for an off-the-record meeting with Kelly, who was attempting to tamp down speculation about an impending administration staff purge.  According to those sources, Kelly recounted a very awkward conversation with Tillerson during which he informed the secretary that President Donald Trump would very likely soon fire him. The awkwardness was less a result of the contents of the conversation than its setting. Tillerson, Kelly told the room, was suffering from a stomach bug during a diplomatic swing through Africa, and was using a toilet when Kelly broke the news to him. Sources were stunned that, even in an off-record setting, Kelly would say this—to a room filled with White House officials and political reporters—about Tillerson, who does not officially leave the State Department until the end of the month.

*LBN-VIDEO LINK: Neighborhood Violence So Bad SF's Haight Residents Afraid To Go Outside —  https://youtu.be/APZgOyYMk_E

*LBN-COMMENTARY by Leonard Mlodinow:  Ten years ago, when my son Nicolai was 11, his doctor wanted to put him on medication for attention deficit hyperactivity disorder. "It would make him less wild," I explained to my mother, who was then 85. "It would slow him down a bit." My mother grumbled. "Look around you," she said in Yiddish. "Look how fast the world is changing. He doesn't need to slow down. You need to speed up." It was a surprising recommendation from someone who had never learned to use a microwave. But recent research suggests she had a point: Some people with A.D.H.D. may be naturally suited to our turbocharged world. Today the word "hyperactive" doesn't just describe certain individuals; it also is a quality of our society. We are bombarded each day by four times the number of words we encountered daily when my mother was raising me. Even vacations are complicated — people today use, on average, 26 websites to plan one. Attitudes and habits are changing so fast that you can identify "generational" differences in people just a few years apart: Simply by analyzing daily cellphone communication patterns, researchers have been able to guess the age of someone under 60 to within about five years either way with 80 percent accuracy.

*LBN-COMMENTARY by Bret Stephens: There aren't many certainties in politics, but here's one: Vladimir Putin will be re-elected to a fourth presidential term in Sunday's sham ballot. The larger question is what other elections can Putin win in the coming years. He's on a roll. The big winners in Italy's election this month — the anti-immigrant Northern League and the populist Five Star Movement — are highly sympathetic to Putin. Austria's young new chancellor, Sebastian Kurz, governs in coalition with the far-right Freedom Party, which in 2016 signed a contract with Putin's puppet political party, United Russia, to "exchange experiences" and "send delegations to each other." German elections in September saw gains for the far-left Left Party and the far-right Alternative for Germany. Both are popular with pro-Putin voters. The list continues: The Russia-friendly left-wing government of Alexis Tsipras in Greece, in power since 2015. The Russia-friendly right-wing government of Viktor Orban in Hungary, in power since 2010. Marine Le Pen's second-place finish in the 2017 French election. Donald Trump's second-place finish in the 2016 U.S. election. Then there's Britain. Putin won a victory in 2015 when Jeremy Corbyn — a man who in 2011 called NATO "a danger to world peace" — became leader of the Labour Party. Putin won a victory the following year with Brexit, which isolated the U.K. while accelerating the trend toward European disintegration.

*LBN-COMMENTARY by Robert Leonard:  As Democrats have fled rural America — or rural America has fled Democrats — many of them, living in cities, are left without an understanding of rural culture and its core values. If it isn't on abortion, our deepest cultural divide might be on guns. The guns issue also has a profound political dimension, reliably driving rural Americans into Republican arms. It's been many years since I hunted squirrels and rabbits with my Grandpa Leonard. I grew up around guns and remember the pride I had when I completed my N.R.A.-sponsored gun safety training in Boy Scouts, back when the N.R.A. was a group primarily known for teaching gun appreciation and safety rather than lobbying. I have come to understand and appreciate arguments for more gun control. But guns are important to the culture in my conservative community in Iowa, and people around here reject most gun control legislation. So I do my best to understand where they are coming from. One morning after the mass shootings in Parkland, Fla., I spoke about them with a police-officer friend. He has led active-shooter trainings in our schools. He believes that better background checks might help prevent some gun violence, and that people need to do a better job securing their firearms (especially from suicidal teenagers).

*LBN-A DIFFERENT VIEW:….
*LBN-OVERHEARD:   ***Though Aziz Ansari has largely remained out of the public eye since a Brooklyn photographer raised a sexual assault allegation against him, his former "Parks & Recreation" co-star Adam Scott said Ansari is doing OK. "I'll say this: Aziz is doing great," Scott told Vulture. "He's a great, lovely guy." ***Less than a year after Don McLean's domestic assault charge was dropped after the singer pleaded guilty in July 2017, the 72-year-old has found love with a 24-year-old aspiring model. The "American Pie" singer is romancing the vivacious Paris Dylan, who was at the center of one of MTV's "Catfish's" most elaborate episodes involving NBA star Chris "Birdman" Andersen. It's unclear how Dylan met her new beau, but she and McLean have been posting photos together on social media since November 2016.

LBN E-Lert Edited By Dan Gaylord