*SHAKE THINGS UP – READ LBN:
 Now you can invite your friends, family, and associates (if they've got the guts) by telling them to go to 
www.LBNElert.com
*Roseanne Barr Attacks Co-Stars for 'Throwing Her Under the Bus':
Roseanne Barr 
fired off another round of controversial tweets throughout the night in which she attacked the co-stars on her canceled show for "throwing [her] under the bus." Barr, whose revived series got the axe from 
ABC
on Tuesday
 after a racist post about former 
Obama
 staffer 
Valerie Jarrett
, lashed out at two of her TV children, 
Michael Fishman
 and 
Sara Gilbert
, in a string of furious tweets. In response to Fishman's statement about her "reprehensible and intolerable" tweets, Barr said, in eerily 
Trump
-like syntax: "I created the platform for that inclusivity and you know it. ME. You throw me under the bus. Nice!" Responding to Gilbert's tweet about her disappointment in Barr, the actress wrote: "Wow! unreal." Earlier in the night, Barr blamed her condemned tweets on the fact that she'd taken sleeping pill 
Ambien
.
*'Murdered' Russian Journalist Arkady Babchenko Alive, Faked Death:
Russian journalist 
Arkady Babchenko
 appeared alive and well at a press conference Wednesday, a day after he was reportedly slain. His death was faked as part of a 
Ukrainian Security Service
 operation, Babchenko revealed. The operation allegedly involved capturing Russian agents "who were trying to kill" Babchenko, 
NBC News
 reports. One person is reportedly in custody. "Special apologies to my wife. 
Olechka
, I am sorry, but there were no options here, Babchenko reportedly said during the press conference. "The operation took two months to prepare. I was told a month ago." Babchenko's death, which was said to have taken place 
on Tuesday
 night in Kiev, came as a shock in the region and the world. He is a "prominent correspondent who covered regional conflicts" and had left Russia last year after "receiving death threats and being denounced by pro-Kremlin politicians," 
The Moscow Times
 reports. "It's of course great news that Babchenko is alive," 
Russian Foreign Ministry
 spokeswoman
Maria Zakharova
 told 
Meduza
. "The shame is that this masquerade hasn't worked out in other cases."
*Trump: 'I Wish' I Had Not Picked Jeff Sessions for Attorney General:
In a series of tweets Wednesday morning, President Donald Trump publicly lamented his choice of Jeff Sessions to head the Department of Justice, saying he wishes he'd selected a different attorney general. Trump quoted Rep. Trey Gowdy (R-SC), who said he would feel "frustrated" if he were president and his attorney general did not share "reasons for recusal" prior to taking the job. "There are lots of really good lawyers in the country, he could have picked somebody else!" Gowdy said. "And I wish I did!" Trump added in his tweet. This comes as The New York Times reported on Tuesday that Trump asked Sessions to "reverse his decision" to recuse himself from the Russia investigation in March 2017.

*Kim Kardashian West to Visit White House to Discuss Prison Reform:
Kim Kardashian West will meet Wednesday afternoon with Jared Kushner to discuss prison reform, and might even meet with President Donald Trump himself, according to Vanity Fair. The summit is the result of months of backchannel talks between Kardashian and Kushner, who has also advocated for prison reform during his tenure as a senior adviser. The reality TV star has become a high-profile advocate for reform in recent months, after she began campaigning for the release of Alice Johnson, a 62-year-old grandmother serving life without parole for a minor drug offense. Kardashian is expected to ask Kushner and the president to pardon Johnson. Her husband, Kanye West, who has recently come under fire for tweeting a photo of his MAGA hat, is not expected to attend.

*Woman Says Southwest Worker Asked Her to 'Prove' Relationship to Biracial Son:
Lindsay Gottlieb, the coach of the women's basketball team at the University of California, Berkeley, was at the Denver International Airport with her biracial 1-year-old son when she was asked by a Southwest Airlines employee to "prove" that she was the child's mother, The Washington Post reported. Gottlieb, who was with her husband, said she was asked to present the child's birth certificate after the employee reviewed his passport, citing "federal law." The employee also asked Gottlieb to present a Facebook post with the child for further proof, because the child has a different last name. Gottlieb, who is white, wrote on Twitter that "[m]y guess is because he has a different skin color." She also wrote that she has flown "approx 50 times" with her son and had no issues up until now. Southwest Airlines apologized for the interaction, and noted that it was the company's policy to check birth certificates to ensure "lap children" are younger than two years of age. The airline said that it was not normal practice to "match the last names of a child and guardian" on U.S. flights. "We are fine. It was wild, but, I fear, much more common for people that don't look like me," Gottlieb wrote on Twitter.

*Residents Flee North Carolina Dam in 'Imminent Danger' of Collapse:
Thousands of people have been ordered to evacuate part of North Carolina where a landslide has left a dam in "imminent danger" of collapsing. Authorities have ordered residents to flee the area south of the Lake Tahoma Dam, which they say could fail after heavy rainfall caused a landslide that "compromised" its structural integrity. The National Weather Service tweeted an urgent message: "A landslide has comprised the integrity of Lake Tahoma Dam. MANDATORY EVACUATIONS underway from the Dam at Lake Shore Dr to Lake Tahoma Rd (NC 80) to the confluence of the Catawba River near Resistoflex Rd and Riverside Park. ACT NOW TO PRESERVE YOUR LIFE!" The heavy rainfall is part of the remnants of Alberto, the first named storm of the Atlantic hurricane season.

*Belgian Rampage Was an Act of 'Terrorist Murder,' Prosecutors Say: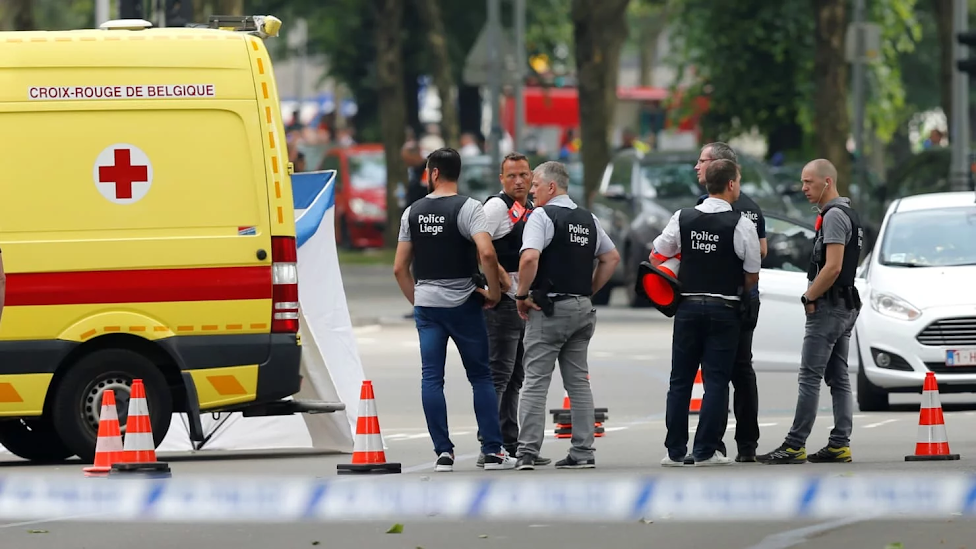 A Belgian man who allegedly killed four people on Tuesday carried out a "terrorist murder" and may have intended to hurt more people, according to authorities. Benjamin Herman attacked two police officers in Liege, stabbing them repeatedly and taking their guns away from them, officials said. Herman then allegedly shot the two officers and a 22-year-old man who was a passenger in a vehicle. He also took a cleaning worker hostage, authorities said. When police closed in, Herman started running and firing before being shot to death by police, according to officials. Law enforcement said they later discovered that he killed a former prison inmate who did time with him on Monday night. Prosecutors claim he yelled "Allahu akbar" various times during his attack, and say that he was due to be back in prison Tuesday evening after a two-day furlough. Federal magistrate Wenke Roggen also said that Herman's actions follow the demands of the Islamic State, which has pushed followers to stab policemen and steal their weapons.

*LBN-INTEL FOR INFLUENCERS: Did you know "influencers" in all 50 of the United States and 26 foreign countries read LBNdaily? ***3 Nobel Prize winners  ***12 members of the White House staff ***Over 100 Academy Award winners ***6 U.S. Senators ***Over 300 Grammy Award winners.
*LBN-HEALTH WATCH:   ***Taking multivitamins or other commonly consumed vitamin and mineral supplements won't actually provide you any health benefits, but they won't harm you either, a new study finds. Researchers from the University of Toronto and St. Michael's Hospital conducted a review of 179 studies on popular vitamin supplements that were published between January 2012 and October 2017. Studies covered a vast spectrum of supplements, including vitamins A, B1, B2, B3 (niacin), B6, B9 (folic acid), C, D and E; and mineral supplemts β-carotene; calcium; iron; zinc; magnesium; and selenium. Multivitamins that contained a wide variety of the vitamins and minerals were also reviewed.

*LBN- SITE OF THE DAY: 
PotluckHub helps you to create and organize potlucks or any other group events where everyone has certain things assigned to bring to the event.

*Robert Kotler, MD, FACS, Renowned Beverly Hills Rhinoplasty Super-Specialist, Defines the Evolution of Nose Jobs:

Before *** Computer Image of the After *** After
"Barbie-replicated nose jobs should be history," says Dr. Robert Kotler, Beverly Hills nose job super-specialist andUCLA faculty member. "Until recently, the 'nose job' or rhinoplasty was cookie-cutter and easily identifiable. Before 'fake news', there was 'fake nose'." "As cosmetic facial plastic surgery has matured it has become increasingly subtle, less identifiable and therefore more successful and popular," notes Dr. Kotler, author Secrets of a Beverly Hills Cosmetic Surgeon: The Expert's Guide to Safe, Successful Surgery. He continues, "For rhinoplasty, a given nose that is attractive and appropriate on one face may not be so on another face. That for the individual patient, success is defined by maximum improvement and customization. The successful nose job is proportional to the face, shows no telltale signs of surgery and in a word, looks "natural.'" Prospective patients of Dr. Kotler are welcome to bring photos of a celebrity or a friend's nose as an example of what they like about a particular nose. Kotler holds that "the rhinoplasty specialist needs to be a good listener to best understand the patient's desires." That "both the patient and the surgeon must agree on what is appropriate and achievable for that particular patient."

*LBN- FACT OF THE DAY: Women are twice as likely to suffer from depression than men. Women may be at a higher risk for depression due in part to estrogen, which may alter the activity of neurotransmitters that contribute to depression.

*LBN- BUSINESS INSIDER: A fizzy lemon-flavored alcoholic drink that went on sale in Japan on Monday marked Coca-Cola Co.'s first fling at selling alcohol in its 132-year history.

*LBN- COMMENTARY by Jackie Kucinich: As the opioid epidemic ravages the country, lawmakers pushing for reforms to how the drugs are prescribed have encountered a series of roadblocks from a surprising source: the lobby for physicians. Advocates for further restrictions and physician education on the highly addictive drugs say the American Medical Association has actively lobbied against the inclusion of several recommendations by the Centers for Disease Control and Prevention and that many members of Congress are unwilling to go up against the powerful lobby. Several of the CDC guidelines were included in a bill called Comprehensive Addiction & Recovery Act 2.0, introduced by Sen. Rob Portman (R-OH) and Sen. Sheldon Whitehouse (D-RI) in February, an update to the Comprehensive Addiction & Recovery Act that was signed into law in 2016. Portman's office confirmed that lobbyists from the group have told the Ohio senator's staff they would not support provisions in the CARA 2.0 about the three-day rule or any mandatory physician education included in the bill.

*LBN- TODAY'S FAMOUS BIRTHDAY: Mel Blanc (May 30, 1908)
Mel Blanc was an American voice actor, comedian, singer, radio personality, and recording artist. After beginning his over 60-year career performing in radio, he became known for his work in animation as the voices of Bugs Bunny, Daffy Duck,Porky Pig, Tweety Bird, Sylvester the Cat, Yosemite Sam,Foghorn Leghorn, Marvin the Martian, Pepé Le Pew,Speedy Gonzales, Wile E. Coyote, Road Runner, theTasmanian Devil and many of the other characters from theLooney Tunes and Merrie Melodies theatrical cartoons during the golden age of American animation.

*LBN- COMMENTARY by Erin Biba:  Female journalists who cover Elon Musk have the same personal rule: Mention his name on Twitter at your peril. That's because there is an army—mostly young, mostly white, almost entirely men—that marches behind him. These MuskBros, as we call them, make it their mission to descend on women who criticize Musk, and tear them to pieces. I know, because it has happened to me. More than once. Last week I took to Twitter, frustrated over Musk's attacks on the press and his tweet at molecular biologist Upulie Divisekera, in which he called her nanoscience "bs." I was concerned that Musk doesn't realize the broader impact of his lashing out. With every criticism lobbed at a journalist (or a scientist), Musk reinforces the growing public mistrust of essential institutions seeded by the Donald Trump wing of theGOP. And, though the Tesla co-founder later clarified that he believes some nanoscience is legitimate, the downstream result of his original tweet is that Divisekera has spent days defending her science and explaining why it's legitimate.

*LBN- VIDEO LINK: 'The only kids that disrespect me are black kids': speaker challenges St. Louis high school students — https://youtu.be/ATOUHpKu_Dw

*LBN- QUOTE: "I see the world being slowly transformed into a wilderness; I hear the approaching thunder that, one day, will destroy us too. I feel the suffering of millions. And yet, when I look up at the sky, I somehow feel that everything will change for the better, that this cruelty too shall end, that peace and tranquility will return once more." ~ Anne Frank

*LBN- COMMENTARY by Bahar Gholipour: It's every psychiatrist's dilemma: Two patients sit in front of you, displaying the same symptoms and the same diagnosis. After going through the same treatment, one recovers and one doesn't. What's the difference? It very well could be inside the brain itself. Scientists have learned a lot about the brain in the last few decades, but mental illnesses are still diagnosed based on symptoms—the visible tips of a tower hidden in fog. But for each person a different part of the tower may be broken. "The standard of care in psychiatry is symptoms-based diagnosis. But anyone who treats patients knowns there's some serious limitation with this kind of approach," said Noah Philip, associate professor of psychiatry at Brown University and director of psychiatric neuromodulation at the Providence VA Medical Center in Rhode Island. "Ultimately it's someone telling us what they are feeling, which is important but it doesn't necessarily map on to what's going on in the brain." That's why Philip and many others are now looking past the symptoms and diagnostic labels and into the underlying brain networks to find what drive a patient's symptoms, how these network vary among individuals and how they can be directly targeted to help those patients who don't improve with traditional treatments.

*LBN- COMMENTARY by Nicole Wetsman:  The Food and Drug Administration recent approval of Aimovig, a new preventative treatment against migraines, came as good news for the millions in the United States who suffer from the debilitating headaches. It's the first approval for a new group of drugs that block a particular molecule that is elevated during migraine, designed to reduce the frequency and severity of migraine attacks. Most drugs available today reduce migraine symptoms, but Aimovig aims to stop them from happening as frequently. In three clinical studies, patients taking the drug had one or two fewer headache days per month than those taking a placebo. The drug is delivered as a once-monthly injection, and has a sticker price of $6,900 a year.

*LBN-A DIFFERENT VIEW:….
LBN E-Lert Edited By Renee Preston