*WOW! – Food Stamp Enrollment Dips to Lowest Level 

in 8 Years

:  
Overall enrollment in the nation's food stamp program has dipped to its lowest level in eight years, according to the latest statistics released by the U.S. Department of Agriculture (USDA). The latest USDA data reveals that enrollment in the Supplemental Nutrition Assistance Program (SNAP)—the federal government program that administers food stamps—dropped to 40,083,954 in March 2018. The last time enrollment in the food stamp program reached that level was February 2010, when 39,588,993 people participated in the nation's food stamp program.

*Trump: There's 'No Longer a Nuclear Threat' From North Korea:
Donald Trump has showered himself in praise after landing back in the U.S. from his summit with Kim Jong Un in Singapore, saying North Korea is no longer a nuclear threat. The president tweeted early Wednesday morning: "Just landed—a long trip, but everybody can now feel much safer than the day I took office. There is no longer a Nuclear Threat from North Korea. Meeting with Kim Jong Un was an interesting and very positive experience. North Korea has great potential for the future! Before taking office people were assuming that we were going to War with North Korea. President Obama said that North Korea was our biggest and most dangerous problem. No longer—sleep well tonight!" Critics have said the document signed by Trump and Kim went no further on denuclearization than previous agreements.

*YIKES – One in three Americans take meds with depressive side effects: study:
One third of Americans are taking prescription and over-the-counter drugs, such as birth control pills, antacids and common heart medications, that may raise the risk of depression, researchers warned on Tuesday. Since the drugs are so common, people may be unaware of their potential depressive effects, said the report in the Journal of the American Medical Association (JAMA). "Many may be surprised to learn that their medications, despite having nothing to do with mood or anxiety or any other condition normally associated with depression, can increase their risk of experiencing depressive symptoms, and may lead to a depression diagnosis," said lead author Dima Qato, assistant professor of pharmacy systems, outcomes and policy at the University of Illinois at Chicago. The report was released one week after US health authorities said suicides have risen 30 percent in the past two decades, with about half of suicides among people who were not known to suffer from mental illness.

*The Trump-Kim Summit Was Unprecedented, but the Statement Was Vague:
In a day of personal diplomacy that began with a choreographed handshake and ended with a freewheeling news conference, President Trump deepened his wager on North Korea's leader on Tuesday, arguing that their rapport would bring the swift demise of that country's nuclear program. Mr. Trump, acting more salesman than statesman, used flattery, cajolery and even a slickly produced promotional video to try to make the North Korean leader, Kim Jong-un, a partner in peace. He also gave Mr. Kim a significant concession: no more military drills between the United States and South Korea, a change that surprised South Korea and the Pentagon. After hours of face-to-face contact, in which Mr. Trump even gave Mr. Kim a peek inside his bulletproof presidential limousine, he said he believed that Mr. Kim's desire to end North Korea's seven-decade-old confrontation with the United States was sincere. "He was very firm in the fact that he wants to do this," Mr. Trump said at the news conference before leaving for home. While cautioning that he could not be sure, Mr. Trump said, "I think he might want to do this as much or even more than me."

*U.S., Mexico and Canada Win Joint Bid to Host 2026 Soccer World Cup:
The U.S., Mexico, and Canada will host the 2026 World Cuptogether after a joint bid was chosen by delegates of world soccer Wednesday morning. A meeting of Fédération Internationale de Football Association [FIFA] delegates in Moscow picked the North American bid over a rival pitch from Morocco, 134 votes to 65. The U.S. previously hosted the world's biggest international soccer tournament in 1994, while Mexico has held it twice, in 1986 and 1970. The bid proposed that the U.S. will host 60 of the 80 matches while Canada and Mexico will host 10 each. The 2018 World Cup gets underway in Russia this week, and the 2022 World Cup is due to take place in Qatar.

*North Korea Says Trump Agreed to Lift Sanctions:
North Korean state media says President Trump agreed to lift sanctions against the country during his meeting with Kim Jong Un on Tuesday. North Korea's official KCNA news agency said Wednesday that Trump had also offered security guarantees to the North Korean leader, while Kim had agreed only to "step-by-step" denuclearization—and only if "the U.S. side takes genuine measures for building trust." While Trump hailed the meeting for taking the world a "big step back from nuclear catastrophe" late Tuesday, critics say he made too many concessions to Kim without getting any specific commitment to denuclearization. Trump also offered to suspend joint U.S.-South Korean military drills to appease Kim, a move that reportedly came as a shock to both the Pentagon and South Korean officials.

*THINK FREELY – READ LBN: Now you can invite your friends, family, and associates (if they've got the guts) by telling them to go to www.LBNElert.com
*Heroic Raccoon Captivates World by Climbing Minnesota Skyscraper: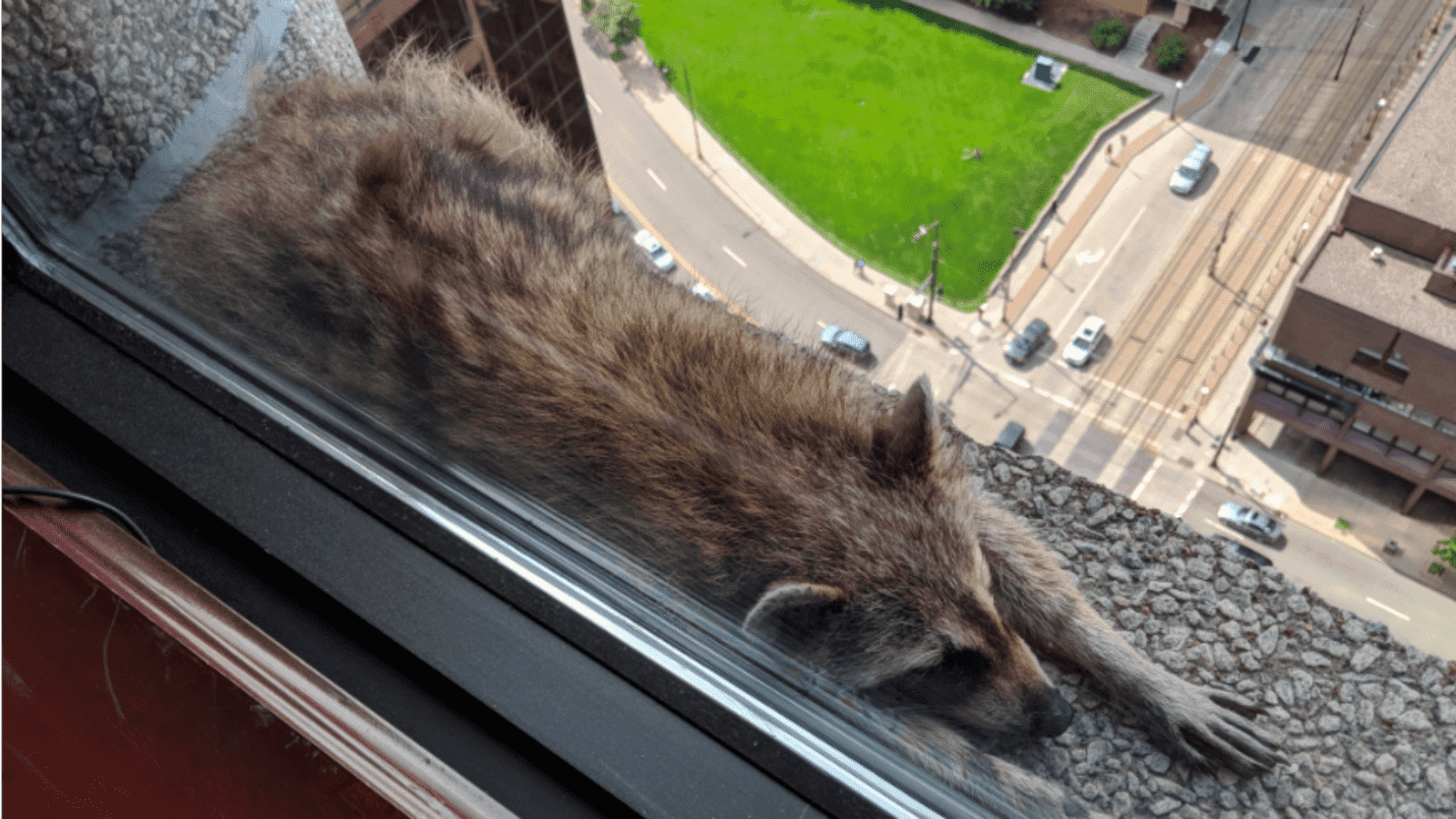 A daredevil raccoon that sent the internet into a frenzy with its attempt to climb a Minnesota skyscraper has made it safely to the top. The dramatic scenes began after workers removed the death-defying trash panda from the roof of an office block in St. Paul. It headed to the nearby UBS tower—one of the tallest buildings in the city—and started its climb. Twitter users followed every step of the creature's stunt through Tuesdayand, as the city slept, he made it to the top. A live feed showed the parkour critter reaching the summit of the 25-story building around 2:30 a.m. Wednesday. After it reached the roof, the raccoon was trapped, reports said. Mayor Melvin Cartertweeted shortly before the end of the climb: "Even wild animals know @cityofsaintpaul is a great place to reach for higher heights. We're working with staff & building owner to find a way to help #MPRraccoon without further endangering it or staff by scaring or making it feel threatened."

*DUH! – Thefts rise after California reduces criminal penalties: 
California voters' decision to reduce penalties for drug and property crimes in 2014 contributed to a jump in car burglaries, shoplifting and other theft, researchers reported. Larcenies increased about 9 percent by 2016, or about 135 more thefts per 100,000 residents than if tougher penalties had remained, according to results of a study by the nonpartisan Public Policy Institute of California released Tuesday. Thefts from motor vehicles accounted for about three-quarters of the increase. San Francisco alone recorded more than 30,000 auto burglaries last year, which authorities largely blamed on gangs. Shoplifting may be leveling off, researchers found, but there is no sign of a decline in thefts from vehicles. Proposition 47 lowered criminal sentences for drug possession, theft, shoplifting, identity theft, receiving stolen property, writing bad checks and check forgery from felonies that can bring prison terms to misdemeanors that often bring minimal jail sentences.

*Legal Pimp Dennis Hof Wins Republican Primary in Nevada:
Dennis Hof, a pimp who owns half a dozen legal brothels in Nevada and stars in the HBO adult reality-TV series Cathouse, won a Republican primary for the state legislature Tuesday. The famous pimp, who lives in the town of Pahrump, edged out three-term lawmaker and hospital executive James Oscarson. "It's all because Donald Trump was the Christopher Columbus for me," Hof told the AP. "He found the way and I jumped on it." Hof is the author of a book titled The Art of the Pimp, has given himself the nickname "The Trump of Pahrump," and held a rally with controversial Trump adviserRoger Stone. He'll face Democrat Lesia Romanov in November, and will be the favored candidate in the Republican-heavy district.

*Angelina Jolie at risk of losing primary custody of kids:
Angelina Jolie is at risk of losing primary physical custody of her kids with Brad Pitt if she doesn't take steps to improve their relationship with their father. A judge in the couple's ongoing divorce case said the six children "not having a relationship with their father is harmful to them," adding that "it is critical that each of them have a healthy and strong relationship with their father and mother," according to court documents obtained byThe Blast. The judge also ordered the "Maleficent" actress to provide her kids with cellphones that Pitt can call whenever he'd like without Jolie monitoring. She's also not allowed to read their text messages with their father. The court also laid out a summer schedule for each of the children except Maddox, who is old enough to decide how much time he wants to spend with Pitt, the documents read.

*LBN-BUSINESS INSIDER:   ***The battle for the future of media has begun. A judge's approval on Tuesday of the $85.4 billion AT&T-Time Warner deal is sure to touch off a series of mergers as once-powerful news and entertainment companies, built for an era when cable was king, position themselves to compete against the likes of Netflix, Amazon and YouTube. How quickly are things changing? Netflix recently surpassedDisney to become the most valuable media company at $158 billion.   ***A concentrated campaign of price manipulation may have accounted for at least half of the increase in the price ofBitcoin and other big cryptocurrencies last year, according to a paper released on Wednesday by an academic with a history of spotting fraud in financial markets. The paper by John Griffin, a finance professor at the University of Texas, and Amin Shams, a graduate student, is likely to stoke a debate about how much of Bitcoin's skyrocketing gain last year was caused by the covert actions of a few big players, rather than real demand from investors. Many industry players expressed concern at the time that the prices were being pushed up at least partly by activity at Bitfinex, one of the largest and least regulated exchanges in the industry. The exchange, which is registered in the Caribbean with offices in Asia, was subpoenaed by American regulators shortly after articles about the concerns appeared in The New York Times and other publications.

*LBN-HEALTH WATCH:   ***The Food and Drug Administration approved the first lasers to correct vision in the 1990s. Roughly 9.5 million Americans have had laser eye surgery, lured by the promise of a quick fix ridding them of nettlesome glasses and contact lenses. There is also a wide perception among patients, fostered by many eye doctors who do the surgery, that the procedure is virtually foolproof. As far back as 2008, however, patients who had received Lasik and their families testified at an F.D.A. meeting about impaired vision and chronic pain that led to job loss and disability, social isolation, depression — and even suicides.

*LBN-SPORTS INSIDER:   ***Former Dallas Cowboysdefensive end Greg Hardy is officially a UFC fighter. Competing on "Dana White's Tuesday Night Contender Series" in Las Vegas, Hardy, 29, won his UFC contract in his first-ever professional MMA fight by knocking out fellow NFL alumAusten Lane in just 57 seconds. The fight was contested in the heavyweight division. "It's awesome news," Hardy said after the fight, according to ESPN. "I get an opportunity to show what I've got, go back and work hard and come back even better than before. It's exciting. It's everything I could ask for.

*LBN-INVESTIGATES: SOCKI Card Game
SOCKI has officially launched! It's a new family card game from Crazy Red Head Publishing that plays like an open-faced gin rummy game, suitable for 2 to 8 players or more. Even the youngest in the family can join in. The entry-to-play skill is to be able to count to 12. The game is available from both the Crazy Red Head Publishing  and from Game Crafter. Instructional Video- How to Play SOCKI

*LBN-R.I.P.:   ***Nick Meglin, a top editor at Mad Magazinewho for many years was the chief barometer of whether the publication's silly and satirical humor had gone too far — or not far enough — died on June 2 at his home in Durham, N.C. He was 82.   ***Jon Hiseman, the British drummer, composer and progressive-rock innovator who led the bands Colosseum andTempest and played in many other groups, died early Tuesdayin Sutton, England. He was 73. His son, Marcus, said the cause was complications of surgery that Mr. Hiseman underwent in May to remove a brain tumor. He had lived in Sutton, a suburb of London, before entering hospice care there. His daughter, Diane Meglin, said the cause was a heart attack. ***Murray Fromson, a well-traveled print and broadcast reporter who helped found the Reporters Committee for Freedom of the Press at a time when journalists faced hostility during President Richard M. Nixon's administration, died on Saturday in Los Angeles. He was 88. His son, Derek, said the cause was Alzheimer's disease.

*WHO READS LBN? Famed Izzy's Deli owner Izzy Freemanand his wife, Marilyn, along with influencers in all 50 of the United States and 26 foreign countries.
*LBN-SITE OF THE DAY: 
Math Papa helps you learn algebra step-by-step with their easy to use website.

*LBN-COMMENTARY by Brian X. Chen:  Chances are that when you bought a Wi-Fi router, you probably did not prioritize strong network security. After all, when we think about wireless connectivity in our homes, most of us generally care more about speed of data transmissions and how much range the router can cover. But it's time to change our views. Network security needs to be high on our list of considerations because a Wi-Fi station is the gateway for devices to get on the internet. If your router is infected with malicious software, all your internet-connected devices become vulnerable, including your smartphone, computer, smart watch, television and Amazon Echo. A recent cyberthreat underscores the need to take network security more seriously. Last month, Cisco's threat research arm Talos, in collaboration with the Federal Bureau of Investigation, discovered that a malware system with links to Russia had infected hundreds of thousands of Wi-Fi routers made by popular brands like Netgear, TP-Link and Linksys. This month, Talos revealed the problem was even worse than initially thought: Routers from other brands like Asus and D-Link had also been infected.

*LBN-VIDEO LINK: Dangerous People Are Teaching Your Kids

*LBN-COMMENTARY by Gayle King: I do worry about the#MeToo Movement because I think when a woman makes an accusation, the man instantly gets the death penalty. There has to be some sort of due process here. All of these inappropriate behaviors are not all the same.

*LBN-VIDEO LINK: Dana Carvey Predicts The Outcome Of Trump & Kim Jong-un's Meeting – CONAN on TBS 
*LBN-COMMENTARY by Roni Caryn Rabin:  Could common prescription medications be contributing to depression and rising suicide rates? Over one-third of Americans take at least one prescription drug that lists depression as a potential side effect, a new study reports, and users of such drugs have higher rates of depression than those who don't take such drugs. Many patients are taking more than one drug that has depression as a side effect, and the study found that the risk of depression increased with each additional such drug taken at the same time. About 200 prescription drugs can cause depression, and the list includes common medications like proton pump inhibitors (P.P.I.s) used to treat acid reflux, beta-blockers used to treat high blood pressure, birth control pills and emergency contraceptives, anticonvulsants like gabapentin, corticosteroids like prednisone and even prescription-strength ibuprofen. Some of these drugs are also sold over-the-counter in pharmacies.

*LBN-A DIFFERENT VIEW:….
*LBN-OVERHEARD:   ***"Dukes of Hazard" star John Schneider is free hours after he was jailed for an alimony dispute. The 58-year-old Schneider was released from the Los Angeles County Jail on Tuesday when his three-day sentence was cut short because of overcrowding. The "Smallville" star told Fox News he cannot afford the payments to his estranged wife Elvira "Elly" Schneider. She filed for divorce in 2014 after 21 years of marriage; they have three adult children. Schneider said he's "disheartened" with the system.   ***Barbra Streisand's "A Star Is Born" is being reborn online with scenes she'd cut from the 1976 movie. Long known as a perfectionist, Streisand tinkered with the film to restore an exchange between the star-crossed lovers played by her and Kris Kristoffersonand an instrumental take on the Oscar-winning tune "Evergreen." The romantic drama, coming to Netflix along with other Streisand projects, isn't the only "Star" on the horizon: A new version with Lady Gaga and Bradley Cooper will be in theaters this fall.

LBN E-Lert Edited By Renee Preston