*Bannon Calls Trump Tower Meeting With Russians 'Treasonous'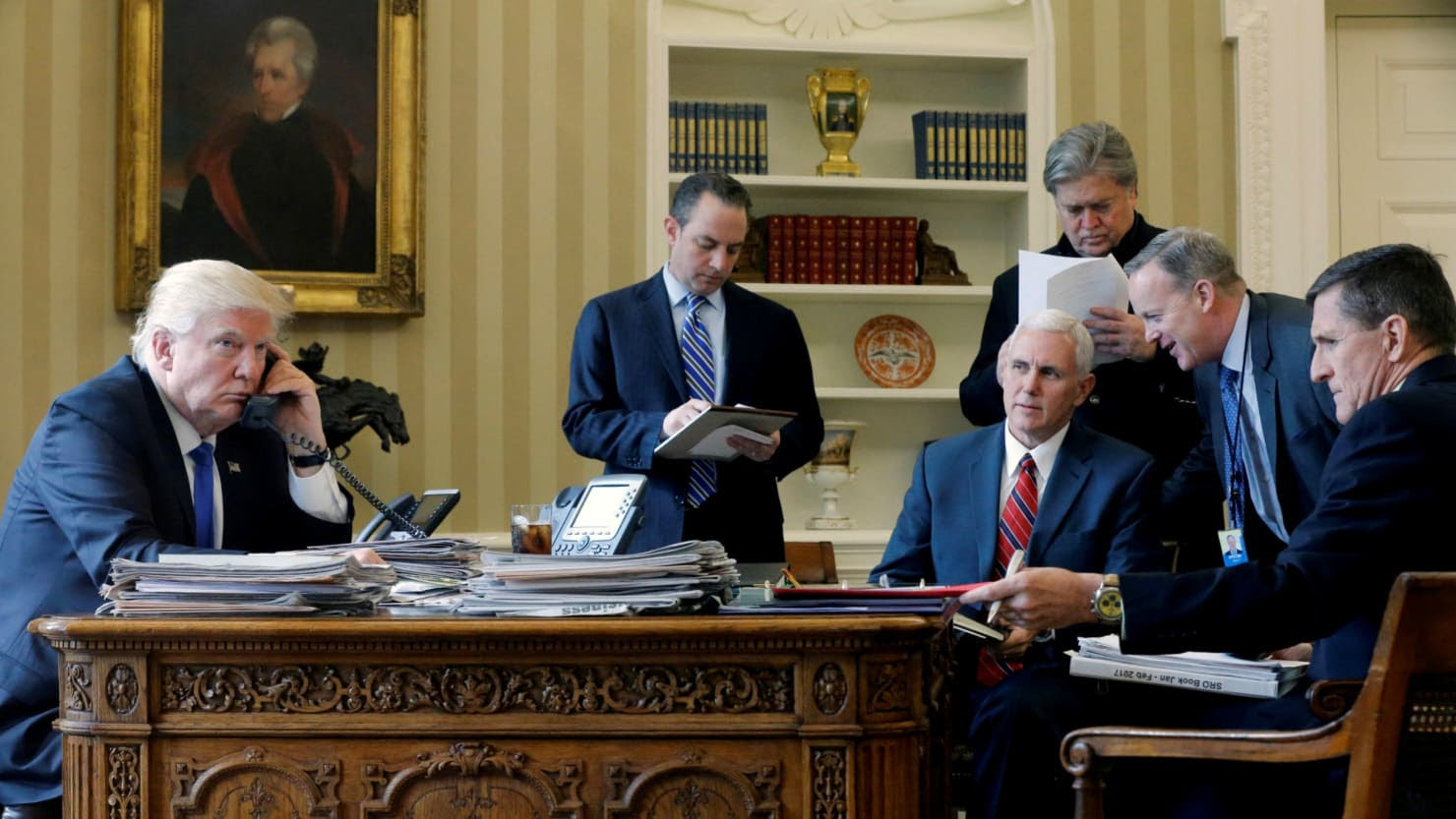 Steve Bannon has described as "treasonous" a 2016 meeting between Donald Trump Jr., Jared Kushner, campaign chairman Paul Manafort and a Russian lawyer, Natalia Veselnitskaya, who said she had damaging information on Hillary Clinton, according to a new book by Michael Wolff seen by The Guardian newspaper. In "Fire and Fury: Inside the Trump White House", Wolff writes that Bannon told him: "The three senior guys in the campaign thought it was a good idea to meet with a foreign government inside Trump Tower in the conference room on the 25th floor—with no lawyers. They didn't have any lawyers. Even if you thought that this was not treasonous, or unpatriotic, or bad shit, and I happen to think it's all of that, you should have called the FBI immediately." The June 2016 meeting came about after Trump Jr. was allegedly promised documents that would "incriminate" rival Hillary Clinton. Wolff writes that Bannon told him that if any such meeting had to take place, it should have been set up "in a Holiday Inn in Manchester, New Hampshire, with your lawyers who meet with these people." Bannon told Wolff the investigation into alleged collusion with the Kremlin is likely focusing on alleged money-laundering and predicted: "They're going to crack Don Jr. like an egg on national TV."
*Trump to Kim Jong Un: My Nuclear Button Is Bigger Than Yours and Actually Works
President Donald Trump on Tuesday night responded to North Korean leader Kim Jong Un's latest provocation, writing on Twitter that he, too, has a nuclear button. "Will someone from his depleted and food starved regime please inform him that I too have a Nuclear Button, but it is a much bigger & more powerful one than his, and my Button works!" Trump wrote on Twitter. The president's comment comes a day after Kim, while addressing his country on New Year's Day, warned the U.S. that he has a nuclear button on his desk.

*North Korea Restores Border Hotline With South
North Korean leader Kim Jong Un has reportedly ordered that a long-closed border hotline with South Korea be reopened. Officials in Seoul confirmed the news, which was announced Wednesday by a North Korean official in a televised statement. The apparent thaw in relations—after a year of heightened tensions and nuclear threats—comes after South Korea on Tuesday proposed high-level talks with Pyongyang to discuss cooperation for next month's Winter Olympics in Pyeongchang. The South Korean Unification Ministry, which monitors North Korea's state-run media, said the communication channel is expected to be restored Wednesday. The ministry cited a North Korean official who said Pyongyang would engage with the South in a "sincere and careful" manner by "upholding the will of the supreme leader."

*Report: NSA Facing Exodus of Top Talent Amid Low Morale
The National Security Agency has lost hundreds of its most talented employees over the past few years in a major exodus that some say could undermine national security, The Washington Post reports. The spy agency has not disclosed the number of personnel who've left, but current and former U.S. officials cited in the report say hundreds of hackers, engineers, and data scientists have left since 2015 for work in the private sector, a move largely attributed to low morale. The departments hit the hardest were reportedly those responsible for collecting and analyzing the intelligence that goes into the president's daily briefing, as well as monitoring threats to national security, including ISIS, Russia, and North Korea. The "NSA is at this moment experiencing stress that is constant and unrelenting," one former senior intelligence official told the Post. Former employees cited in the report blamed a controversial reorganization within the agency and an atmosphere of suspicion in the wake of several breaches.

*DON'T BREAK APART – READ LBN: Now you can tell YOUR unique story in the world-famous LBN newsletter! Reach influencers in all 50 of the United States and 26 foreign countries. Doing so is really simple. Simply send your story (do not exceed 250 words), including a photo and link, toLBNElert@TimeWire.net. We will approve and run. The cost is a mere $250 payable either via Pay Pal or credit card. This is by-far one of the best deals in digital promotion and only available to LBN subscribers.
*LBN-NOTICED:   ***Personal manager Kay Douglas held a small, quiet New Year's Eve party at her beautiful home on the Wilshire corridor with friends singer Frank Stallone and Freda Payne along with music producer Joel Diamond and game show host Wink Martindale all on hand to greet the new year.

*'CA Better Hold On Tight': ICE Director Promises Doubling of Officers After 'Sanctuary' Law Signed: 
Acting Immigration and Customs Enforcement Director Thomas Homan said California "better hold on tight" after its liberal Democratic governor allowed a sanctuary state law to take effect this week. Neil Cavuto said that Gov. Jerry Brown claimed the law will protect illegal immigrants living quietly in the shadows of society from law enforcement intent on "yanking them out of there." "I think it's terrible," Homan said, adding that Brown's action put politics in front of public safety.

*LBN-BUSINESS INSIDER:   ***One of the biggest names in Silicon Valley is placing a moonshot bet on bitcoin. Founders Fund, the venture-capital firm co-founded by Peter Thiel, has amassed hundreds of millions of dollars of the volatile cryptocurrency, people familiar with the matter said. The bet has been spread across several of the firm's most recent funds, the people said, including one that began investing in mid-2017 and made bitcoin one of its first investments.   ***The internet is a fickle mistress. Popular YouTube stars like PewDiePie andZoella are seeing a huge slowdown in their online subscriber growth, signalling that even the top earners will need to look beyond video to maintain their popularity and income.

*DID YOU KNOW? Did you know that LBN is read daily 26 foreign countries in 11 separates times zones?
*LBN-INVESTIGATES: In early 1987, Ross Perot invested $20 million in the computer platform NeXT, developed by Steve Jobs. However, he resigned from the company's board of directors and sold most of his shares before Apple bought NeXT and Steve Jobs returned to his company.

*LBN-VIDEO LINK: 1981 Nightline interview with Steve Jobs —   https://youtu.be/3H-Y-D3-j-M

*LBN-HOLLYWOOD INSIDER:   ***Netflix is staying in business with Ricky Gervais. The Internet TV network has bought the rights to Gervais' next stand-up show. Netflix previously bought his stand-up show "Humanity," which is due in the first quarter, and also acquired U.S. and select international rights to his "The Office" spinoff movie "David Brent: Life on the Road." "Humanity" was filmed in London's Eventim Apollo as part of Gervais' recent world tour. A specific airdate has not been set. No word on the amount paid or a timetable for the second special.

*LBN- SITE OF THE DAY:    
Library of Congress: Themed Resources
"Exhibitions, special presentations, lesson plans and other materials gathered from throughout the Library of Congress for selected curricular themes."

*LBN-VIDEO LINK: The Band: I Shall Be Released (The Last Waltz) — https://youtu.be/MjtPBjEz-BA

*LBN-R.I..P.   ***Music Producer Rick Hall, a Founding Father of music's "Muscle Shoals sound," died Tuesday at the age of 85 in his Florence, Alabama, home, following a long fight with cancer. Hall founded FAME Studios in 1959, in the small northern Alabama town that came to draw a galaxy of stars. Among the now-classic Muscle Shoals sessions Hall oversaw Aretha Franklin's "Do Right Woman, Do Right Man," Wilson Pickett's "Mustang Sally," Percy Sledge's "When a Man Loves a Woman," and the Rolling Stones' "Brown Sugar" and "Wild Horses."   ***Fred Bass, who transformed his father's small used-book store, the Strand, into a mammoth Manhattan emporium with the slogan "18 Miles of Books," died on Wednesday at his home in Manhattan. He was 89. The cause was congestive heart failure, said Leigh Altshuler, the Strand's director of communications.

*LBN-COMMENTARY by Neel V. Patel: According to the CDC, 91 people die every day from opioid overdoses—a problem that has become epidemic in proportion and led the Trumpadministration to try to solve the crisis with everything from declaring it a "public health emergency," an ad campaign, and a messy attempt to find an opioid czar. One way public health officials are trying to figure out how to help those suffering from opioid addiction is through a theoretical device being described as a "pain-o-meter" capable of measuring a patient's pain objectively and accurately. The National Institutes of Health has begun evaluating proposals for $4 million in small business grants that will go towards developing some sort of technology or methodology that objectively measures pain, as part of a larger effort to help reduce the number of painkillers from being overprescribed and fueling opioid addictions. Here's why: A patient could be suffering from anything between mild discomfort and irascible torture, but an opioid painkiller is almost certainly going to provide some relief. The dose, however, should vary—but often does not, leading to some people to get addicted to drugs that might have been way too powerful for their pain needs. The current system leaves much to be desired in terms of scientific accuracy: Doctors  simply ask patients to rate their pain on a numerical scale or something similar, and use that information to determine what kind of painkiller prescription would work best.

*LBN-COMMENTARY by Daniel and Tana Amen: We've been taught that if you dream big, work hard, have a positive mindset, learn from your mistakes, and persist, you can be anything you want in life. But brain imaging has shown that it takes some help from a healthy, sharp brain to achieve your potential. At Amen Clinics, we perform brain imaging called single photon emission computed tomography (SPECT), which looks at blood flow and activity patterns in the brain. Since 1991, we have performed more than 135,000 brain SPECT scans on patients from 120 countries.

*LBN-COMMENTARY by Tom Hanks: The assault on the First Amendment under the Nixon administration was old school, a D-Day version of "Let's stop this story because it's national security and they're traitors if they print it. Because if they dare print it, they'll find out that we lied. And if they know that we're lying, we can't do our jobs." What's happening now is this guerrilla war that is going on against the First Amendment. This idea now that has actually been verbalized by various people high up in the current administration, that there is such a thing as [an] "alternative fact." It gives validation to what is patently false, that the purveyors know is a lie, and worse, know that it is completely unconfirmed and is scurrilous. And in that realm comes some degree of the same message: "Don't let them find out the truth, because if so we can't stay in power." All of this stuff that was going on was not lost on any of us.

*LBN-A DIFFERENT VIEW:….
*LBN-OVERHEARD:   ***Emily Ratajkowski has her own thoughts on feminism. Her perspective is unique given she unapologetically flaunts her body on social media and rose to fame after starring in the sultry video for Robin Thicke's"Blurred Lines." "I think a lot of people really feel that the idea of a woman being sexual or being sexualized is the opposite of feminism," Ratajkowski told Harper's Bazaar Arabia. "When I feel like, in some ways, that conversation itself can be oppressive to women, because you're telling them how to dress and how to act, which is actually the opposite of feminism."   ***To survive a frigid New Year's Eve in New York City,Anderson Cooper dug deep into his wallet. During an appearance Tuesday on the "Late Show with Stephen Colbert," the CNN anchor revealed he shelled out close to $3,000 on electric clothing to stay warm in the below freezing temperatures of the Big Apple. "It's funny, because in the run-up, Andy kept having these appointments to get warm jackets tailored. I was like, 'You don't need a tailored coat, you need massive layers of parkas.' So I knew he was going to really die out there," Cooper, 50, said of his co-host Andy Cohen.

LBN E-Lert Edited By Dan Gaylord