*SANCTUARY CITIES HIT WITH DEPARTMENT OF JUSTICE THREAT
The Justice Department is threatening two dozen so-called sanctuary cities with subpoenas if they fail to provide documents to show whether local law-enforcement officers are sharing information with federal immigration authorities. The demand, outlined Wednesday by Attorney General Jeff Sessions, is the latest threat to punish local jurisdictions that do not fully comply with federal immigration enforcement efforts.
*School Shooting in Kentucky Was Nation's 11th of Year. It Was Jan. 23.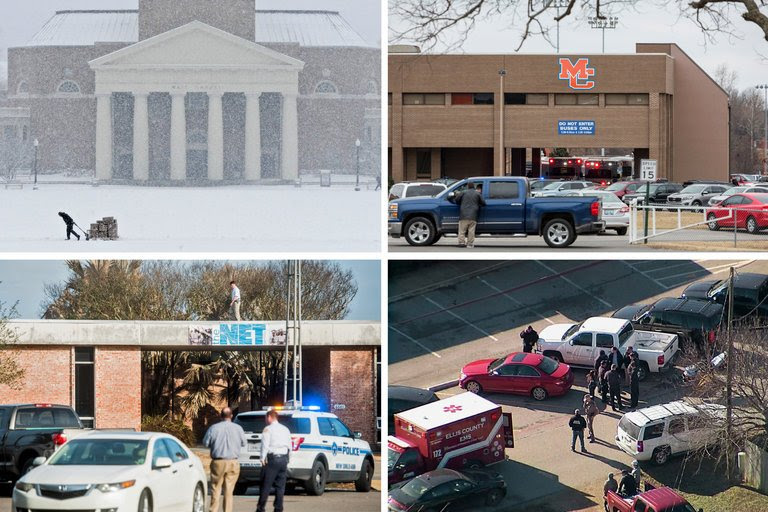 On Tuesday, it was a high school in small-town Kentucky. On Monday, a school cafeteria outside Dallas and a charter school parking lot in New Orleans. And before that, a school bus in Iowa, a college campus in Southern California, a high school in Seattle. Gunfire ringing out in American schools used to be rare, and shocking. Now it seems to happen all the time. The scene in Benton, Ky., on Tuesday was the worst so far in 2018: Two 15-year-old students were killed and 18 more people were injured. But it was one of at least 11 shootings on school property recorded since Jan. 1, and roughly the 50th of the academic year. Researchers and gun control advocates say that since 2013, they have logged school shootings at a rate of about one a week.
*Report: CIA Chief Pompeo Has Been Interviewed by Mueller
Special counsel Robert Mueller has interviewed leaders of the U.S. intelligence community in the course of his investigation into Russian meddling in the U.S. election—including CIA Director Mike Pompeo, Director of National Intelligence Dan Coats, and National Security Agency Director Mike Rogers, NBC News reports. Sources familiar with the inquiry have also reportedly told the news network that Michael Flynn, the former national security adviser, met secretly in his office with FBI investigators just days after he was sworn in to his White House post. Former Acting Attorney General Sally Yates told the White House of that interview days after it happened and has cooperated with Mueller's investigation, according to NBC. The news comes in the wake of a New York Times report on Tuesday revealing that Attorney General Jeff Sessions was "questioned for several hours last week" by Mueller.
*NCAA Investigating Michigan State Over Larry Nassar
The NCAA has opened a formal inquiry into Michigan State University over gymnastics physician Larry Nassar, who stands accused of sexually abusing hundreds of women and girls. Nassar worked at the school as both a sports doctor and on the faculty for decades. "The NCAA has requested information from Michigan State about any potential rules violations," Donald Remy, the collegiate athletics association's chief legal officer, told The New York Times. According to its bylaws, the organization requires member colleges to protect the health and well-being of its athletes. A Detroit News investigation published last week found that complaints about Nassar were filed as early as 1997 concerning underage athletes, and at least 14 representatives and leaders from Michigan State knew of such reports over the years, including current President Lou Anna Simon.
*OH NO – Teletubbies' 'Tinky Winky' Actor Froze to Death
The actor behind the Teletubbies' Tinky Winky character froze to death, according to family members and police. Simon Shelton Barnes, 52, collapsed on a Liverpool street and died of hypothermia. He was found dead at 7:30 a.m. the following morning. Merseyside Police confirmed details surrounding his death, and stated that there was "no suspicious circumstances" found on the scene. Barnes played Tinky Winky from 1998 to 2001, and said he felt like a "member of The Beatles" during his time on the Teletubbies program.
*Who reads the LBN Elert? Acclaimed character actor Dave Vescio.
*Al Gore Defends Trump's Solar Tariff Decision At Davos
"I don't typically defend him," Gore said during a panel discussion at the World Economic Forum in Davos, Switzerland. President Donald Trump announced on Mondaya 30 percent tariff on imported cells and modules used to make solar panels that would decrease over time. The solar industry largely opposed the move, but admitted it was not a somewhat moderated decision. "I will say in this case it did not start with him," Gore said. "This was a trade action brought by private companies. They chose a kind of a midpoint in the range of alternatives."
*DID YOU KNOW? Did you know that nine (9) leading executives of the Ford Motor Company read LBN daily?
*Geologists: SoCal Fault Line Runs Beneath Rodeo Drive
Rodeo Drive, Los Angeles' famously swanky shopping strip, has an earthquake fault running right through it, geologists have discovered. The Santa Monica fault, which also runs through the "Golden Triangle" district of the beachside neighborhood, extends inland into the affluent Beverly Hills area near the busy intersection of Rodeo Drive and Santa Monica Boulevard. While some posh storefronts on Rodeo may be in jeopardy—namely Chanel, Cartier, Bulgari, and David Yurman—experts and city officials are most concerned with the fault's location in one of the most highly populated areas in Southern California.
*LBN-INVESTIGATES: Breastfeeding
In the 17th and 18th centuries, many men in Europe and America would not let their wives breastfeed, especially if their wives had just given birth to a girl, since breastfeeding might have inhibited the conception of their next child.
A poor woman in the 17th and 18th centuries might have chosen to get pregnant on purpose in order to be hired as a wet nurse. She would have sent her own baby to a "baby farm," a kind of paid fosterage where children were often neglected.
Breastfeeding creates more dense tissue in the breasts. After breastfeeding, both fatty tissue and connective tissue can shrink, change size, or even make one breast seem larger than the other.
Each breast functions independently. What happens to one breast during breastfeeding may not happen to the other breast. For example, breast engorgement may leave one breast larger than the other.
In 18th century France, nearly 90 percent of infants were wet nursed.
During the 17th and 18th centuries, upper-class women often used a wet nurse to breastfeed their babies, even though the gentlewomen were much more likely to enjoy a rich and varied diet.
*MY REVIEW: "LBN is like a multi-vitamin for your brain. It is insightful, engaging, incisive and fearlessly independent." —– Darren K., an LBN reader from Chicago, Illinois
*LBN-BUSINESS INSIDER:   ***General Electric reported quarterly results on Wednesday that illustrated how far it has fallen, and the steep hill the company — once a titan of American industry — must climb to turn itself around. There were no big surprises; those had mostly come earlier. But in a conference call with analysts, G.E. disclosed that the Securities and Exchange Commission had opened an investigation into the company's handling of its insurance obligations and how it accounted for certain services contracts. The inquiry was in its "very early stages" and G.E. was "cooperating fully," said Jamie Miller, the company's chief financial officer.   ***J.P. Morganchief Jamie Dimon told CNBC on Wednesday that the tax cut will drive wages higher and spark an economic boom. "I think it's possible you're going to hit 4 percent some time this year," Dimon said in an interview at the World Economic Forum in Davos, Switzerland. "I promise you, we are going to be sitting here in a year and you all will be worrying about inflation and wages going up too high."
*LBN-SPORTS INSIDER:   ***Bob Costas won't be at the Super Bowl, but he won't be missing it. Super Bowl LII was planned to be Costas' last, but NBC announced this week that the longtime commentator would not be hosting the pregame show on Feb. 4. It was thought NBC might have yanked Costas for his comment in November that "the reality is that this game destroys people's brains." But Costas dismissed that notion in an email to Sports Business Daily. "The decision was mutually agreeable, and not only do I not have a problem with it, I am actually happy about it," Costas told the website. "I have long had ambivalent feelings about football, so at this point, it's better to leave the hosting to those who are more enthusiastic about it."   ***His "army" of "sister survivor warriors" have spoken — and monster doctor Larry Nassar is going to prison for the rest of his life. The former Michigan State University and USA Gymnastics doctor was sentenced Wednesday to 40 to 175 years on sex assault charges – on top of a 60-year sentence for child pornography charges. "I just signed your death warrant," Circuit Court Judge Rosemarie Aquilina said.
*LBN-MEDIA INSIDER:   ***The next series of "America Expert" episodes were filmed yesterday at Baltaire restaurant in Brentwood by video director Adam Saada. The series focuses on extraordinary experts in all fields and offers insight into their worlds. Yesterday's episodes featured prominent cosmetic surgeon Dr. Robert Kotler and prominent CPA Phil Liberatore among others and will be released in February.
*LBN-HOLLYWOOD INSIDER: Actor and four-time Grammy Award-winning musician Lenny Kravitz has signed to UTA.
*LBN-VIDEO LINK: Top 10 Cringiest Celebrity Interview Walkouts  — https://youtu.be/JzctBqtxa9g
*LBN-SITE OF THE DAY:
TechCrunch
TechCrunch is a leading technology media property, dedicated to obsessively profiling startups, reviewing new Internet products, and breaking tech news.
*LBN-R.I.P.:   ***The Rev. Wyatt Tee Walker, who was chief of staff to the Rev. Dr. Martin Luther King Jr. and a key strategist behind civil rights protests that turned the tide against racial injustice in the Jim Crow South of the 1960s, died early on Tuesday at an assisted-living facility near his home in Chester, Va. He was 88. His death was announced by the Rev. Al Sharpton. Dr. Walker was the organization's first board chairman of the National Action Network, Mr. Sharpton's organization.   ***Joel Taylor, a star of Discovery Channel's "Storm Chasers" documentary reality series, died yesterday, friends and colleagues have confirmed. Taylor was 38, and no cause of death has yet been disclosed.
*LBN-VIDEO LINK: Don Lemon to Trump: What grade are you in? — https://youtu.be/qa7vgOsynSw
*LBN-THIS DAY IN HISTORY 
Serial Killer Ted Bundy Is Executed (1989)
In December 1977, Ted Bundy escaped from jail in Colorado—for the second time—and fled to Florida. There, he resumed a streak of murders that he had begun in 1974, killing 12-year-old 
Kimberly Leach
, among others. He was soon re-arrested, convicted of several murders, and sentenced to death. In an effort to avoid execution, Bundy confessed to numerous killings and promised to reveal more information in time. Despite this, he was executed in 1989.
*WOULD YOU LIKE TO BE A PART OF THE "BEST OF LOS ANGELES AWARD" COMMUNITY?
Joining is simple – Visit this page and click "LIKE" and you will be part of the best of Los Angeles. Join nearly 3,800 other great influencers: https://www.facebook.com/BestofLosAngelesAwards/?hc_ref=ARSvrC489LjnNbijUgE5_Cd7x1c2AKgCA7_04Y6cgokhKhnshpaD7ruPRi7EMQ9bvZ4&fref=nf.
*LBN-COMMENTARY by Thomas L. Friedman: After violent protests recently exploded across Iran, President Trump vowed to differentiate himself from President Barack Obama by openly tweeting his support for the demonstrators. It had no effect, though. One reason is that Trump could never send the really killer tweets — the ones that might have gone viral across Iran and rattled the regime. That would those have said? Something like: @realDonaldTrump "America stands with Iranian demonstrators!!! Why are so many from the countryside??? Because Iranian Revolutionary Guards mismanaged Iran's water supply for decades. Stole all the water for their companies, cronies, pistachio farms and stupid dams!!! And now climate change and droughts are making it all worse, forcing Iranians off their land. Unfair!! Sad!!" The Iran protests were clearly fed by many streams — The Times told a harrowing tale last weekend of how corruption and Ponzi schemes at banks owned by Iran's clerical regime and its allies had defrauded thousands of savers, and brought some into the streets. But environmental corruption was also a cause of anger.
*LBN-HISTORICAL COMMENTARY by Seneca: We should every night call ourselves to an account: What infirmity have I mastered today? What passions opposed? What temptation resisted? What virtue acquired?
*LBN-A DIFFERENT VIEW:…
*LBN-OVERHEARD:   ***Mark Wahlberg shot down accusations he uses anabolic steroids to achieve his muscular movie star stature. TMZ spoke to the A-lister in Los Angeles on Monday about claims that he, along with Josh Duhamel and WWE superstar Roman Reigns, used the performance-enhancing drugs allegedly supplied to them by steroid dealer Richard Rodriguez, who now is in jail for selling the substance.   ***Billionaire Elon Musk and Amber Heard are back together. The couple, who split in August due to conflicting schedules, were spotted holding hands at dinner in LA on Monday, with a source confirming "they are together at the moment." They also were spied together over the holidays in Chile and visiting Easter Island.   ***Former White House communications director Anthony Scaramucci and his wife,Deidre Ball, are back together — and have purchased a newly constructed beach mansion in the Hamptons."They are planning to spend a lot of time in the Hamptons this summer," a friend of the on-again, off-again couple said.
LBN E-Lert Edited By Dan Porush