*WOW! Huma Abedin and Anthony Weiner call off divorce:
Hillary Clinton aide Huma Abedin and her jailed husband Anthony Weiner have withdrawn their pending divorce case. Abedin was scheduled to appear in Manhattan Supreme Court Wednesday afternoon for a compliance conference in their contested divorce. Instead one of her attorneys submitted paperwork signed by both parties agreeing to end the case, a court source said. The judge announced from the bench that the case was "discontinued." Abedin finally filed for the split last May just hours after Weiner pleaded guilty to sexting with a minor. She had stood by the much-mocked former congressman since 2011, when, a year into their marriage, he tearfully admitted Tweeting out an underwear selfie. The disgraced pol is serving nearly two years of hard time in a Massachusetts federal lockup.
*WHAT HAPPENED? Mexican Border Surge as 'Trump Effect' on Immigration Wanes
Despite the administration's celebration of the "Trump effect," which allegedly stemmed immigration and sent border apprehensions to a 17-year low, new data released by the Department of Homeland Security shows that the number of migrants trying to enter the U.S. has once again surged. Southern Border Patrol officers are now stopping more than 1,000 people per day, according to the DHS numbers. Though Trump's language on immigration may have been a temporary deterrent, some say the effect of his position was diminished by his lack of action. Ruben Garcia, the director of a shelter in El Paso that gives temporary housing to border-crossers, told The New York Times: "After it became evident that there wasn't a dramatic change on the part of the administration, then the smugglers started selling their product again and the flow began to resume." Garcia highlighted Trump's plan to ramp up the hiring of more border agents, which never materialized without funding from Congress, and noted that the border wall—a centerpiece of Trump's presidential campaign—has not been built.

*Trump's Border Wall Would Use 0.034% of Federal Spending: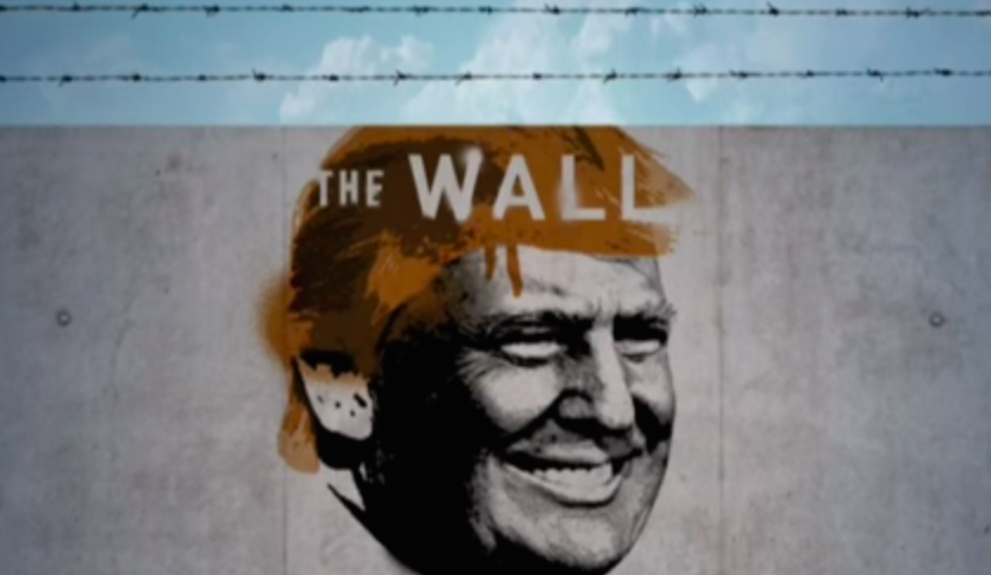 President Donald Trump's current border wall proposal would cost $18 billion over the next ten years, according to an estimate U.S. Customs and Border Protection sent to members of Congress last week. "The Trump administration is asking Congress for nearly $18 billion to construct more than 700 miles of new and replacement barriers along the Southwest border, its most detailed description yet of the president's vision of a wall separating the U.S. from Mexico," the Wall Street Journal reported on Friday. That $18 billion would equal just 0.0338 percent of the $53.128 trillion the Congressional Budget Office currently estimates the federal government will spend over that same 10-year period. It also equals only 2.7 percent of the money the federal government will spend on the food stamp program (the "Supplemental Nutrition Assistance Program"), which will eat up $679 billion in the ten fiscal years from 2018 through 2027, according to CBO's estimate.

*South Korea's Leader Credits Trump for North Korea Talks: 
President Moon Jae-in of South Korea warned on Wednesdaythat North Korea would face stiffer sanctions if it resumed weapons tests, while crediting President Trump with helping force the North to resume dialogue and strike a broader agreement to improve Korean ties. I am giving a lot of credit to President Trump," Mr. Moon said at a nationally televised news conference a day after the two Koreas forged their agreement during border talks. "I am expressing my gratitude." His comment reflected a tactful maneuver for Mr. Moon: stroking the ego of the American leader, who has claimed credit for the inter-Korean dialogue, while easing fears in Washington and among his conservative critics at home that in his eagerness for dialogue, he may be too accommodating to North Korea's leader, Kim Jong-un.

*LBN-INVESTIGATES: The sound of crunching adds to the pleasure of eating chips. Snackers who eat chips with headphones on report becoming bored with chips more quickly.

*Democratic Senators' Report: Russian Meddling Deepening Across Europe, Threatens the Midterms
Russian meddling in Western democracies throughout Europe is worsening, a new 200-page report released Wednesday by Sen. Ben Cardin (D-MD) warns. The report is the first of its kind from Congress, and it details Russian attempts to undermine governments in 19 European nations following alleged Kremlin interference in the 2016 U.S. presidential election. "Never before has a U.S. president so clearly ignored such a grave and growing threat to U.S. national security," the report says of President Trump, who has taken little action in the wake of such evidence. The report was not signed by any Republicans. Cardin, the top Democrat on the Senate Foreign Relations Committee, said he commissioned the paper so that American citizens can view for themselves the "true scope and scale" of Russian President Vladimir Putin's work to undermine democracy globally.

*GET FOCUSED – READ LBN: "An Incredible Value!" – "The Best Promotional Deal On The Web" —– Now YOU can tell YOUR unique story in the world-famous LBN E-Lert –www.LBNElert.com – and communicate directly with LBN readers in all 50 of the United States and 26 foreign countries. Amazing coverage with YOUR story, YOUR headline, YOUR photo and YOUR website. And then, of course, you can share this LBN story on all YOUR Social Media! And it's really easy to do. Simply send your story (not to exceed 250 words) including a photo and link to: LBNElert@TimeWire.net. We will approve and run. The cost is a mere $250 payable via PayPal or credit card. This is (by-far) one of the best deals in the world of digital promotion and only available to LBN subscribers.
*SCARY – Serena Williams Details Medical Scare After Giving Birth
In an interview paired with Vogue's February cover, Serena Williams details the harrowing medical scare that followed the September birth of her daughter, Olympia. Williams said she gave birth via emergency C-section, and then developed blood clots on her lungs, sending her into a six-day medical ordeal that involved multiple surgeries to deal with the pulmonary embolism. "Everything went bad," she told the magazine. Williams said she was bed-ridden for the first six weeks of motherhood, adding a scary drama to the already emotional and physically demanding aftermath of having a baby. "No one talks about the low moments—the pressure you feel, the incredible letdown every time you hear the baby cry," she said. "I've broken down I don't know how many times. Or I'll get angry about the crying, then sad about being angry, and then guilty, like, Why do I feel so sad when I have a beautiful baby? The emotions are insane."

*Seattle attempts to impose morality with super high "sin" taxes on sugary drinks:
Seattle has decided to impose a 1.75 cent per ounce tax on all sugary beverages within the city with the hopes of raising a $15 million revenue stream that it will use for programs to help people "have better access to fresh fruits and vegetables," as Seattle station KIRO 7 explains. The price of Gatorade Frost Variety Pack at Costco, usually $15.99, with the $10.34 tax, shot up to $26.33, leaving customers with sticker-shock.

*LBN-MEDIA INSIDER:  ***Stephen K. Bannon stepped down on Tuesday from his post as executive chairman of Breitbart News, ostracized for now from conservative circles and the Republican Party he brazenly predicted he would remake. Mr. Bannon's departure, which was initiated by an estranged financial patron and Breitbart investor, Rebekah Mercer, came as Mr. Bannon remained unable to quell the furor over remarks attributed to him in a new book in which he questionsPresident Trump's mental fitness and disparages his sonDonald Trump Jr.

*LBN-HEALTH WATCH:   ***Facial exercises may significantly reduce some of the signs of aging, according to an interesting new study of the effects of repeating specific, expressive movements on people's appearance. The study, published in JAMA Dermatology, found that middle-aged women looked about three years younger after a few months of exercising, perhaps providing a reasonable, new rationale for making faces behind our spouses' backs. As all of us regrettably know, the human face changes with age. It begins to accumulate the grooves and wrinkles that connote either lengthening years or deepening character, depending on your viewpoint, and also starts, almost invariably, to sag.

*LBN-MUSIC INSIDER:   ***Willie Nelson abruptly ended his concert in San Diego this weekend after coughing and experiencing breathing difficulties during the first song of his performance. The incident was first reported by the San Diego Union Tribune. According to the newspaper, concert attendants say the 84-year-old music legend left the stage in the midst of concert opener "Whiskey River" and did not return.

*LBN-NOTICED:   ***US Ambassador to the UN Nikki Haleyand team having lunch at Tudor City Steakhouse in NYC.

*LBN-BUSINESS INSIDER:   ***A Dallas business owner is accusing Yelp of hiding good reviews of his coffee shop after he refused to pay them for advertising. Bob Sinnott owns Toasted Coffee + Kitchen in Lower Greenville. He said after months of non-stop phone calls from Yelp, he claims his favorable rating dropped after he finally told the company he would not pay for advertising. "What I would compare it to, the mafia," said Sinnott. "You know, you do business with me or there's retaliation."

*DID YOU KNOW? Did you know that nine (9) leading executives of the Sara Lee Corporation read LBN daily?
*LBN-VIDEO LINK: "An exceptional conversation with an exceptional thinker" — A ten minute introductory interview with one of Harvard University's most acclaimed best-selling authors:  "Without Notes" with Dr. Srini Pillay – Episode 1: The Early Years — https://youtu.be/rgQK37nRr0E

*LBN-R.I.P.:   ***Karin von Aroldingen, one of New York City Ballet's most distinctive ballerinas, who left an enduring impact on landmark experimental roles that George Balanchinechoreographed for her, died on Friday at her home in Manhattan. She was 76. Her daughter, the jewelry designerMargo Manhattan, confirmed the death without giving a cause.

*LBN-VIDEO LINK: The brand NEW – McLaughlin Group. —-https://youtu.be/E2pGoWLnY58

*Dr. Srini Pillay, M.D., Best-Selling Author, Explains How There is a Silver Lining in the ADHD Cloud
Dr. Srini Pillay informs that, "More than 1 in 10 children in primary schools have attention deficit hyperactivity disorder (ADHD), and this number increases to more than 4 out of 10 adults between the ages of 18-24 years old. Although the numbers decrease to 4 in 100 by adulthood, people who have ADHD at any age suffer in many ways. Symptoms include but are not limited to impulsivity, inattention, high distractibility, impulsive decision making, poor time management, difficulty following directions, working memory problems, excessive speeding while driving, difficulty engaging quietly in leisure activities, and poor follow-through. Proper treatment with medication and therapy may help to alleviate these symptoms, but residual symptoms may persist.
"While some may aim for complete focus as a target, recent studies show that your brain can only take so much unfocus," Dr. Pillay says. "To that extent, after adequate control of symptoms is achieved, it may make sense to leverage the symptoms of unfocus by developing the following lifestyle habits. Each will likely have a distinct advantage that may be counterintuitive, yet helpful."
Doodling during class or conference calls is the first lifestyle habit that Srini recommends obtaining. "Doodling activates the brain's unfocus circuit. As a result, your unconscious brain participates in memory formation, and your brain, rather than being like a stiff, focused sponge, becomes more absorbent of information."
"Another habit I recommend those with ADHD to develop is to daydream effectively," Srini suggests. "A certain type of daydreaming called positive constructive daydreaming (PCD) activates the unfocus circuits and re-energizes the brain. To get this started, plan it. Select a time in your day when you might be daydreaming anyway. Then, turn your attention inward, and imagine something positive or wishful. Perhaps you want to imagine playing a sport on a nice summer day and have your butler serving you drinks afterwards. When you do this, your mind will follow this rewarding image and start to wander. Let it. If you find yourself overthinking this, start with the image again. With practice, this will get easier and easier."
"A final recommended lifestyle habit I always suggest to those with ADHD is to dabble in a few different subjects," Srini says. "In an era when programmers are required to have some design sensibility, or artists may benefit from a sense of proportion, there is an opportunity for a new kind of Renaissance – one that people with ADHD are well suited to."
"In my book, "Tinker Dabble Doodle Try: Unlock the Power of the Unfocused Mind" I explain how people like the famous artistVik Muniz and the legendary Steve Jobs both had dabbling histories that made their lives that much richer. For Muniz, early career shifts allowed him to keep moving without being paralyzed. For Jobs, his early calligraphy class had no significance to him when he took it, yet he later used this when developing fonts for Apple. Even hobbies can protect your brain, especially if you engage in them an hour a day.
"ADHD can significantly impair your abilities in life, but minds that wander are not all lost. Rigid people have to teach themselves to be creative and flexible by loosening up. People with ADHD can tinker with their own attention to find the optimal reining in that is required before distraction provides the benefits of a restless brain, in search of connections and new ideas that could potentially transform the world

*LBN-COMMENTARY by Thomas L. Friedman: The biggest question about the recent protests in Iran — combined with the recent lifting of religious restrictions in Saudi Arabia — is whether together they mark the beginning of the end of the hard-right puritanical turn that the Muslim world took in 1979, when, as Middle East expert Mamoun Fandy once observed, "Islam lost its brakes" and the whole world felt it.The events of 1979 diminished the status of women, pluralism and modern education across the Arab-Muslim region, and they fueled religious extremist groups like Al Qaeda, Hezbollah and ISIS, whose activities have brought ruin to so many innocent Muslims and non-Muslims alike — and so many metal detectors to airports across the globe. I know a bit about 1979. I began my career then as a cub reporter in Beirut, where I promptly found myself writing about the following events: the ayatollahs' takeover in Iran, creating a hard-right Shiite clerical regime bent on spreading its Islamic revolution and veiling of women across the Muslim world; and the takeover of the Grand Mosque in Mecca by puritanical Sunni extremists, which freaked out the Saudi ruling family. The family reacted by purging music, fun and entertainment from their desert kingdom, strengthening the hold of the religious police over their society and redoubling the export of the most misogynist, antipluralistic interpretation of Islam to mosques and madrasas from London to Jakarta.

*LBN-COMMENTARY by Warren Buffett: I can say with almost certainty that they (Bitcoin and other digital money) will come to a bad ending.

*LBN-A DIFFERENT VIEW:….
*LBN-OVERHEARD:   ***Oscar winner Michael Douglas preemptively denied allegations that he once masturbated in front of a female employee and blackballed her from Hollywood, a report said. The "Fatal Attraction" actor told Deadline Hollywood that he's been told that The Hollywood Reporter was set to publish a story chronicling alleged misdeeds 32 years ago. The woman worked for Douglas' production company in New York, the famed actor said. "I don't know where to begin. This is a complete lie, fabrication, no truth to it whatsoever," Douglas told Deadline in an interview published at 9:41 p.m. New York time.   ***Lindsey Vonn hasn't stopped rooting for ex-boyfriend Tiger Woods. Speaking candidly with Sports Illustrated, the Olympic skier was asked if her two-year relationship with the highly publicized golfer was a smart move. "I mean. … I was in love," Vonn said. "I loved him and we're still friends. Sometimes, I wish he would have listened to me a little more, but he's very stubborn and he likes to go his own way.

LBN E-Lert Edited By Dan Gaylord