*The director of the FBI says the whole of Chinese society is a threat to the US — and that Americans must step up to defend themselves: 
FBI Director Christopher Wray on Tuesday reiterated a commonly held view among US intelligence officials that China is seeking to become a global superpower through unconventional means — but he framed it as both a governmental and a societal threat to the US.  Speaking before the Senate Intelligence Committee alongside the heads of other US intelligence agencies, Wray said that to undermine the US's military, economic, cultural, and informational power across the globe, China was using methods relying on more than just its state institutions.  "One of the things we're trying to do is view the China threat as not just a whole-of-government threat, but a whole-of-society threat on their end," Wray said. "And I think it's going to take a whole-of-society response by us."

*Russia Sees Midterm Elections as Chance to Sow Fresh Discord, Intelligence Chiefs Warn: 
Russia is already meddling in the midterm elections this year, the top American intelligence officials said on Tuesday, warning that Moscow is using a digital strategy to worsen the country's political and social divisions. Russia is using fake accounts on social media — many of them bots — to spread disinformation, the officials said. European elections are being targeted, too, and the attacks were not likely to end this year, they warned. "We expect Russia to continue using propaganda, social media, false-flag personas, sympathetic spokespeople and other means of influence to try to exacerbate social and political fissures in the United States," Dan Coats, the director of national intelligence, told the Senate Intelligence Committee at its annual hearing on worldwide threats. Mr. Coats and the other intelligence chiefs laid out a pair of central challenges for the United States: contending with the flow of Russian misinformation and shoring up the defenses of electoral systems, which are run by individual states and were seen as highly vulnerable in 2016.
*Trump Threatens to Veto Immigration Bills that Don't Meet His Demands:  
President Trump on Wednesday called on lawmakers to oppose a series of bipartisan efforts to address immigration and resolve the fate of the so-called "Dreamers," demanding fealty to his hard-line approach and increasing the odds of political gridlock as the Senate debates the issue. Senators in both parties are racing against a self-imposed, end-of-the-week deadline to write legislation that could win broad support by increasing border security while at the same time offering a path to citizenship for immigrants brought to the United States as children. But in a morning statement, Mr. Trump urged senators to oppose any bill that did not also embrace the "four pillars" of his immigration approach, which includes a rewrite of the nation's immigration laws that would close the country's borders to many immigrants trying to come to the United States legally. "I am asking all senators, in both parties, to support the Grassley bill and to oppose any legislation that fails to fulfill these four pillars," Mr. Trump said in the statement.

*Netanyahu, Defiant, Calls Bribery Case 'Full of Holes, Like Swiss Cheese':  
Fighting back against a damning new allegation of corruption from the Israeli police and calls for his resignation, Prime Minister Benjamin Netanyahu of Israel on Wednesday assailed investigators' findings as biased and "full of holes, like Swiss cheese," and vowed to serve to the end of his term in late 2019. After a yearlong graft inquiry, the police recommended late Tuesday that Mr. Netanyahu face prosecution on bribery, fraud and breach-of-trust charges, saying there was evidence he had accepted nearly $300,000 in gifts in exchange for official actions benefiting his patrons, and had back-room dealings with the publisher of a leading newspaper to ensure more favorable coverage. On Wednesday, Mr. Netanyahu used a late-morning appearance at a conference of local government officials in Tel Aviv to mount a detailed defense. He coolly hit back at the police, at a critical witness against him, and against political opponents and critics demanding that he resign or at least step aside while he is under investigation. "The coalition is stable, and no one, me or anyone else, has plans to go to elections," he said. "We will continue to work together with you for the citizens of the State of Israel, until the end of our term."

*FREELOADERS –  South Korea to Pay the Huge Bill Racked Up by North Korean Cheer Squad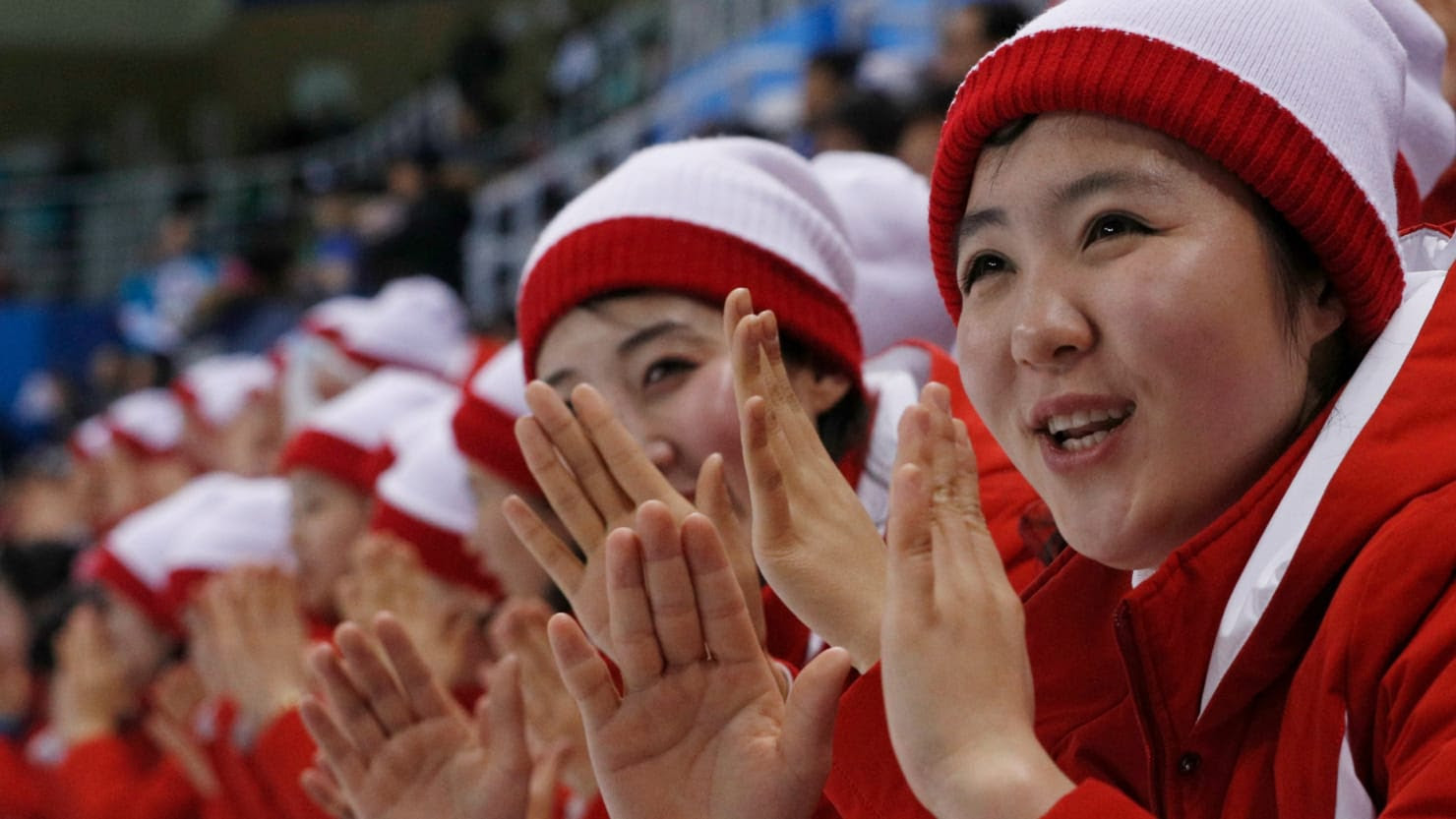 Everyone knows someone who orders the most expensive thing at a restaurant and then tries to wriggle out of paying their share of the bill. It turns out North Korea has around 400 of them. South Korea will pick up the $2.6 million tab for the North Korean delegation at the Winter Olympics, the bulk of which was racked up by the country's massive cheerleading squad and a few tae kwon do performers. The majority of the North's delegation is reported to have stayed at luxury hotels in Seoul and near the Olympic venues in Pyeongchang. On top of the $2.6 million bill, the cost of hosting the 22 North Korean athletes will be picked up by the International Olympic Committee, and the senior North Korean delegation's bills—including those of Kim Jong Un's sister—will be paid using a separate fund from the South Korean government.

*TOP DOG- Flynn the Bichon Frise Wins Best in Show at Westminster
Flynn the bichon frise was crowned as America's top dog Tuesday night at the Westminster Kennel Club dog show in New York. The 5-year-old pooch beat out six other finalists to win Best in Show, apparently impressing judges with his powder-puff fur and light-footed prance. "It feels a little unreal," Flynn's handler, Bill McFadden, said after the event. "I came in expecting nothing and just hoping for a good performance and I think I got it," he said. A total of 2,882 entries competed in the 142nd Westminster event, with 202 breeds and varieties. Flynn competed against six other finalists, including Biggie the pug, Bean the Sussex spaniel, Slick the border collie, Winston the Norfolk terrier, Lucy the borzoi, and Ty the giant schnauzer, who was the runner-up.

*LBN-INTEL FOR INFLUENCERS: Invite your friends, family, and associates to become smarter by receiving the LBN (if they've got the guts). Simply go to www.LBNElert.com and sign up to receive.
*Ryan Murphy to Join Netflix in Massive Five-Year Deal
Netflix has lured producer Ryan Murphy away from 21st Century Fox with a five-year deal reportedly worth as much as $300 million, one of the biggest deals ever for a TV producer. Murphy, whose hits like Glee and American Horror Story ginned up huge ratings, is due to move to Netflix in July, after his contract with Fox expires. Fox executives reportedly sought to keep him around, and he was viewed as a potential boost for Walt Disney Co. once the studio takes over most of Fox's assets. "This history of this moment is not lost on me," Murphy said in a statement Tuesday. "I am a gay kid from Indiana who moved to Hollywood in 1989 with $55 in savings in my pocket, so the fact that my dreams have crystallized and come true in such a major way is emotional and overwhelming to me."

*Prisoner Recaptured After Drugging Twin, Switching Clothes, And Walking Out of Jail
The Simpsons has had an impressive run of predicting real-life events, but reality is now stealing plot lines straight from Arrested Development. A Peruvian prisoner has been recaptured more than a year after he drugged his twin during a visit, switched clothes with him, and walked out of jail.Alexander Delgado's 13 months on the run came to an endMonday and he's now expected to be moved to a maximum-security prison to stop any more escape plots. Delgado reportedly told local media after his arrest that he carried out his daring escape "because I was desperate to see my mother." On the next Arrested Development…

*Crazed fan killed by cops after breaking into YouTube stars' home:  
A "single, lonely and disturbed" man was fatally shot by cops after he burst into the Texas home of a YouTube celebrity couple — who survived the ordeal by hiding in their closet, court documents show. Christopher Giles, 23, had driven 11 hours from New Mexico to the Austin home of Megan Turney and Gavin Free – known for their content on anime and slow-motion videos, respectively – on Jan. 26, after he "developed a fondness" for Turney and a dislike of her boyfriend Free, according to court documents cited by the Albuquerque Journal. A search of Giles' cellphone revealed more than a thousand notes about the couple, including his intense dislike of Free, whom he resented for his "lifestyle and success," according to a detective. "Furthermore, threatening thoughts were recorded by Giles and directed toward Gavin Free, i.e. 'I want Gavin Free to die alone, with no children,'" court documents show.

*Berkeley City Council votes to become sanctuary city for cannabis, likely a first:
Cannabis users and providers in Berkeley got an added layer of protection on Tuesday as the city declared itself a sanctuary city for marijuana, likely the first of its kind. The Berkeley City Council voted unanimously to become a sanctuary city for legal adult-use marijuana, prohibiting city agencies and employees from turning over information on legal cannabis activities and assisting in enforcing federal marijuana laws.

*LBN-VIDEO LINK: Alan Greenspan: Only one real way to save US economy —  https://youtu.be/tBlGYK_L-oQ

*LBN-MEDIA INSIDER:   ***The New York Times decided to sever ties with the newest addition to their editorial page on Tuesday — just hours after they announced her arrival. Quinn Norton — who was named as the paper's "lead opinion writer on the power, culture and consequences of technology" — ended her very short tenure after controversy erupted over her use of racial and homophobic slurs on Twitter. "Despite our review of Quinn Norton's work and our conversations with her previous employers, this was new information to us," read a statement from editorial page editor, James Bennet. "Based on it, we've decided to go our separate ways."

*LBN-READ QUESTION? – Is Chicago's Mayor Rahm Emanuel the worst Mayor in America? Send your comments (no more than 100 words) to: LBNElert@TimeWire.net
*LBN-SPORTS INSIDER:   ***Lindsey Vonn is single and ready to mingle on social media. On Wednesday, the Olympic skier took to Twitter from PyeongChang, South Korea, asking which of her 997,000 followers would step up and be her Valentine. "So apparently it's Valentine's Day….I forgot all about it because I'm at the #Olympics and I'm single. Anyone else out there single and want to be my valentine?  #worthashot," Vonn, 33, tweeted. As expected, Vonn received an outpouring of responses, with many asking Tiger Woods' former flame to "be mine."

*No Lipo Lipo — The Safest, Most Effective Body Sculpting System Available

Anti-aging expert and Facercise founder Carole Maggio has taught people across the globe how to sculpt their body and lose inches with No Lipo Lipo. She developed this proprietary technique as an alternative to risky procedures like liposuction and tummy tucks. Unlike these surgical fat reduction methods, No Lipo Lipo is non-invasive and can be done in the comfort of your own home. No Lipo Lipo is performed using a knuckle-style massage technique. By employing strong, upward sweeping motions, this revolutionary body sculpting method helps reverse the effects of aging and gravity on the body. No Lipo Lipo breaks down fatty connective tissue and cellulite while boosting circulation and stimulating the lymphatic system, which helps flush toxins from the body. Results are unrivalled—in spa, clients lose up to 15 inches all over their body. Maggio developed a No Lipo Lipo DVD several years ago so that clients can perform the technique on themselves in the privacy of their home. Hundreds of thousands have achieved incredible body sculpting results—many lose weight as well and experience lifted, glowing skin with greater definition overall. Clients report that treatments also boost their mood. While other methods require anesthesia and a scalpel, No Lipo Lipois completely risk-free and non-surgical. There are no negative side effects, like the bruising, swelling and potential infection associated with liposuction. Patients who do surgical methods of fat reduction often come to Maggio for help correcting the side effects they experience, such as dimpling and asymmetrical results.

*LBN-SITE OF THE DAY:
How did St. Valentine become associated with love and romance? Get the full story behind the holiday.

*LBN-VIDEO LINK: Ex-Workers Reveal The One Item You Should Never Order At McDonald's —  https://youtu.be/D5yY7XYvKIo

*LBN-COMMENTARY by Dennis Prager (Radio talk show host and author): Last week in Atlanta, I spoke for about 40 minutes to six randomly chosen black students from a local black college (for the upcoming film "No Safe Spaces" that Adam Carolla and I are making). Each one said he is oppressed. When I told them I didn't think blacks in America are oppressed, I sensed that they had never actually been told that by anyone. It was akin to telling physics students that gravity doesn't exist. And when I added that I don't think women are oppressed either, they were equally shocked. Ask yourself this question: Is a black child likely to grow up happy if he is told by his parents, his teachers, his political leaders and all his media that society largely hates him? Of course not. Raising a black child to regard America as racist and oppressive all but guarantees an unhappy black adult.

*LBN-VIDEO LINK: What You Don't Know About Costco's $1 Hot Dogs –   https://youtu.be/W3YbKRgXVwI

*LBN-COMMENTARY by Thomas L. Friedman: Two weeks ago, standing on the Syria-Israel border in the Golan Heights, I wrote a column positing that this frontier was the "second most dangerous" war zone in the world today — after the Korean Peninsula. Your honor, I'd like to revise and amend that column. Having watched the opening ceremony of the Winter Olympics, where North and South Korean athletes marched last week into the stadium together in a love fest; and having also watched Israel shoot down an Iranian drone from Syria, bomb an Iranian base in Syria and lose one of its own F-16s to a Syrian missile; and after U.S. jets killed a bunch of Russian "contractors" who got too close to our forces in Syria, I now think the Syria-Israel-Lebanon front is the most dangerous corner in the world. Where else can you find Syrian, Russian, American, Iranian and Turkish troops or advisers squaring off on the ground and in the air — along with pro-Iranian Shiite mercenaries from Iraq, Lebanon, Pakistan and Afghanistan; pro-U.S. Kurdish fighters from northern Syria; ISIS remnants; various pro-Saudi and pro-Jordanian anti-Syrian regime Sunni rebels and — I am not making this up — pro-Syrian regime Russian Orthodox Cossack "contractors" who went to Syria to defend Mother Russia from "crazy barbarians" — all rubbing against one another? As The Washington Post pointed out, "In the space of a single week last week, Russia, Turkey, Iran and Israel lost aircraft to hostile fire" in Syria.

*LBN-COMMENTARY by Matt Wilstein:  More than a year ago, we learned that Chris Rock had secured a $40 million deal with Netflix to record two new stand-up specials. On Valentine's Day, the comedian dropped the first one Beyoncé-style.  With barely any notice, Chris Rock: Tamborine appeared on Netflix early Wednesday morning. The special, taped last November at BAM in Brooklyn—almost exactly a year after he joined Dave Chappelle on Saturday Night Live to give his reaction to Trump's 2016 victory—is Rock's first since 2008's Kill the Messenger.  A decade later, the 53-year-old comedian is slightly more subdued than he was in the pre-Obama era, but no less in command of his stand-up game. Directed by the comedian Bo Burnham, Tamborine opens on the back of Rock's head as he hangs out backstage with friends; moments later, he's on stage and ready to preach. "You would think that cops would occasionally shoot a white kid just to make it look good," he begins. And from there, he's off—unnerving the audience up top by saying he wants to see white mothers crying over their dead children as well and noting that "bad apple" is an odd euphemism for "murderer."

*LBN-HISTORICAL COMMENTARY by David Viscott: To love and be loved is to feel the sun from both sides.

*LBN-A DIFFERENT VIEW:
*LBN-OVERHEARD:   ***Actor Luke Wilson was indirectly involved in a rollover crash in California that left the driver of a Ferrari dead and its passenger – pro golfer Bill Haas – injured, according to reports. Wilson was driving north on Chautauqua Boulevard in Pacific Palisades about 6:30 p.m. Tuesday when the Ferrari clipped his car and then collided with a BMW, KABC reported. The driver of the Ferrari — identified as 71-year-old Mark Gibello – was pronounced dead at the scene, fire officials told KTLA. Haas, 35, a six-time PGA Tour winner, was treated at a hospital and released, his manager Allen Hobbs said. The golfer has withdrawn from this week's Genesis Open at the Riviera Country Club in Los Angeles, Hobbs added.   ***Frances Bean Cobain is opening up about her struggles with addiction. On Tuesday, the daughter of Courtney Love and the late Kurt Cobain revealed that she was celebrating her second year of sobriety. "It's an interesting and kaleidoscopic decision to share my feelings about something so intimate in a public forum," the 25-year-old model shared in a raw message on Instagram. "The fact that I'm sober isn't really public knowledge, decidedly and deliberately. But I think it's more important to put aside my fear about being judged or misunderstood or typecast as one specific thing. I want to have the capacity to recognize & observe that my journey might be informative, even helpful to other people who are going through something similar or different."

LBN E-Lert Edited By Dan Gaylord