*Trump: N. Korea Made 'Very Wise and Well-Reasoned' Choice to Back Off of Guam
President 
Trump
 on Wednesday tweeted in apparent approval of North Korea's latest move to back off of its threat against Guam, writing, "
Kim Jong Un
 of North Korea made a very wise and well reasoned decision. The alternative would have been both catastrophic and unacceptable!" The news comes just days after North Korean leader Kim said he decided not to launch an attack on Guam—but warned he could always change his mind. Also on Wednesday, China urged North Korea and the United States to "hit the brakes" on their threats against one another. "The most important task at hand is for the U.S. and North Korea to 'hit the brakes' on their mutual needling of each other with words and actions, to lower the temperature of the tense situation and prevent the emergence of an 'August crisis,'" Chinese Foreign Minister 
Wang Yi
 said
on Tuesday
. Wang, on a phone call with his Russian counterpart, Sergey Lavrov, noted that Russia and China should work together to lessen tensions so that no one is able to "stir up an incident on their doorstep."
*Baltimore Removes Confederate Statues in Overnight Operation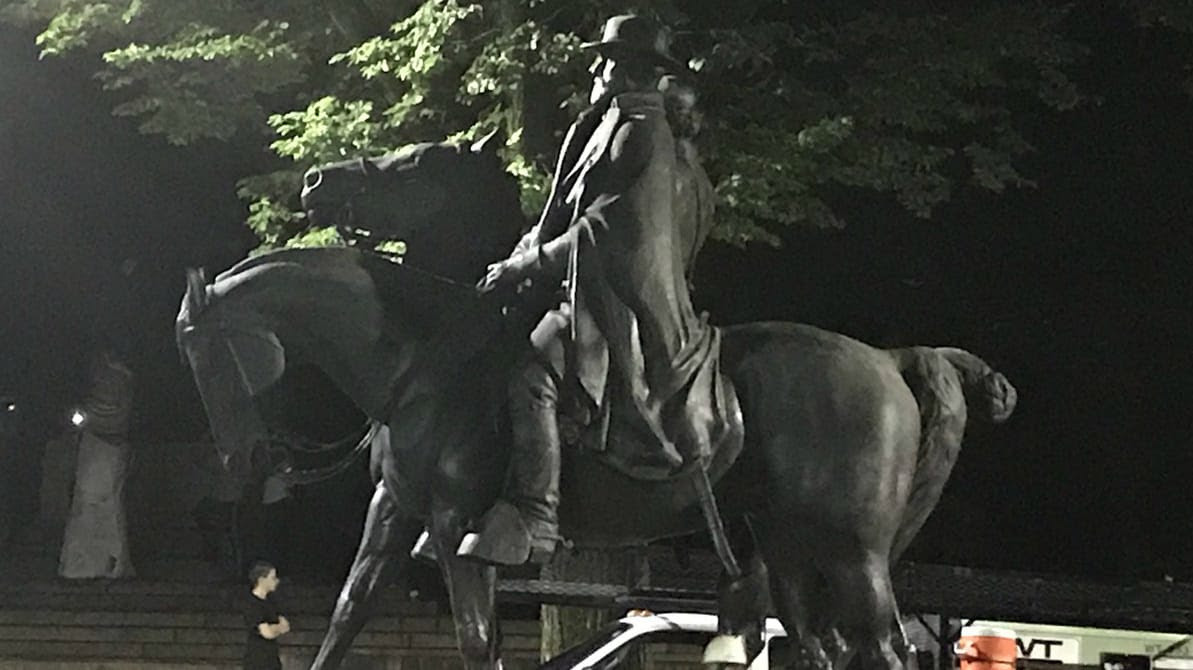 Authorities in Baltimore removed Confederate statues throughout the city early Wednesday morning, only a few days after the similar removal of monuments in Virginia sparked days of protests and violence. Just after 
midnight
 on Wednesday, a group of police officers and a crane made their way through public squares and city parks, tearing down the monuments and carrying them out of town. The small crowds that did appear were "celebratory," said 
Baynard Woods
, the editor at large of The Baltimore City Paper. "The police are being cheerful and encouraging people to take photos and selfies," Woods said.
*Rudy Giuliani Rushed Into Emergency Surgery After Fall
Former New York City Mayor 
Rudy Giuliani
 was rushed into emergency surgery over the weekend after he fell while on vacation in Long Island. "I was a catcher from a very young age, and I have suffered with 'catcher's knee' for years, and the doctors said it would deteriorate," Giuliani said after he had surgery on his quadriceps tendon. "I tried to get up but [my wife] 
Judith
 ordered me not to move. If it hadn't been for her, the injury would have been a lot worse." The former Republican presidential candidate said he is doing better and "already up and limping around."
*13 Accused 'Columbus Clique' MS-13 Gang Members Arrested in Ohio, Indiana:
More than a dozen alleged members of the feared MS-13 street gang were arrested during early morning raids 
Tuesday
 in Ohio and Indiana, the Department of Justice said. Federal prosecutors said a grand jury had charged 10 gang members of the "Columbus Clique" with conspiracy to commit extortion and money laundering, as well as the use of firearms during a violent crime, in an indictment returned in late July. The indictment alleges the 10 "conspired to commit extortion through the use of threatened or actual force, violence or fear to intimidate their victims into paying money to the defendants and their co-conspirators." Prosecutors said money was then sent "usually by wire transfer and often through intermediaries," to MS-13 members and associates in El Salvador and elsewhere to promote the group's criminal activities.
*MY REVIEW
: "I reason I read LBN daily is that is there is no bull-shit in it."—– 
Clyde B.
, an LBN reader from Dallas, Texas
*Michael Moore Takes Audience of Broadway Play to Protest Outside Trump Tower
Filmmaker 
Michael Moore
 wrapped up his one-man show on Broadway 
on Tuesday
 night by leading the audience over to Trump Tower to join a protest against President 
Trump's
comments on Charlottesville. Moore announced the move on Facebook, saying he and his audience members wanted to "nonviolently express our rage" over Trump's assertion that counter-protesters were partly to blame for violence at a white nationalist rally that left one woman dead and 19 people injured
on Saturday
. Joined by actor 
Mark Ruffalo
, Moore and at least a dozen of his fans called for Trump's impeachment, chanting, "Hey, hey, ho, ho, Donald Trump has got to go." In a video of the protest, Moore and Ruffalo were seen weighing whether to invite former White House communications director 
Anthony Scaramucci
 to join in, as he was apparently spotted having a drink nearby. They ultimately decided against it because he "still likes Trump," Moore said.
*LBN-INVESTIGATES:
 Newborns are more likely to turn their head to the right than to the left.
*BRING YOUR WORLD INTO FOCUS – READ LBN: Tell your friends, family and associates to sign up to receive LBN (if they've got the guts). Go to www.LBNElert.com and sign up.
*LBN-HOLLYWOOD INSIDER:   ***Daniel Craig, who once said he'd rather "break glass and slash my wrists" than play 007 again, told "The Late Show With Stephen Colbert" on Tuesday that he will return for another James Bond film. "I think this is it," the British actor said. "I just want to go out on a high note. I can't wait."

*LBN-NOTICED:   ***Publishing icon Judith Regan and media expert and author Michael Levine having dinner last night at a packed Madeo's restaurant in West Hollywood.   ***Former congressman Barney Frank at Le Pain Quotidien on West 40th Street in NYC.   ***Comic David Steinberg and his producer wife, Robyn Todd, were seen celebrating Steinberg's birthday at Primola on the Upper East Side in NYC with good friends, including former Viacom honcho Tom Freston and Carey Lowell, producer Jean Doumanian and "Ray Donovan" creator Ann Biderman.
*LBN-SPOTLIGHT: Brand is the perception someone holds in their head about you, or a product, service, organization, cause, or idea.   It can be negative, positive, or somewhere in between. As far as your perception goes, that is your colleague's brand.  Can you think of a band you love, a product that disappointed, a service that you couldn't live without? Brand, brand, brand. —– www.MichaelLevineMedia.com

Chessacademy
Chesscademy is an interactive website and is a fun way to learn how to play a game of Chess. The website also features tons of videos and puzzles to master yourself in this game.

*LBN-COMMENTARY by Thomas L. Friedman:
 I've been on the road since the Charlottesville killing. I am traveling around the Arab world and Afghanistan with the chief of the U.S. Air Force, Gen. 
David Goldfein
; his civilian boss, the Air Force secretary, 
Heather Wilson
; and their aides. We're currently at the giant Al Udeid Air Base, from which America's entire ISIS-Syria-Iraq-Afghanistan air war is run. With all the news from Charlottesville, I was feeling in the wrong place at the wrong time. And then I looked around me here, and the connection with Charlottesville became obvious. Just one glance at our traveling party and the crews at this base and you realize immediately why we are the most powerful country in the world. It's not because we own F-22s. And it surely isn't that we embrace white supremacy. It's because we embrace pluralism. It's because we can still make out of many, one. I am a pluralism supremacist.
*LBN-COMMENTARY by Mark Baer (Award-winning attorney, mediator):  Supporting Trump at this point does not indicate a difference of opinions. It indicates a difference of values. Values aren't like hobbies or interests. They don't change over time, and they more or less define who you are….  'If you saddle yourself with someone who fundamentally does not share your values, you're going to be unbelievably, achingly lonely.'… Most successful couples do seem to have moral compasses that point in roughly the same direction."

*LBN-COMMENTARY by Conan O'Brien:
 Chipotle has closed a location in Dallas after diners filmed three rats falling from the ceiling. Don't worry, the rats died of E. coli before they hit the ground.
*LBN-HISTORICAL COMMENTARY by Benjamin Franklin: Remember not only to say the right thing in the right place, but far more difficult still, to leave unsaid the wrong thing at the tempting moment.

*LBN-COMMENTARY by Seth Meyers: A truck carrying 22,000 pounds of ravioli and jalapenos caught on fire while on a highway in Indiana — and immediately became Guy Fieri'slatest restaurant.
*LBN-SPOTLIGHT:
Tinker Dabble Doodle Try: – https://www.amazon.com/Tinker-Dabble-Doodle-Try-Unfocused/dp/1524723088
*LBN-A DIFFERENT VIEW:….
*LBN-OVERHEARD:   ***More than six months after "Flip or Flop" star Tarek El Moussa filed for divorce, estranged wife Christina finally got around to filing her own petition in response. Christina, 34, cited "irreconcilable differences" in paperwork obtained by People, and requested joint legal and physical custody of her and Tarek's daughter, Taylor (6), and son Brayden, who will turn 2 on Aug. 20. The blond bombshell requested spousal support from Tarek, 35, and requested that a judge nix Tarek's own requests for spousal support from his January divorce filing.   ***Natalie Cole's son Robert Yancywas found dead in his San Fernando Valley, Calif., apartment on Monday night. He was 39 and Cole's only child. The death was attributed to natural causes.