*North Korea's Nuclear Test Site Has 'Collapsed'
North Korea's underground nuclear test site has become unusable after a large part of it collapsed, Chinese scientists say. Their evidence comes just one week after a surprise announcement from leader Kim Jong Un that North Korea would stop nuclear tests, with one researcher suggesting to the South China Morning Post that the collapse was the real reason for the unexpected suspension. The experts, led by researchers at the University of Science and Technology of China, have warned that another blast in the same spot and with similar yield to one in September, which is believed to have caused the collapse, could lead to "environmental catastrophe." "The occurrence of the collapse should deem the underground infrastructure beneath mountain Mantap not be used for any future nuclear tests," said an abstract for the study.

*Online Misogynists Laud Toronto Van Attack Suspect as Their 'New Saint'
Incels—the online community of misogynists who self-identify as "involuntary celibate"—have flocked to support the man accused of killing 10 people with a van in Toronto on Monday. The sect of losers, which congregates on sites such as Reddit and 4chan, adopted Alek Minassian as a "new saint" after it was reported he posted about an "incel rebellion" and praised anti-woman UC Santa Barbara murderer Elliot Rodger shortly before the van attack. "I hope this guy wrote a manifesto because he could be our next new saint," one poster wrote on incel.me, a forum where incels gather. "Spread that name, speak of his sacrifice for our cause, worship him for he gave his life for our future," another wrote. Minassian allegedly posted shortly before the attack: "Private (Recruit) Minassian Infantry 00010, wishing to speak to Sgt 4chan please. C23249161. The Incel Rebellion has already begun! We will overthrow all the Chads and Stacys! All hail the Supreme Gentleman Elliot Rodger!"

*Comcast Outbids Murdoch for Sky News With $31B Cash Offer
Comcast has made a formal $31 billion offer to buy Sky News, threatening media mogul Rupert Murdoch's effort to buy the remaining 61 percent of the satellite TV operation it does not own for about $26 billion, the BBC and Variety reported. Comcast's offer would acquire Sky for $17.43 a share, while 21st Century Fox would only pay $14.99 per share. As a result, Sky withdrew "its recommendation for the Fox bid following Comcast's move," BBC reported. Comcast Chairman and CEO Brian Roberts said on an earnings call to investors that it didn't necessarily need the acquisition, but saw Sky as "a unique asset… and is aligned with our strategy of integrating programming and distribution." Roberts added that the purchase of Sky would be the company's "platform for growth across Europe." Comcast already owns NBCUniversal and and Universal Pictures.

*Danish Submarine Inventor Found Guilty of Murdering Journalist Kim Wall
Peter Madsen, an inventor who admitted dismembering Danish journalist Kim Wall inside his private submarine, was found guilty of her murder Wednesday and sentenced to life in prison. The Copenhagen City Court sentenced the 47-year-old to the maximum punishment for the torture and murder of Wall, 30, in August 2017. He was found guilty of murder, dismemberment, and indecent handling of a corpse. Madsen repeatedly denied murdering the journalist, insisting Wall died accidentally while inside the submarine, but he did confess to cutting her up and throwing her body parts into the sea. Prosecutor Jakob Buch-Jepsen had claimed Wall's murder was sexually motivated and premeditated because Madsen brought along tools he normally didn't take when sailing, CBS News reports.

*Report: Jehovah's Witnesses' Policies Protect Child Abusers
Jehovah's Witnesses have internal policies that shield child abusers from law enforcement, according to a report from The Philadelphia Inquirer. Internal memos obtained by the Inquirer show that the religion's leadership has long been encouraged to not cooperate with police. A memo from 1997 specifically instructed elders to "inform one another if known pedophiles moved from one kingdom hall to another—and to withhold the information from the congregations." When allegations of abuse were brought to leaders, the accusations were then sent to the Witnesses' legal department in a "special blue envelope," sources told the newspaper. Victims would allegedly have to "recount their allegations in front of their abusers, and produce two eyewitnesses who could support their claims." Any disciplinary action was then handled internally. Victims who decided to go public with their allegations would face being "reproved," or publicly shunned for wrongdoing. "Jehovah's Witnesses abhor child abuse, a crime that sadly occurs in all sectors of society," Watchtower officials said in a statement. "The safety of our children is of the utmost importance."

*Professor Keeps Job After 'Disgraceful' Barbara Bush Tweets
The controversial Cal State Fresno professor who sparked a free-speech debate after mocking the death of former first lady Barbara Bush will keep her job and avoid any disciplinary action despite school officials calling her comments "disgraceful." Randa Jarrar provoked widespread anger when she called Bush, wife of President George H.W. Bush and mother of President George W. Bush, an "amazing racist who, along with her husband, raised a war criminal." In a letter posted on Twitter, Cal State Fresno President Joseph Castro condemned Jarrar's comments as "disgraceful" and "an embarrassment to the university," but said they weren't in violation of school policies. The letter noted Jarrar was acting as a private citizen when she posted the comments online and that her comments were protected under the First Amendment. "Therefore, the university does not have justification to support taking any disciplinary action," wrote Castro.

*Report: Trump to Visit U.K. This Summer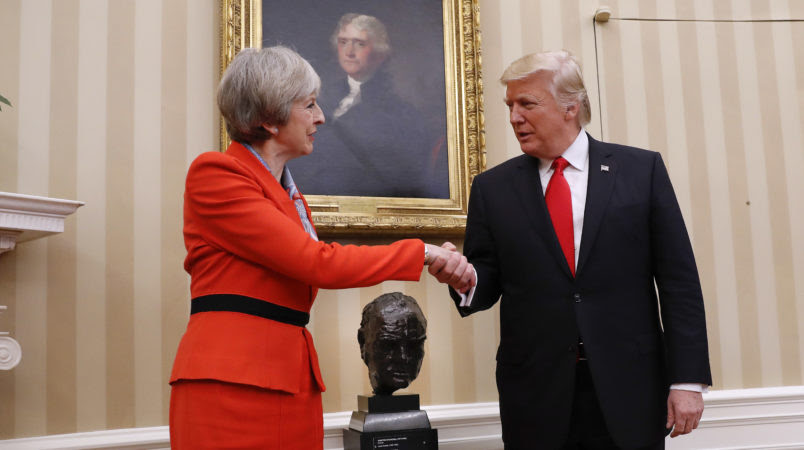 President Donald Trump will visit the U.K. in mid-July, sources told Sky News. Trump was slated to visit the country in February to open the new U.S. embassy, but cancelled the trip because he was "not a big fan" of the embassy's relocation, which he called a "bad deal." Trump reportedly told British Prime Minister Theresa May that he would visit the U.K. during the World Economic Forum. A formal announcement for the trip is expected in the coming days. This would be the president's first official visit to the U.K. since he was elected.

*LBN-SITE OF THE DAY:    
Watch the Internet as it grows in real time and monitor social media usage: Internet users, websites, blog posts, Facebook, Google+, Twitter, and Pinterest users. Visualize the total number of emails, Google searches, YouTube videos, Tumblr posts, Instagram photos, in 1 second. Historical trends, statistics, infographics and live data visualization.

*LBN-INVESTIGATES: Sperm whales can dive as deep as two miles into the water, and their bodies have unique physiological adaptations to allow them to survive the intense cold and crushing pressure of these dives. They can limit circulation to the brain and other organs, slow the heart to 10 beats per minute to conserve oxygen, and collapse the lungs and rib cage to withstand pressure.
*LBN-VIDEO LINK: Astronaut Chris Hadfield Debunks Space Myths — https://youtu.be/t6rHHnABoT8

*LBN-HISTORICAL COMMENTARY by Queen Christina: It is necessary to try to surpass oneself always; this occupation ought to last as long as life.

*"Tell YOUR Story" – "The Best Promotional Deal On The Web" 
Now YOU can tell YOUR unique story in the world-famous LBN E-Lert – www.LBNElert.com – and communicate directly with LBN readers in all 50 of the United States and 26 foreign countries.
Amazing coverage with YOUR story, YOUR headline, YOUR photo and YOUR website. And then, of course, you can share this LBN story on all YOUR Social Media! And it's really easy to do. Simply send your story (not to exceed 250 words) including a photo and link to: LBNElert@TimeWire.net. We will approve and run.
The cost is a mere $250 payable via PayPal or credit card. This is (by-far) one of the best deals in the world of digital promotion and only available to LBN subscribers.

*LBN-VIDEO LINK: Amazon Alexa Gone Wild — https://youtu.be/r5p0gqCIEa8

*LBN-A DIFFERENT VIEW
LBN E-Lert Edited By Dan Gaylord