*Damp, Dark and Disarrayed, Florida Starts Coping With Irma's Aftermath:
Florida emerged from Hurricane Irma 
on Monday
 as a landscape of blacked-out cities, shuttered gas stations, shattered trees and flooded streets, while the now-weakened storm kept sweeping northward. Major streets remained underwater in cities from Miami to Jacksonville, with even more roads snarled by debris. As many as nine million Floridians lost electricity at some point during the storm, and the chief executive of a major utility, Florida Power & Light, said that it could take weeks to restore full service. Officials were still assessing Irma's impact in the Florida Keys, which may have borne the worst of the storm. After a survey of the islands, Gov.
Rick Scott
 told reporters that he had seen crippling damage there, including countless overturned trailers and many boats washed ashore. Recovery in the Keys would be a "long road," he said.
*Report: Trump Lawyers Wanted Kushner Out Over Russia Investigation
Members of President 
Donald Trump's
 legal team wanted Trump's son-in-law, 
Jared Kushner
, out of his White House adviser role in June, over concerns about Kushner's dealings with Russian officials, The Wall Street Journal reports. Those lawyers were reportedly concerned that Kushner would be a liability in special counsel 
Robert Mueller's
 investigation into the Trump administration's alleged ties to Russia, specifically after it was revealed that Kushner failed to mention four meetings with Russian officials on his security-clearance forms. The lawyers also reportedly were worried that Kushner might speak to investigators without a lawyer present and that Kushner would be damaged when news of Donald Trump Jr.'s meeting with a Kremlin-connected lawyer inevitably leaked. (The news broke the following month.) Trump's lawyers reportedly expressed their concerns to the president in June and even had their staff draft a statement in anticipation of Kushner's departure. But Trump remained unconvinced, reportedly arguing that Kushner had done nothing wrong.
*HIGHWAY ROBBERY – Texas Attorney General Sues Businesses for Alleged Hurricane Harvey Price-Gouging
At least three Texas businesses—including hotels and gas stations—are now facing lawsuits filed by the Texas Attorney General for allegedly hiking their prices in the wake of Hurricane Harvey. "It's unconscionable that any business would take advantage of Texans at their most vulnerable–those who are displaced from their homes, have limited resources, and are in desperate need of fuel, shelter and the basic necessities of life," Attorney General 
Ken Paxton
 said in a press release. "Texas has tough price-gouging laws, and my office will continue to aggressively investigate and prosecute cases arising from Hurricane Harvey." The businesses named in the suits include Robstown Enterprises Inc. (which was operating as Best Western Tropic Inn), Bains Brothers-owned Texaco gas stations, and a Chevron-branded Encinal Fuel Stop.
*LBN-WHERE THE ELITE AND UNDERDOGS MEET:
 Now your friends, family and associates can sign up to receive LBN (if they've got the guts). Simply go to 
www.LBNElert.com
 and sign up to receive.
*Bannon Calls Comey Firing the Biggest Mistake in 'Modern Political History':
In his first extended interview since he left the White House last month, 
Stephen K. Bannon
 was unsparing in his criticism: calling out top Republicans, West Wing staff, the "pearl-clutching mainstream media," special counsel investigators and the Roman Catholic Church. He even singled out 
President Trump
, labeling his firing of 
James B. Comey
, the former F.B.I. director, the biggest mistake in "modern political history." Pressed by the interviewer, 
Charlie Rose
, Mr. Bannon said that had Mr. Comey not been fired, the Justice Department investigation into possible links between the Trump campaign and Russia's election interference would not have been handed over to the special counsel, 
Robert S. Mueller III
.
*Dog That Mauled Owner to Death Was Likely on Crack Cocaine
Evidence shows that the dog that killed its owner in front of a BBC documentary crew in March in London was likely under the influence of crack cocaine. A veterinary toxicologist said samples indicated high levels of cocaine and morphine. Mario Perivoitos died in his London home after losing 10 pints of blood following the attack by his own Staffordshire bull terrier. The crew was filming Drugs Map of Britain just before the attack. The dog, Major, has been ordered put down by police.
*WHO READS LBN? Comedian Louis C.K.

*LBN-INVESTIGATES: Gun Control:
Gun control is a broad term for the limiting and restricting of citizens to buy, possess, or use firearms. It also can dictate the purchase and use of ammunition, and establish requirements for those who wish to manufacture or sell firearms and ammunition.
The first instance to control citizen's use of weapons can be traced to 1139, when Catholic clerics met in Rome, Italy at the Second Lateran Council to discuss banning the use of crossbows.
Those for gun control tend to argue that fewer guns lead to less gun violence and deaths, while those opposed to gun control state that more "good guys" with guns prevent gun violence and deaths. However, studies show that while areas with higher rates of gun control tend to have fewer gun deaths, the link is correlational, and cause and effect are ultimately not discernible.
People with higher levels of education tend to favor more gun control than those with less education
At the core of the US debate on gun control is the ambiguity of the 2nd Amendment in the Bill of Rights. Some believe the phrase "A well-regulated militia" refers to the right of each state to keep an armed militia only, while others argue that the phrase, "the right of the people to keep and bear arms" means it is the right of every citizen to bear arms.
Research finds that higher gun control rates do not result in less crime overall, but enforcement of gun laws is associated with decreased rates of violent crime.
A 2013 study of mass shootings in the United States from 1982 to 2012 found that of the 72 incidents, 49 used weapons purchased legally, 12 used weapons obtained illegally, and 1 incident was determined as unknown.
The original 13 US colonies actually enforced laws in the 18th century that required colonists to have working guns for protection against wildlife and attacks from Native Americans. The 1790 Georgia colony even went as far as to require citizens to specifically bring their guns to church services.
Polls conducted in 2015 show that 47% of US citizens favor stricter gun laws, while 38% prefer to keep the laws the same, and 14% want less strict laws. In contrast, in 2012 polls showed favor of stricter gun laws at 58%.
*Christopher Columbus Statue Defaced in Central Park: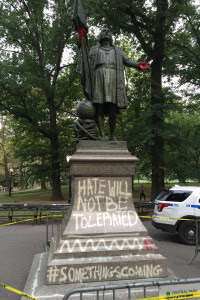 A vandal defiled a larger-than-life statue of 
Christopher Columbus
 in Central Park 
on Tuesday
, leaving "blood-red paint" on the explorer's hands and scrawling "Hate will not be tolerated" on its pedestal. The vandal also left an apparent threat at the base of the 7-foot-tall bronze: "#somethingscoming." A worker for the Central Park Conservancy, the nonprofit which oversees maintenance in the park, discovered the vandalized statue, located in the southern portion of the park at the foot of The Mall walkway near Center Drive, around 
7 a.m.
 and called police, authorities said.
*LBN-HEALTH WATCH: 
  ***The first gene therapy treatment in the United States was approved recently by the Food and Drug Administration, heralding a new era in medicine that is coming faster than most realize — and that perhaps few can afford. The treatment, Kymriah, made by Novartis, is spectacularly effective against a rare form of leukemia, bringing remissions when all conventional options have failed. It will cost $475,000. With gene therapy, scientists seek to treat or prevent disease by modifying cellular DNA. Many such treatments are in the wings: There are 34 in the final stages of testing necessary for F.D.A. approval, and another 470 in initial clinical trials, according to the Alliance for Regenerative Medicine, an advocacy group.
*LBN-NOTICED:   ***Helena Christensen dancing, as Mark Ronson DJ'd at new Lower Manhattan hot spot Mailroom in NYC.   ***Media expert and author Michael Levine at the Fairmount Hotel in Montreal for the Century of Genius event celebrating the life and work of Albert Einstein.   ***Quentin Tarantino having dinner at Beauty & Essex in LA with fiancéeDaniela Pick. Veteran Hollywood manager John Ferriterhaving lunch at Shu Sushi at the Beverly Glen Center in L.A.
*LBN-INVESTIGATES: Every year, between 1.5 and 2 million students in the US go on spring break and collectively spend over $1 billion.

*LBN-BOOK NEWS:   ***Richard Branson's Necker Island paradise has been devastated by Hurricane Irma. But in his upcoming book, "Finding My Virginity," the mogul reveals happier times at his estate, such as when supermodel pal Kate Moss "is on Necker, she can usually be seen on top of the Great House table, dancing away day and night. I've rarely seen anyone work so hard and play even harder."
*LBN-THIS DAY IN HISTORY
Nazi Commandos Rescue Imprisoned Benito Mussolini (1943) – In 1943, Italian dictator Benito Mussolini was deposed by his own government. When German forces discovered that he was being held at a ski resort in the Apennine Mountains, they launched a daring rescue. Arriving on gliders, German troops overwhelmed Mussolini's captors and spirited him away without firing a shot. The operation was a major propaganda success for the Nazis.

*LBN-VIDEO LINK: I Hate $15.00 Minimum Wage:https://youtu.be/in9A4Z4TZYc
*LBN-HOLLYWOOD INSIDER:   ***J.J. Abrams to ReplaceColin Trevorrow as Director on 'Star Wars: Episode IX'
govtrackTracking legislation and votes in the United States Congress.
*LBN-R.I.P.:   ****Len Wein, a prolific comic book writer who collaborated on bringing to life two of the art form's best-known characters, Wolverine and Swamp Thing, died on Sunday in Los Angeles. He was 69. His wife, Christine Valada, said he had been struggling with heart problems and other ailments for some time.   ***Don Ohlmeyer, whose influential television career ranged from producing ABC's "Monday Night Football" during its 1970s heyday to guiding NBC to No. 1 in prime time two decades later on the strength of programs like "Seinfeld" and "ER," died on Sunday in Indian Wells, Calif. He was 72. His family said in a statement that the cause was cancer.

*LBN-VIDEO LINK: "Without Notes" with Susan Estrich – Episode 2: The Kennedy Campaign —–  https://youtu.be/IQXPvgxeX8g
*LBN-COMMENTARY by David Brooks: Is there anything we can learn from hurricanes, storms and floods? People have been asking that question for thousands of years, and telling stories that try to make sense of natural disasters. These flood myths are remarkably similar to one another. A researcher named John D. Morris collected more than 200 of them, from ancient China, India, Native American cultures and beyond. He calculates that in 88 percent of the tales there is a favored family. In 70 percent, they survive the flood in a boat. In 67 percent, the animals are also saved in the boat. In 66 percent, the flood is due to the wickedness of man, and in 57 percent the boat comes to rest on a mountain top. The authors of these myths are trying to make sense of vast and powerful forces. They are trying to figure out what sort of world they live in. Is it a capricious world, where cities are destroyed for no reason? Or perhaps it's a just but merciless world, where civilizations are wiped out for their iniquity?

*LBN-COMMENTARY by Jennifer Senior: "What Happened" is not one book, but many. It is a candid and blackly funny account of her mood in the direct aftermath of losing to Donald J. Trump. It is a post-mortem, in which she is both coroner and corpse. It is a feminist manifesto. It is a score-settling jubilee. It is a rant against James B. Comey, Bernie Sanders, the media, and Vladimir Putin. It is a primer on Russian spying. It is a thumping of Trump. ("I sometimes wonder: If you add together his time spent on golf, Twitter and cable news," she writes, "what's left?") It is worth reading. Winning the popular vote by nearly 3 million may not have been enough to shatter the country's highest, hardest glass ceiling. But it seems to have put 2,864,974 extra cracks in Clinton's reserve

*LBN-COMMENTARY by Merritt Baer: Apple has announced that it plans to replace previous iPhone login credentials with facial recognition technology to log into the iPhone and to access Apple Pay. This should prompt some privacy and security concerns, but probably not the ones you're thinking. It's not the TSA or the Deep State who are most likely to abuse it. The depth and portability of current facial recognition authentication may be a new bridge into consumer app insecurity, like online banking apps and devices that hook up to the Internet of Things. Basically, with a newer facial recognition method about to become an industry standard after Tuesday'sApple event, identity theft could take on whole a new face. And, down the line, it'll make identity theft yet another thing only those with disposable income can afford to stop.

*LBN-COMMENTARY by Dennis Prager: Judaism and Christianity: Liberals knew and appreciated the Judeo-Christian roots of American civilization. They themselves went to church or synagogue, or at the very least appreciated that most of their fellow Americans did. The contempt that the left has — and has always had — for religion (except for Islam today) is not something with which a liberal would ever have identified.If the left is not defeated, American and Western civilization will not survive. But the left will not be defeated until good liberals understand this and join the fight. Dear liberals: Conservatives are not your enemy. The left is.

*LBN-VIDEO LINK: The Power of 'No' –  https://youtu.be/-Lsp_rjHv54

*LBN-A DIFFERENT VIEW:….
*LBN-OVERHEARD:   ***Russell Brand has revealed he would like to be friends with his ex-wife Katy Perry, six years after he ended their marriage by text. The comedian, 42, who is now married to Laura Gallacher and a father, famously dumped the pop star in 2011 after being married for just 14 months. But now he is hoping to put all that behind them, telling Grazia magazine: "I'm willing and open for reconciliation, any kind. Because if we can't overcome our relatively trivial personal disputes in this world, what hope is there for us?"