*Despite Concerns, Census Will Ask Respondents if They Are U.S. Citizens:
The 2020 census will ask respondents whether they are United States citizens, the Commerce Department announced Mondaynight, agreeing to a Trump administration request with highly charged political and social implications that many officials feared would result in a substantial undercount. In a statement released Monday, the Commerce Department, which oversees the Census Bureau, said Commerce Secretary Wilbur Rosshad "determined that reinstatement of a citizenship question on the 2020 decennial census questionnaire is necessary to provide complete and accurate census block level data," allowing the department to accurately measure the portion of the population eligible to vote. But his decision immediately invited a legal challenge: Xavier Becerra, California's attorney general, plans to sue the Trump administration over the decision, a spokeswoman for Mr. Becerra said late Monday.

*EXPAND YOUR MIND – READ LBN: Dare to explore the world. Now you can invite your friends, family, and associates to sign up (if they've got the guts). Simply tell them to go towww.LBNElert.com to sign up and receive.
*John Paul Stevens: It's Time to Repeal the Second Amendment
Retired Supreme Court Justice John Paul Stevens called for the repeal of the Second Amendment in a New York Times op-ed published Tuesday. Stevens, who served on the Supreme Court from 1975 to 2010, called the Second Amendment "a relic of the 18th century" that saw a lifting in its previously limited reach in 2008's District of Columbia v. Heller decision. He said that case's ruling "provided the [National Rifle Association] with a propaganda weapon of immense power," and that overturning the Second Amendment "would be simple and would do more to weaken the NRA's ability to stymie legislative debate and block constructive gun-control legislation than any other available option." Stevens, now 97, also called for the March for Our Lives leaders to demand the amendment's repeal, and claimed it "would move Saturday's marchers closer to their objective than any other possible reform." In an 2014 op-ed in The Washington Post, Stevens called for the courts to clarify the Second Amendment's right to bear arms existed "in the Militia."

*Get Out – NATO Expels Seven Russian Diplomats, Cuts Size of Mission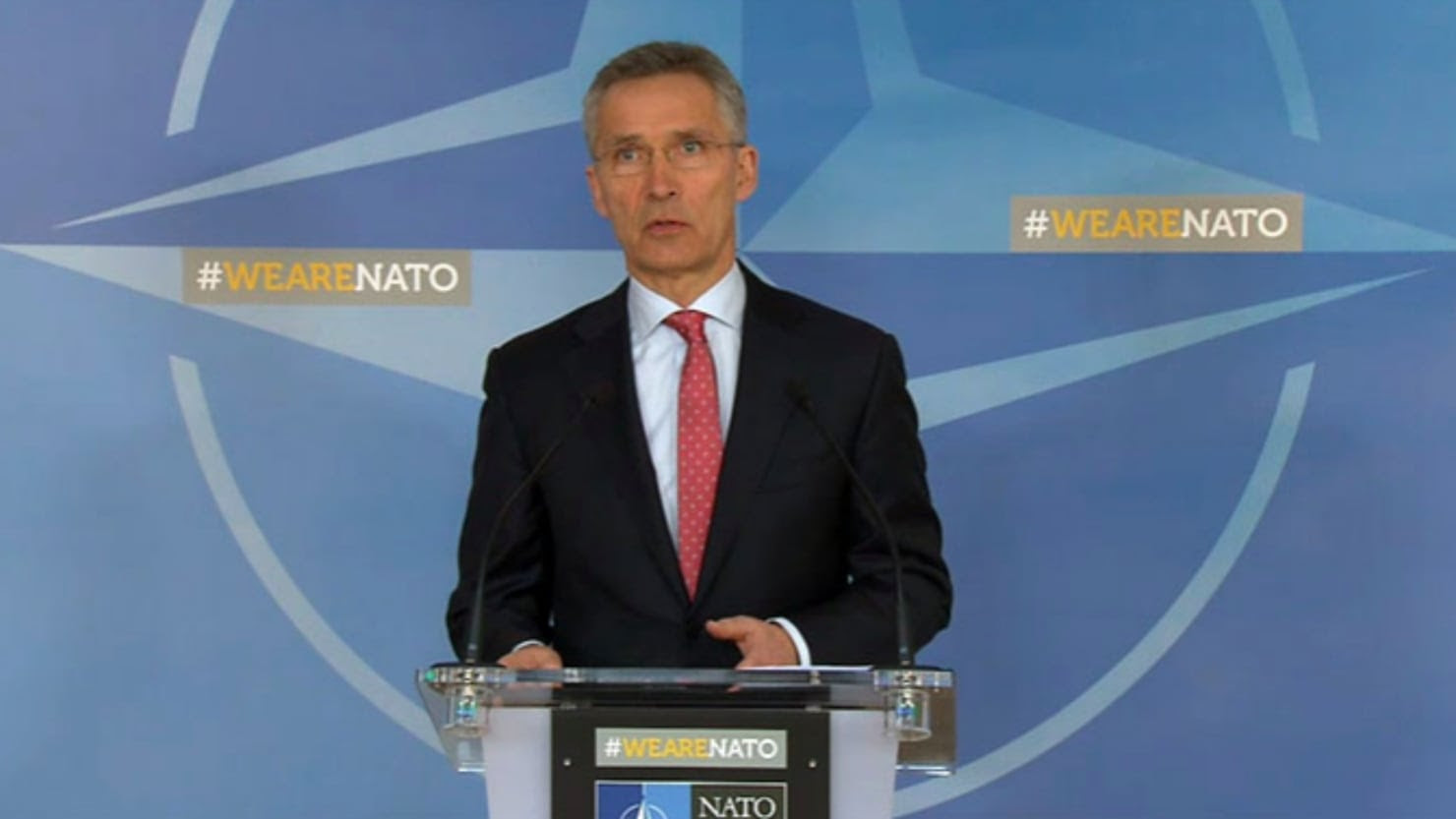 The Russian diplomat is fast becoming an endangered species after NATO joined over 25 Western governments by kicking out Russian representatives as punishment for the Kremlin's suspected involvement in the nerve-agent attack against a former spy in Britain. More than 140 Russian diplomats have been ordered to return to Moscow by governments across the Western world over the past week, and NATO Secretary-General Jens Stoltenberg said Tuesday that NATO would kick out seven diplomats and limit the size of Russia's mission to 20, down from 30. "This sends a clear message to Russia that there are costs and consequences for its unacceptable and dangerous pattern of behavior," said Stoltenberg. "It follows Russia's lack of constructive response to what happened in Salisbury. Our actions reflect the serious security concerns expressed by all allies, and are part of the coordinated international effort to respond to Russia's behavior. They are proportionate, and in line with our legal obligations."

*Anti-'sanctuary state' movement picks up steam in Orange County:
Just more than a week after tiny Los Alamitos voted to defy California's law protecting immigrants in the country illegally, Orange County is poised to become a counterpoint against the state's resistance to the Trump administration's policies. On Tuesday, Orange County supervisors may consider whether to take up a resolution to condemn and possibly take legal action against the state's "sanctuary" laws. "These state laws are preempted by federal law," Orange County Supervisor Shawn Nelson said. "Our officers actually face penalties under state law if they so much as talk to federal agents for the wrong thing. That's just unacceptable and it's contrary to federal law."

*Baton Rouge police officers cleared in 2016 killing of Alton Sterling:  
Louisiana's attorney general has ruled out criminal charges against two white Baton Rouge police officers in the fatal shooting of a black man whose death fueled widespread protests. Attorney General Jeff Landry's announcement Tuesday comes nearly 11 months after the Justice Department ruled out federal criminal charges in Alton Sterling's July 2016 death. Officer Blane Salamoni shot and killed Sterling during a struggle outside a convenience store where the 37-year-old black man was selling homemade CDs. Officer Howie Lake II helped wrestle Sterling to the ground, but Lake didn't fire his gun. Two cellphone videos of the shooting quickly spread on social media, leading to nightly protests during which nearly 200 people were arrested. The officers' body cameras and a store surveillance camera also recorded the encounter.

*AT HIS OWN HAND – Maryland School Shooter Killed Himself When Confronted by Resource Officer
The teenager shooter who attacked a school in Maryland last week—killing one student and wounding another—killed himself and was not shot by a school resource officer as was previously reported, authorities said. The shooting at Great Mills High School last Tuesday saw Austin Wyatt Rollins fire one shot that hit his ex-girlfriend, Jaelynn Willey, in the head; another student, Desmond Barnes, was struck in the leg by the same bullet. Willey later died of her injuries after being taken off life support and Rollins died at the scene. It had been unclear whether Rollins killed himself or was shot down by an armed school officer, but investigations have concluded that he shot himself in the head while a simultaneous shot from an officer hit and ricocheted off Rollins' handgun. The findings come amid a debate on whether to arm teachers and increase the number of armed officers placed in schools.

*Hide and Seek – New Zealand Wants to Expel Russian Spies But Can't Find Any
New Zealand was notably absent Monday from the list of countries that expelled alleged Russian spies in punishment for the nerve-agent attack in Britain—but the country's prime minister has explained, saying they simply can't find any there. New Zealand is part of the Five Eyes intelligence alliance with the U.K., the U.S., Australia, and Canada, so it would be fair to expect the country to join solidarity shown against Russia in the wake of the attempted murders on British soil. New Zealand Prime Minister Jacinda Ardern told journalists that the country has looked for Russian intelligence officers to expel but came up with nothing. "While other countries have announced they are expelling undeclared Russian intelligence agents, officials have advised there are no individuals here in New Zealand who fit this profile. If there were, we would have already taken action," said Ardern. More than 100 Russian diplomats alleged to be undeclared spies have been ordered to leave Western countries and return to Moscow.

*Two men charged with fatally stabbing Holocaust survivor:
Two men have been charged with fatally stabbing an 85-year-old French Jewish woman who survived the Holocaust – and Paris prosecutors say the death is being probed as an "anti-Semitic murder." Mireille Knoll, 85, who escaped a notorious roundup of Parisian Jews shipped off to Auschwitz, was found dead Friday with 11 stab wounds in her torched apartment in Paris' eastern 11th district. The public prosecutor's department in Paris opened its probe into "a murder based on the assumption that the vulnerable victim belonged to a specific religion." "All the necessary means will be mobilized so that we will figure out the motivations of the authors of this barbaric act, which reminds us of the darkest hours of our history," Interior Minister Gerard Collomb said, CNN reported. "To attack a Jew, it is to attack France and the values that establish the foundation of the nation."

*LBN-SPOTLIGHT – HELP WANTED:  Executive Assistant to an established Actor/Writer/Director/Producer/Global Acting Teacher. Must be passionate, knowledgeable of every aspect of film, fashion & media – driven to swiftly learn – dedicated to improving every aspect of company operations in pre-production, product integration, principal photography & post, worldwide marketing, premieres and film festivals. Great verbal, dictation, visual sense essential. Proactive and bright – able to work with actors, students, productions crews, sponsors w/deal making acumen. Organize social media, social calendar & book tour with top level PR Operatives. Social media posting skills all platforms and computer/Mac also essential. Authentic presentation, chic when required. Jump in and go. The Devil Wears Prada for film. Salary commensurate with abilities and performance. Paid probationary period. Discretion and operational project security paramount. If interested, please email your resume and cover letter to Kilpatrick203@gmail.com

*Facial recognition technology can now text jaywalkers a fine: 
Jaywalkers in China are to be named, shamed and slapped with an instant SMS fine. And it's all thanks to cutting-edge artificial intelligence. In the southeastern city of Shenzhen, police have set up AI-powered boards by crossings. If you jaywalk, a CCTV camera will scan your face and flash it up on the huge screens for all to see, according to the South China Morning Post (SCMP). If that wasn't embarrassing enough, there are now plans to ping offenders' phones with quick-fire fines as soon as they violate the grim rule. The AI company behind the billboards, Intellifusion, is in talks with mobile phone networks and local social media platforms to enforce the new system.

*LBN-MUSIC INSIDER:   ***A toxicology report from Prince's autopsy, obtained Monday by The Associated Press, shows he had what multiple experts called an "exceedingly high" concentration of fentanyl in his body when he died. Prince was 57 when he was found alone and unresponsive in an elevator at his Paisley Park estate on April 21, 2016. Public data released six weeks after his death showed he died of an accidental overdose of fentanyl, a synthetic opioid 50 times more powerful than heroin. A confidential toxicology report obtained by the AP provides some insight into just how much fentanyl was in his system. Experts who are not connected to the Prince investigation said the numbers leave no doubt that fentanyl killed him.

*LBN-BOOK NEWS:   ***Veteran US Senator John McCain is to deliver a "no-holds-barred" verdict on his fellow RepublicanDonald Trump's presidency in a new book of memoirs, his publishers announced Monday. Despite being in the same party as the president, McCain has been one of Trump's most forceful critics over the last two years, both in the run-up to the 2016 election and its aftermath. Although he has been undergoing treatment for brain cancer since last summer, McCain has continued to voice his concerns about Trump's leadership and recently questioned the nomination of a CIA official once involved in torture to lead the spy agency. "Candid, pragmatic and always fascinating, John McCain holds nothing back in his latest memoir" which is entitled "The Restless Wave" and will be released on May 22, according to the publishers Simon & Schuster.

*THINK FREELY – READ LBN: Did you know that 84% of LBN readers in all 50 of the United States and 26 foreign countries feel LBN is "fearlessly independent" and "unbiased"?
*LBN-R.I.P.:   ***Linda Brown, whose father objected when she was not allowed to attend an all-white school in her neighborhood and who thus came to symbolize one of the most transformative court proceedings in American history, the school desegregation case Brown v. Board of Education, died on Sunday in Topeka, Kan. She was 75. Her death was confirmed on Monday by a spokesman for the Peaceful Rest Funeral Chapel in Topeka, which is handling her funeral arrangements. He did not specify the cause.

*LBN-VIDEO LINK: Dana Loesch reacts to students' march for gun control — https://youtu.be/aiAh4F29bHI

*LBN-SITE OF THE DAY:    
Founded in 2005, FlightAware was the first company to offer free flight tracking services for both private and commercial air traffic and quickly rose to become the most popular flight tracking service. FlightAware currently provides private aviation flight tracking in over 45 countries across North America, Europe, and Oceania, as well as global solutions for aircraft with datalink (satellite/VHF) via every major provider, including ARINC, Garmin, Honeywell GDC, Satcom Direct, SITA, and UVdatalink. FlightAware also continues to lead the industry in free, worldwide airline flight tracking and airport status for air travelers.

*LBN-COMMENTARY by David Brooks: I have to say, I loved the gun-control march I observed last Saturday in Washington. The crowd was good-hearted, gracious, diverse and welcoming. At a time when trust in democracy is waning, everybody kept underlining their faith in our democratic system, that voting is the way to make change. There was no culture war nastiness, no hint of resentment. Hunters and farmers and vets were celebrated. There was no ill will toward anybody but the N.R.A. Of course some of the student speakers were grandiose and pretentious. Most of us were like that when we were 18. But for all their talk of "revolution," at its heart, this march was about a series of sensible, practical and moderate reforms: restricting assault weapons, expanding background checks and similar measures. Recently, it has seemed like the country is gyrating out of control, that extremism on one side is generating extremism on the other. But the march I saw was not extreme. It was a responsible moral answer to right a very specific wrong, gun violence. It struck me as a very characteristic burst of American moral passion. The march passed what I have come to think of as The Privilege Test. One of the great privileges of life is to be born an American citizen. We are the lucky inheritors of the American Creed, built around freedom, equality, opportunity and democracy. There's no such thing as the French Creed or the Italian Creed but there is an American creed. As Richard Hofstadter famously put it, "It has been our fate as a nation not to have ideologies, but to be one."

*LBN-VIDEO LINK: Paul Simon – The Boxer: Live From Paris —   https://youtu.be/sstgcbGsew0

*LBN-COMMENTARY by Steven Hill: Most customers who love Uber don't realize that the company subsidizes the cost of many rides. This is likely a major factor in Uber's annual losses surging from 2.8 billion in 2016 to $4.5 billion in 2017. This seemingly nonsensical approach is actually Uber's effort to use its deep pockets to mount a predatory price war and shut out the competition. That competition is not only taxis and other ride-sharing companies, but public transportation. Studies have found that half to 61 percent of Uber passengers in the United States say that they would have used public transportation, ridden a bicycle or walked, or not have made the trip at all, if Uber had not been available.

*LBN-A DIFFERENT VIEW:…Ashley Judd, 1998
*LBN-OVERHEARD:   ***A sleepy Sean Penn mumbled his way through an interview on "The Late Show with Stephen Colbert" thanks to an airplane and some Ambien. "I'm doing well," Penn, 57, told his host on Monday's episode. "You've inherited a little of the Ambien I had to take to get to sleep after a red-eye last night." When Colbert, 53, asked if Penn was still under the influence of the doze-inducing drug, Penn shrugged, "A little bit." The Oscar winner proceeded to chain-smoke on the air while plugging his debut novel, "Bob Honey Who Just Do Stuff." He began by explaining that the increased divisiveness in the country, as well as his own hot temper on movie sets, drove him to prefer writing to acting in recent years.   ***Mark Burnett's son, Cameron Burnett, is back home after being hospitalized. On Monday, Roma Downey, who is married to Mark, took to Instagram to thank everyone for their prayers and support during their family's trying time. "Thanking God for answered prayers for our family and to everyone out there who prayed with us this week THANK YOU. We are so grateful! We are joyful saying prayers of thanksgiving," the former "Touched by an Angel" star wrote on Monday. Cameron, who Mark shares with ex-wife Dianne J. Burnett, had brain surgery to remove a tumor four years ago at age 16.

LBN E-Lert Edited By Dan Gaylord