*Trump: 'No Deal Was Made Last Night on DACA'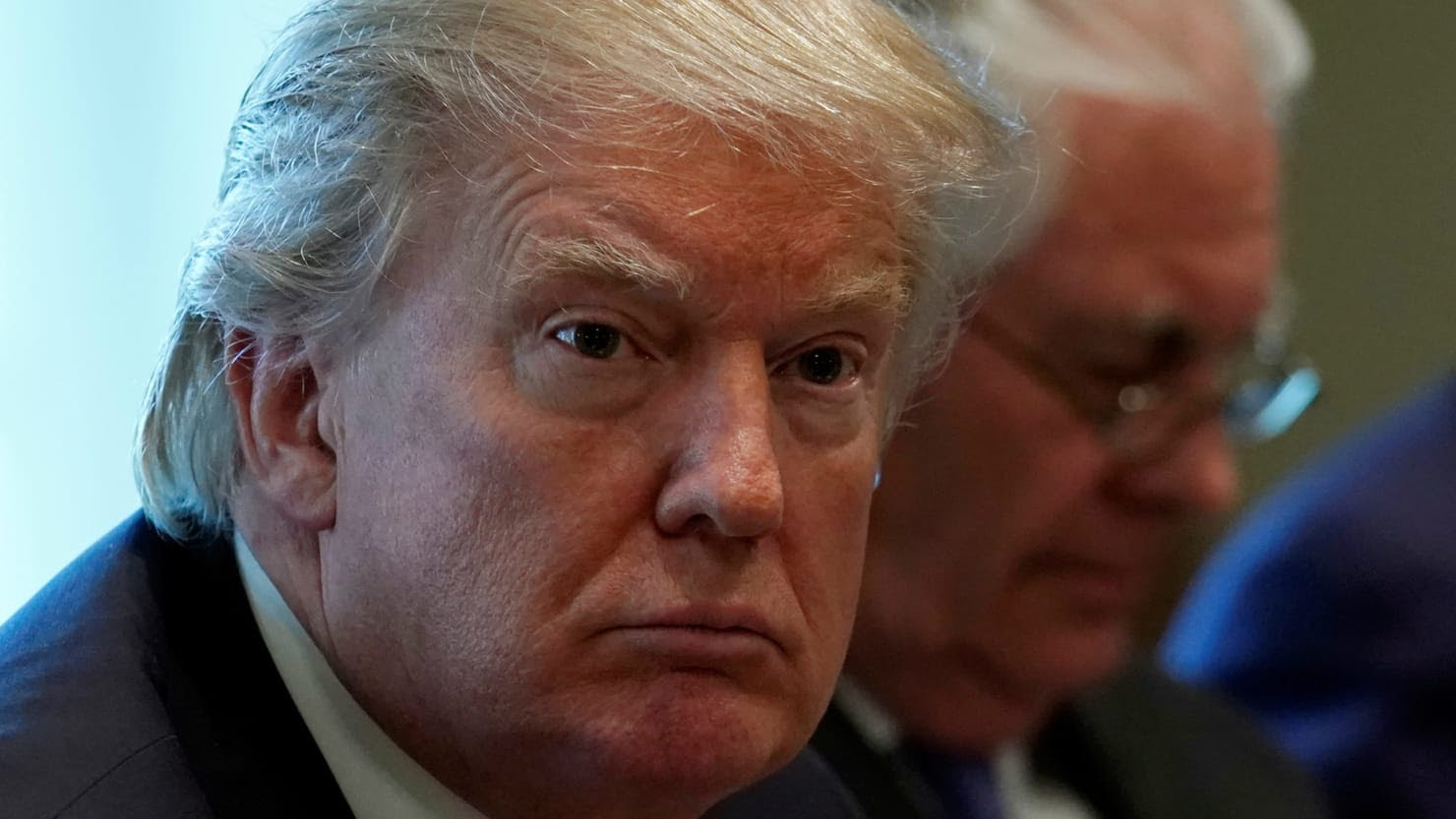 President 
Trump
 tweeted early Thursday that "no deal was made last night on DACA," the morning after Senate Minority Leader 
Chuck Schumer
 and House Minority Leader 
Nancy Pelosi 
declared they reached a tentative pact with him to pursue to a legislative fix on the Deferred Action for Childhood Arrivals program. In a joint statement late 
Wednesday
 following their dinner at the White House, Schumer and Pelosi said the trio "agreed to enshrine the protections of DACA into law quickly, and to work out a package of border security, excluding the wall, that's acceptable to both sides." But in a pre-dawn tweet, Trump wrote "Massive border security would have to be agreed to in exchange for consent. Would be subject to vote" and said his border wall with Mexico "would be built." A Democratic aide told The Daily Beast late 
Wednesday
 that Trump "was clear he would continue to fight for the wall separate from this agreement." However, Trump's tweets seemed to indicate support of details of the reported agreement on DACA, tweeting "Does anybody really want to throw out good, educated and accomplished young people who have jobs, some serving in the military? Really!" and "They have been in our country for many years through no fault of their own—brought in by parents at young age. Plus BIG border security."
*UNHINGED – North Korea Threatens to 'Sink' Japan With Nuclear Weapons
North Korea has threatened to use nuclear weapons to "sink" Japan and reduce the U.S. to "ashes and darkness" after being hit with a new round of sanctions by the United Nations this week. "Japan is no longer needed to exist near us," the Korea Asia-Pacific Peace Committee, a state agency in charge of external ties and propaganda, declared via the state-run Korean Central News Agency early 
Thursday
. "The four islands of the archipelago should be sunken into the sea by the nuclear bomb of Juche," the committee said, referring to the North's ruling ideology. "Let's reduce the U.S. mainland into ashes and darkness. Let's vent our spite with mobilization of all retaliation means which have been prepared till now," the committee said. The statement comes after the United Nations Security Council voted unanimously 
Monday
 to impose a new round of sanctions on North Korea following its latest nuclear test this month.
*David Lynch: There Could Be a Season 4 of 'Twin Peaks'
It could happen again? Director 
David Lynch
, in his first public appearance since the excruciatingly confounding finale of "Twin Peaks: The Return", told a Serbian audience 
on Wednesday
that a Season 4 of the cult TV series was in fact possible—but fans would have to be very patient (again). "It took me four and a half years to write and film this season," Lynch told a crowd at the Belgrade Culture Centre via Skype. Lynch exasperated the gathered audience by declining to answer any of the numerous questions left open by the Sept. 3 finale, including what happened to original-series fan favorite Audrey Horne. "What matters is what you believe happened," he said. Executives at Showtime, which brought back the mind-bending whodunit for a limited run after 25 years, have said they would hold off on talks with Lynch and co-creator 
Mark Frost
 until the 18-episode series wrapped.
*Anthony Scaramucci Wants Paternity Test for Newborn Son:
Anthony Scaramucci's divorce is turning nasty, because he believes the newborn son whose birth he missed during his historically-brief tenure in the White House is not his – and he is demanding a paternity test. A source says The Mooch believes estranged wife Deidre Ball could have been impregnated by someone else while he was away building his now famously-failed political career for President Donald Trump. Deidre, we are told, is horrified by the claim and insists the child is Scaramucci's. And she has upped the stakes by hiring top Manhattan divorce attorneys Bernard Clair and Dan Rottenstreich from the powerful firm Cohen Clair Lans Griefer Thorpe & Rottenstreich LLP in order to make mincemeat of The Mooch in court. A source said, "Things are heating up in the divorce. He doesn't believe that child is his.
*LBN-WHERE THE ELITE AND UNDERDOGS MEET:
 Now your friends, family and associates can sign up to receive LBN (if they've got the guts). Simply go to 
www.LBNElert.com
 and sign up to receive.
*Fake Porn Producer goes to Prison for Duping Women into Sex:  
A Missouri man who duped more than two dozen women into having sex by telling them they were auditioning for lucrative roles in pornography was sentenced 
Wednesday
 to 10 years in prison. 
Mario Ambrose Antonie
, 34, of Raymore, conned the women by promising them up to tens of thousands of dollars to star in skin flicks after they first "auditioned" on camera. He assumed various bogus roles as a recruiter, talent agent, photographer and camera man for several fake companies and modeling websites, including "Playboy Worldwide" and "Playboy Asia," WHO-HD reports. Prosecutors said in a memo seeking the 10-year sentence that Antoine orchestrated the "depraved scheme" on women throughout the Kansas City metro area. And if they complained, as some women did, Antoine sent pictures of them engaging in sex acts to their relatives or friends, the Kansas City Star reports.
*WHO READ LBN? Veteran Beverly Hills plastic surgeon Dr. Jon Perlman
*LBN-NOTICED:   ***Benedict Cumberbatch at Cut by Wolfgang Puck at the Four Seasons Hotel New York Downtown in NYC.   ***Maggie Gyllenhaal and Peter Sarsgaard seeing rockers the National play the Bowery Ballroom for a surprise SiriusXM show in NYC.
*LBN-SPORTS INSIDER
:   ***ESPN has announced that it accepts the apology of host
 Jemele Hill
, who came under fire this week after describing President 
Trump
 as a "white supremacist." Scores of athletes and ESPN fans vehemently defended Hill—and her comments. But Hill apologized 
on Wednesday
, after getting a mention by Trump's press secretary at the White House. "My comments on Twitter expressed my personal beliefs," she said. "My regret is that my comments and the public way I made them painted ESPN in an unfair light. My respect for the company and my colleagues remains unconditional." Just minutes later, ESPN issued a corresponding press release: "Jemele has a right to her personal opinions, but not to publicly share them on a platform that implies that she was in any way speaking on behalf of ESPN. She has acknowledged that her tweets crossed that line and has apologized for doing so. We accept her apology."
*LBN-INVESTIGATES:
 Unlike dogs, cats do not have a sweet tooth. Scientists believe this is due to a mutation in a key taste receptor.
*WHO READS LBN? Acclaimed children's book author Renee Rodriguez
*LBN-VIDEO LINK:
"Without Notes" with Susan Estrich – Episode 2: The Kennedy Campaign —- Susan Estrich is an American lawyer, professor, author, political operative, political commentator, and feminist advocate.  https://youtu.be/IQXPvgxeX8g
*LBN-R.I.P.:   ***Grant Hart, the co-founder, drummer and singer for the seminal indie band Hüsker Dü, has died at age 56, Variety reported Thursday. He had recently been diagnosed with cancer. Hart formed the Minneapolis band with fellow singer-songwriter Bob Mould and bassist Greg Norton in 1979, becoming pioneers of the American independent-rock movement of the 1980s.   ***Frank Vincent, whose tough-guy looks brought him steady work as a character actor in film and television for four decades, including mobster roles on "The Sopranos" and in "Goodfellas," died on Wednesday in New Jersey.   ***Cal Worthington — the legendary car dealer who became famous for his "Go see Cal" TV commercials has gone on to that great used car lot in the sky. Worthington — who had dealerships in Long Beach, CA, Anchorage, Alaska, Phoenix, Houston, Sacramento and other cities — died Sunday at his ranch in California.
*LBN-SPOTLIGHT: "Better be wise by the misfortunes of others than by your own." – Aesop  —-www.TheExcelCommunity.com
*LBN-COMMENTARY by Joe Biden: In over 45 years of working in global affairs, I've observed a simple truth: America's ability to lead the world depends not just on the example of our power, but on the power of our example. American democracy is rooted in the belief that every man, woman and child has equal rights to freedom and dignity. While the United States is far from perfect, we have never given up the struggle to grow closer to the ideals in our founding documents. The constant American endeavor to live by our values is a great strength that has drawn generations of strivers and dreamers to the United States, enriching our population. Around the world, other nations follow our lead because they know that America does not simply protect its own interests, but tries to advance the aspirations of all. This has stood as the foundation of American foreign policy throughout my political career — until recently.
*LBN-VIDEO LINK: "IT" Trailer 3 (Extended) 2017 —  https://youtu.be/cdg193GvnBA
*LBN-COMMENTARY by Peggy Noonan: And so, the pivot. I thought it would come sooner, on the heels of the inaugural address in which President Trump deliberately declared his distance from the Republicans of George W. Bush's era and the Democrats of Barack Obama's: "Washington flourished—but the people did not share in its wealth. Politicians prospered—but the jobs left, and the factories closed. The establishment protected itself, but not the citizens of our country." That was the famous "American carnage" speech, and it was Mr. Trump saying he was something new, a beginner of things, a party of one. He didn't follow through. Because the pivot has come late, after almost eight months of fumbles and blunders that hardened sides, the outlook for any new and sustained legislative progress seems doubtful at best. But yes, what we saw this week was Mr. Trump's pivot toward the Democrats.
*LBN-SPOTLIGHT: The Einstein Legacy Project — https://www.youtube.com/watch?v=IzsHuc6jrWw
*LBN-A DIFFERENT VIEW:….
*LBN-OVERHEARD:   ***Selena Gomez revealed today that she had a kidney transplant this summer, and that her best friend was the donor. Gomez made the announcement via a post on her Instagram account, which, with 126 million followers, is the most followed account in the world. In the post, she thanked her friend, the actress Francia Raisa, who donated an organ, and encouraged her fans to find out more about lupus, a chronic inflammatory disease that occurs when the body's immune system attacks its own tissues and organs.  Inflammation caused by lupus can affect many different body parts — including the kidneys.   ***Lawyers for Anthony D. Weiner, the former Democratic congressman whose lewd text exchanges with a teenage girl led to his prosecution and embroiled him in an F.B.I. investigation of Hillary Clintonbefore the presidential election, asked a judge on Wednesdaynight to spare him a prison sentence. In asking that Mr. Weiner receive probation, his lawyers described his behavior as "inexcusable," but cited his "remarkable progress" over the past year. Mr. Weiner, 53, writing separately to the judge, cited his "profound" regret for endangering the well-being of the girl, whom he understood to be 15. He added, "My continued acting out over years crushed the aspirations of my wife and ruined our marriage." And, he said, his young son "will forever have to answer questions about the public and private failings of his father."   ***Martin Shkreli, the former pharmaceutical executive who is awaiting sentencing for a fraud conviction, was sent to jail on Wednesday after a federal judge revoked his bail because he had offered $5,000 for a strand of Hillary Clinton's hair. Mr. Shkreli, who was free on $5 million bail while he awaited sentencing, had made two Facebook posts offering cash to anyone who could "grab a hair" from Mrs. Clinton during her book tour.   ***Five people have been charged in Tennessee with conspiring to defraud the My People Fund ofDolly Parton's Dollywood Foundation, set up to help people affected by wildfires last year. The Knoxville News Sentinel reports a Sevier County grand jury charged Debra Kay Catlett; her son, Chad Alan Chambers; Rocco Boscalia; Annie Lyons; and Esther Pridemore. The charges include money laundering, criminal conspiracy, and felony theft. An arraignment date hasn't been set.   ***Heidi Klum and her younger art-dealer boyfriend Vito Schnabel are "on a break" after three years together, according to sources. "Heidi went out last week three times, never with Vito," observed a Fashion Week insider. "They're on a break."   ***Tom Cruise — who has sued two publications and a porn star for claiming he was gay — has corroboration that he is heterosexual: from beyond the grave. In the posthumous biography of Johnny Fratto, "Now That I'm Dead: Here's the Real Dirt," written by Mafia historian Matthew Randazzo V, the con artist, jewel thief and art forger reveals that he coached Cruise during the 1985 filming of "The Color of Money." "Despite what rumors you've heard, I can vouch from firsthand experience that Tom Cruise is not a homosexual," Fratto said.