*ZTE Settles with U.S., Pays $1 Billion Fine:
The United States and Chinese telecom ZTE have reached a deal that will let the ailing company return to business, according to the Wall Street Journal. The deal requires the company to pay a $1 billion fine for violating sanctions by providing goods to Iran and North Korea. The Trump administration's initial response to the transgression was a full ban on American products being sold to the company, rendering it unable to produce any goods. Trump then reversed course, promising to return Chinese jobs. The deal also requires the company to "change its management and its board" and put "$400 million in escrow, which it will forfeit if it violates U.S. sanctions on North Korea and Iran." This comes after ZTE hired a Trump campaign veteran to lobby on its behalf, and as the Trump administration has been piling up tariffs against Beijing and U.S. allies. U.S. intel officials have long warned about Chinese spying technology embedded in ZTE products.
*Afghan President Declares Temporary Cease-Fire With Taliban: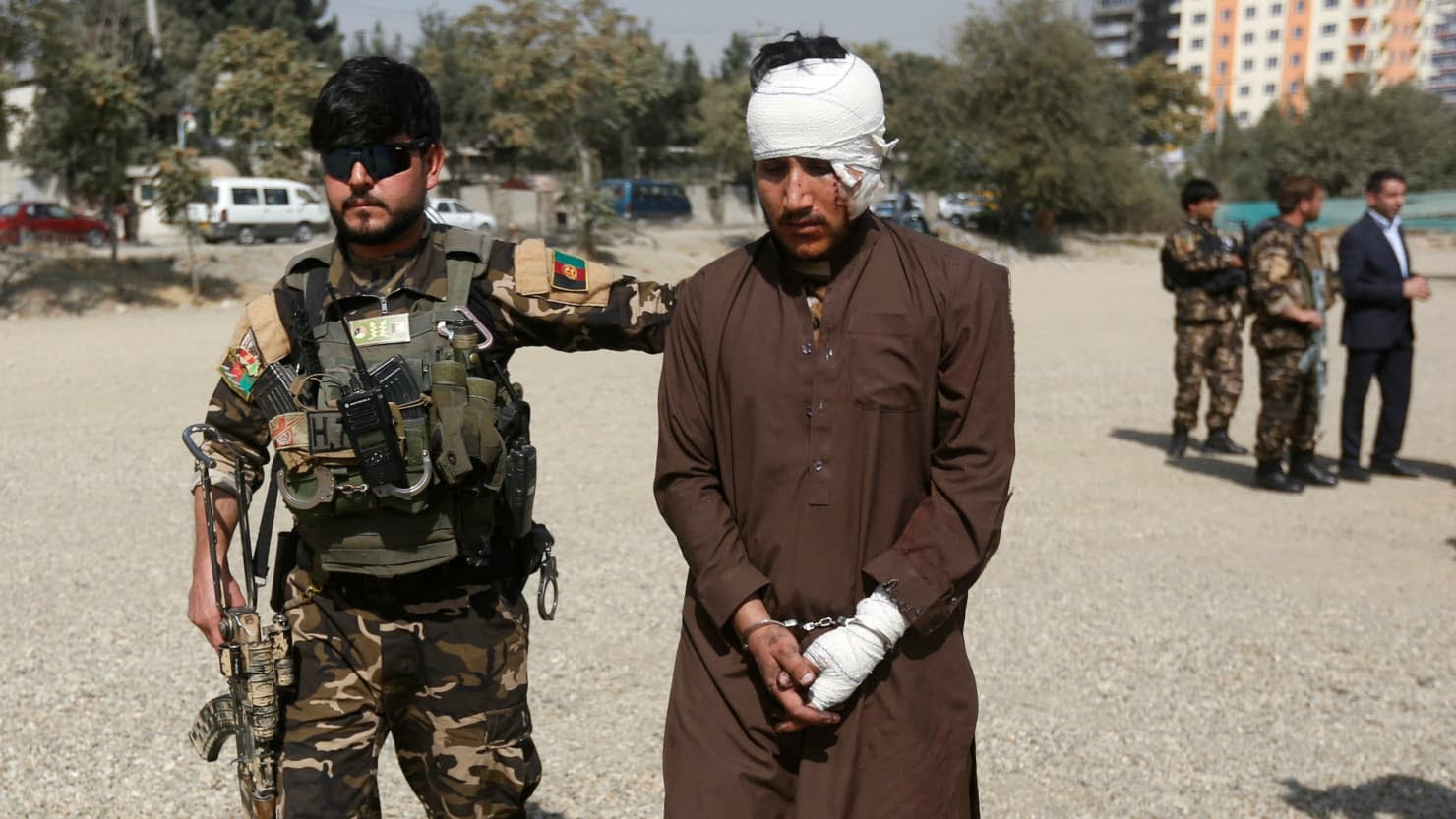 The president of Afghanistan has announced a weeklong cease-fire with the Taliban, and the U.S. has confirmed it will honor the arrangement. Speaking in a televised address, Ashraf Ghani said local forces would halt operations against the insurgent group beginning June 12—it is the first time an Afghan leader has declared a cease-fire with the Taliban since the war began in 2001. "This cease-fire is an opportunity for Taliban to reflect on the fact that their violent campaign is not winning them hearts and minds but further alienating the Afghan people from their cause," said Ghani. Gen. John Nicholson, U.S. Forces-Afghanistan Resolute Support commander, said: "We will adhere to the wishes of Afghanistan for the country to enjoy a peaceful end to the Islamic holy month of Ramadan, and support the search for an end to the conflict." The cease-fire will not include U.S. counterterrorism efforts against ISIS, al Qaeda, and other regional and international terrorist groups.

*GROSS – Craigslist Ad Led Officials to Michigan State Physicist Accused of Bestiality:
A Craigslist ad specifically asking for a "restless dog or horse" led investigators to the doorstep of 51-year-old Joseph Hattey, the Michigan State University employee who was recently charged with two counts of bestiality. The Lansing State Journal reports the ad read: "Anyone have a restless dog or horse that needs occupied for a while? I love playing with them. Preferably not fixed but either is fine, male animals preferred."Ingham County Animal Control found the man who placed the ad, and he told officials he saw Hattey "having sexual contact with a dog while he was at Hattey's home" this year. Investigators then seized Hattey's phone and computer, which allegedly had photos of "human and animal acts" and others showing Hattey having sex with a dog with a "distinctive" fur pattern. The dog in question, a basset hound named Flash, was reported to have "suffered anal trauma" but is now in an adoptive home and has a new name.

*LBN-BUSINESS INSIDER:   ***Berkshire Hathaway chairman Warren Buffett and J.P. Morgan Chase chief executive Jamie Dimon told CNBC the U.S. economy is in rare form and could continue to prove strong for years to come. In an exclusive joint interview with CNBC's Becky Quick, Dimon and Buffett cited several aspects of the economy as reasons for optimism. "Right now, there's no question: It's feeling strong. I mean, if we're in the sixth inning, we have our sluggers coming to bat right now," Buffett said in the "Squawk Box" the interview that aired Thursday.

*LBN-HOLLYWOOD INSIDER:   ***Actress Reese Witherspoon confirmed that she will reprise her iconic role asElle Woods in a third Legally Blonde movie. Witherspoon made the announcement in an Instagram post, appearing in the pink bedazzled bikini she wore in the original movie. "It's true… #LegallyBlonde3," the actress wrote in her caption. It has been 15 years since Witherspoon played Woods—an ambitious and unapologetically pink-loving Delta Nu sorority girl who didn't quite know where her mind would take her until she decided to go to Harvard Law School. The first Legally Blonde in 2001 earned $141 million worldwide, and the sequel raked in $124 million at the box office.

*LBN-INVESTIGATES: Mike Pence
1. Pence's favorite movie is The Wizard of Oz.
2. Superman is Mike Pence's favorite superhero.
3. Mike Pence's favorite flavor of ice cream is Moose Tracks.
4. Pence is a life-long Chicago Cubs' fan.
5. Pence had originally endorsed Republican candidate Ted Cruz during the 2016 campaign before he became Trump's running mate.
6. American political theorist, Russell Kirk, strongly influenced Pence's conservative views. In addition to his religion, Pence said political theorist Russell Kirk also strongly influenced his views on governance. Kirk's 1953 book The Conservative Mind, helped create the post-World War II conservative movement.
7. When Trump suggested blocking all Muslims from immigrating to the U.S., Pence was one of the many Republicans who condemned the idea.
8. In contrast to Trump, Pence supports the controversialTrans-Pacific Partnership and the Central American Free Trade Agreement. While in Congress, he voted in favor of nearly every free trade agreement.
9. Pence once tried to launch a state-run news organization funded by taxpayers' dollars. Called "Just IN," it was widely criticized and compared to Pravda, the news outlet of Russia's Communist Party.
10. Pence has regularly sidestepped the question of whether he believes in evolution.

*LBN-SPORTS INSIDER:   ***The Bryan Colangelo saga is over. The 76ers are parting ways with their general manager and president of basketball operations, according to ESPN. They reportedly will hold a press conference Thursday afternoon to make the announcement. This comes after a report from The Ringer uncovered multiple Twitter accounts linked to Colangelo, which blasted players such as Joel Embiid and Jahlil Okafor and revealed organizational secrets. The firm hired by the Sixers to investigate the matter said in a statement Thursday it believes Colangelo's wife, Barbara Bottini, was behind the accounts. However, the damage had already been done. This will reportedly be described as a resignation.

*Chris Collins, Renowned Business Expert, Blasts Mark Zuckerberg's European Contrition Tour:
Chris Collins, the best-selling  author of Gamification: Playing For Profits and founder of Syndicate X, a "Secret Society for Entrepreneurs and Leaders," speaks out against Facebook CEO Mark Zuckerberg's mea culpa European tour before various heads of European political parties. "Feels like Zuckerberg is the CEO of "Occupy Wall Street", not Facebook," Collins contends. "We really need him to stop and explain what business Facebook is in." Since revelations about theCambridge Analytica scandal emerged, Facebook has said it estimates 87 million Facebook users' data was possibly misused by the political ad targeting firm, including as many as 2.7 million Europeans. "Facebook has no clear vision or outcome. They are in the data business like it or not. They control and track us," Collins continues. "Facebook has one of the largest face recognition databases in the world. Do we trust that info to a CEO who doesn't know what business he's in?" "Whether it's fake news, foreign interference in elections or developers misusing people's information, we didn't take a broad enough view of our responsibilities," Zuckerberg said in his opening remarks at EU headquarters. "That was a mistake, and I'm sorry for it." "We, as society, have seen this "play" enough times," Collins argues. "Facebook hasn't changed. They have just started a PR campaign. In the end, changing their ways is more important," Collins concludes.

*THINK FREELY – READ LBN: Now you can invite your friends, family, and associates (if they've got the guts) by telling them to go to www.LBNElert.com
*LBN-INVESTIGATES: Between 50 and 80 percent of amputees experience phantom limb sensations, feelings that an absent limb is still present. These sensations are often painful.

*LBN-NOTICED:   ***The grieving husband of fashion designerKate Spade left his Upper East Side building Thursday morning — hiding his face behind a mouse mask. Andy Spadethrew on the bizarre disguise and left his Park Avenue home just after 8:30 a.m. — two days after his wife Kate was found dead in the apartment. The mask — Bernard, voiced by Bob Newhart in the 1977 cartoon movie, "The Rescuers" — depicts the fictional character with a grinning bucktoothed face, black whiskers, wearing a red newsboy cap and matching turtleneck. Spade, 55, clad in a buttoned-up jean jacket, slowly walked to a waiting black Chevy Suburban while clutching a coffee mug and with a green notebook tucked under his arm. ***FormerTrump adviser Gary Cohn at the Golden Pear in Southampton, Long Island.   ***NFL great Jim Brown andLong Island Lizards lacrosse owner Andrew Murstein at Catch LA, where Brown said he's headed to Cleveland to "bring some luck" to the Cavaliers.

*LBN-MEDIA INSIDER:   ***The New Yorker's editorial staff members said Wednesday that they had formed a union, adding the magazine to a growing list of publications, old and new, whose employees have turned to collective bargaining during a tumultuous time for the industry. The staff members said in a statement that the publication "must work harder for its employees," citing a lack of job security, almost no overtime compensation and pay inconsistency. Many employees worked as contractors without health insurance and other benefits despite doing the same work as staff members, the union said.

*LBN-INVESTIGATES: Cocaine was first used in the U.S. in the 1880s, where it was applied as an anesthetic in eye, nose, and throat operations.

*LBN-MUSIC INSIDER:   ***On what would have been his 60th birthday, the Prince estate announced Thursday that it is prepping a new album of previously unreleased home recordings, Piano and a Microphone 1983, set to arriveSeptember 21st. The LP's nine tracks were culled from cassette recordings Prince made at his piano at his Kiowa Trail home studio in Chanhassen, Minnesota. The estate teased the project with Prince's rollicking and rumbling rendition of the 19th century spiritual, "Mary Don't You Weep," which will also play during the end credits of Spike Lee's upcoming movie, BlacKkKlansman.

*LBN-R.I.P.:   ***Peter Stringfellow, the sex-club entrepreneur who hosted celebrities, millionaires, and royalty at his London establishments, has died of cancer, aged 77, it was announced Thursday.   ***Mel Weinberg, the con artist whose greatest hustle was the F.B.I.'s 1978-79 Abscam sting, using phony Arab sheikhs, a yacht in Florida and suitcases of money to snare a senator, six congressmen and other public officials for influence peddling, died on May 30 in a hospital near his home in Titusville, Fla. He was 93. His death was confirmed by his ex-wife Evelyn Weinberg.   ***Jerry Maren, who danced into pop culture in 1939 as the tartan-costumed, candy-toting Munchkinleader of the Lollipop Guild in "The Wizard of Oz," a role that overshadowed a lifetime of quiet offscreen work to bring dignity to dwarfs, died on May 24 in San Diego. He was 98. His death, at a care facility in the La Jolla section, was first reported on Wednesday. A nephew, Lloyd Decker, said the cause was congestive heart failure.   ***Red Schoendienst, the St. Louis Cardinals' Hall of Fame second baseman, manager and coach who had a major league career of more than 70 years, died on Wednesday night at his home in Town & Country, Mo., outside St. Louis. He was 95 and the oldest living member of the Hall. His death was confirmed by his daughter Eileen Schless.

*LBN-SITE OF THE DAY:   
Ever tried to read through license agreements and got lost in the legal speak? At TL;DR Legal you can lookup open source licenses summarized & explained in plain English.

*LBN-COMMENTARY by Andy Spade: Kate Spade was the most beautiful woman in the world. She was the kindest person I've ever known and my best friend for 35 years. My daughter and I are devastated by her loss, and can't even begin to fathom life without her. We are deeply heartbroken and miss her already. Kate suffered from depression and anxiety for many years. She was actively seeking help and working closely with her doctors to treat her disease, one that takes far too many lives. We were in touch with her the night before and she sounded happy. There was no indication and no warning that she would do this. It was a complete shock. And it clearly wasn't her. There were personal demons she was battling. For the past 10 months we had been living separately, but within a few blocks of each other. Bea was living with both of us and we saw each other or spoke every day. We ate many meals together as a family and continued to vacation together as a family. Our daughter was our priority. We were not legally separated, and never even discussed divorce. We were best friends trying to work through our problems in the best way we knew how. We were together for 35 years. We loved each other very much and simply needed a break.

*LBN-VIDEO LINK: MEET AMERICA'S PREMIER TRIAL LAWYER – TV's revealing interview show "Without Notes" withTom Girardi – Episode 1: The Early Years –  https://youtu.be/cVk3szmFMHQ

*LBN-A DIFFERENT VIEW:….
*LBN-OVERHEARD:   ***Kate Spade's father knew his daughter was having troubles — and begged her not to take the medication she'd been prescribed, according to a report. "She'd been taking some pills, which I advised her not to take,"Frank Brosnahan told the Kansas City Star on Wednesday. Brosnahan, 90, said he just didn't "know what happened" and reiterated that he'd spoken to Spade on Monday, the day before her death and that she had seemed fine, despite her problems which he did not detail. "The last I talked with her, the night before last, she was happy planning a trip to California to look at colleges. She doted on her daughter," he told the paper. Spade leaves behind her 13-year-old daughter Frances Beatrix Spade.   ***Mandy Moore doesn't hold a grudge, but she wants to clear the air: Wilmer Valderrama did not take her virginity — and she wishes he'd stop saying he did. "I dated him when I was 16, 17, no [he didn't take my virginity]," she said on "The Howard Stern Show" Wednesday. "I love him and I still love him and he's a very good friend and that's why I was so shocked by it. Not only was it a fib, but it was so unlike him, so uncharacteristic. He's dated all the ladies. I met him at a photoshoot for some teen magazine when I was 15 — never French kissed a boy — he was like my first true boyfriend."
LBN E-Lert Edited By Renee Preston