*Senate Judiciary Committee Passes Mueller Protection Bill
The Senate Judiciary Committee on Thursday passed an amended version of legislation aimed at shielding special counsel Robert Mueller—and all future special-counsel appointments—from political interference. The bill was approved 14 to 7, with four Republicans voting in favor. Sens. Thom Tillis (R-N.C.) and Lindsey Graham (R-S.C.), the GOP co-sponsors of the effort, along with the committee's chairman Sen. Chuck Grassley (R-IA) and Sen. Jeff Flake (R-AZ), joined all Democrats in supporting the legislation. The effort was likely only symbolic, though, as Senate Majority Leader Mitch McConnell (R-KY) has said he would not bring the bill to the Senate floor for a vote. Ahead of Thursday's committee vote, Republican senators argued that the legislation, as written, was unconstitutional but said Mueller's investigation should continue unimpeded. Sen. Orrin Hatch (R-UT) warned President Donald Trump that he could face impeachment if he fires Mueller. The legislative effort was launched last summer as lawmakers grew increasingly concerned that the president would move to fire Mueller, who is investigating Russian-election meddling and possible collusion between Trump associates and Russian operatives.

*Trump: 'Of Course' I Stayed Overnight at Moscow Hotel
Donald Trump said that he did in fact stay overnight in Moscow for the Miss Universe pageant in 2013—the evening when it's claimed that the fabled "pee tape" was made. Speaking on Fox & Friends on Thursday morning, the president said: "I went to Russia for a day or so… of course I stayed there," referring to the much-talked-about trip that became central to allegations made in the controversial Steele dossier. According to notes made public last week by former FBI Director James Comey, Trump told him on two occasions that he didn't stay the night in Moscow, but that claim gradually unraveled this week after Politico obtained flight records and the host of the pageant told The Daily Beast Trump stayed at least one night. On Thursday, Trump denied that he ever told Comey he didn't stay over in Moscow, saying: "I stayed there a very short period of time but of course I stayed. His memos said I left immediately, I never said that, I never said I left immediately." Elsewhere in the interview, Trump admitted that his under-fire attorney Michael Cohen represented him on "this crazy Stormy Daniels deal."

*Facebook 'Unaware' Employee Co-Founded Company With Cambridge Analytica's Kogan
Facebook Chief Technology Officer Mike Schroepfer has claimed the tech giant had no idea when it hired social psychology researcher Joseph Chancellor that he'd previously co-founded the company that designed an app which harvested user data on behalf of Cambridge Analytica. Chancellor co-founded Global Science Research alongside data scientist Aleksandr Kogan, who created the This Is Your Digital Life app that harvested user data for Cambridge Analytica. Speaking to British lawmakers on Thursday, in place of Mark Zuckerberg (who refused an invitation to attend), Schroepfer said Facebook executives only found out about Chancellor's involvement with Global Science Research "fairly recently," saying they were unaware of his history when they hired him in November 2015. Asked how the information could have escaped the company, Schroepfer said: "I don't know exactly why we didn't know, but I'm just telling you the facts I know." Asked when exactly the company found out Chancellor had worked with Kogan in the company that created the app at the center of the Cambridge Analytica scandal, Schroepfer said he believed it was last year.

*Docs: Pompeo Failed to Disclose Additional Business Ties to China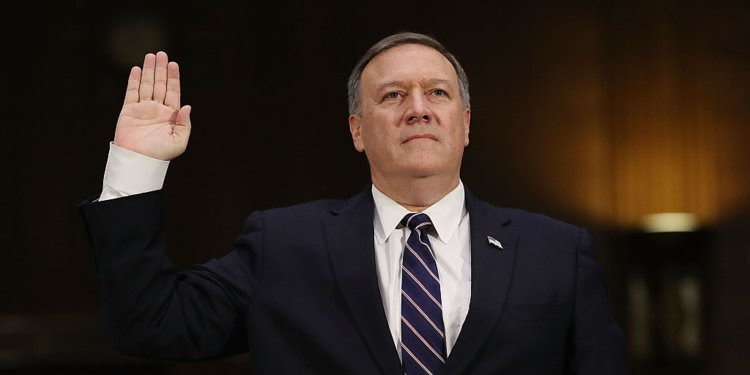 Mike Pompeo—director of the CIA and President Trump'spick for secretary of State—has even more previously undisclosed business ties to China than were reported earlier this month. Pompeo came under criticism earlier in April for failing to disclose last year that he owned a Kansas business that imported oil-field equipment from a company owned by the Chinese government. New documents obtained by the Huffington Post show Pompeo's business links to Beijing are even deeper than previously thought, although he continues to deny his involvement in foreign business. The new documents show Pompeo's company imported products—12 shipments of oil and gas equipment—from two subsidiaries of the state-owned oil company China National Petroleum Corporation, bringing the total number of Pompeo's undisclosed relationships with foreign firms to four.

*Two More Women Accuse Nassar's Former Boss of Sexual Abuse
Two women have come forward to accuse Dr. Larry Nassar's former boss of "sexually abusing them" while using them as models for practice medical exams, according to CNN. William Strampel, the former dean of Michigan State University's College of Osteopathic Medicine, was charged with one felony count of "misconduct in office" last month after four women accused him of "using his power to sexually assault, harass, and solicit nude photos of them[.]" In a motion filed on Tuesday, two new witnesses requested to testify against Strampel at his hearing in June. The new accusers claim he used them as "models for practice medical exams." One described how he conducted anal and pelvic exams on her "in front of a small group of medical students," then took her to dinner and told her the exams "turned him on[.]" The other woman claims Strampel vaginally penetrated her with his fingers while they were alone in an exam room, and then told her he'd admit her into the medical school with a relatively low score on the MCAT exam. A judge will determine if the two new accusers can testify against him in early May.

*SHAKE THINGS UP – READ LBN: Now you can share LBN with your friends, family, and associates (if they've got the guts) by telling them to go to www.LBNElert.com
*Janelle Monáe Comes Out as Queer
Singer Janelle Monáe has come out, calling herself "a queer black woman in America" in a Rolling Stone profile published Thursday. "Being a queer black woman in America, someone who has been in relationships with both men and women—I consider myself to be a free-ass motherfucker," she said. While she initially identified as bisexual, Monáe said she later "read about pansexuality and was like, 'Oh, these are things that I identify with too.'" She also described her fears about not being "a stereotypical black female artist" in the industry and how being a perfectionist has affected her emotional life. She discussed her experiences in therapy, saying that she sought help before "self-destruct[ing]." Monáe said her new album, Dirty Computer, was made for "young girls, young boys, nonbinary, gay, straight, queer people who are having a hard time dealing with their sexuality… This album is for you. Be proud."

*Schumer: CDC Director Agreed He Can Conduct Gun-Violence Research
Senate Minority Leader Chuck Schumer (D-NY) said on Thursday that he was given assurances from a top health official with the Trump administration that they feel free to spend federal funds conducting gun-violence related research. Whether they go out and actually do so remains uncertain. The New York Democrat met earlier in the morning with Robert Redfield, the director of the Centers for Disease Control and Prevention, during which he pressed him to begin such research. A month prior, Congress had voted to end a controversial prohibition on federally undertaken gun-violence research and Schumer's ask was that the CDC begin taking advantage of the loosened restrictions. According to a statement from the Senator, the meeting with Redfield was "very encouraging," though it's not clear if concrete promises were made. The new CDC director, Schumer said "agreed there is no longer a prohibition on the CDC conducting research on the gun-violence epidemic. That is a good first step but we have a lot of work to do to ensure the CDC initiates this extremely important research in the near future. I hope that the CDC will use some of their newly increased resources from the omnibus spending package to get this done."

*LBN-SITE OF THE DAY:    
Google Trends: Visualizing Google Data
Welcome to Google's data visualization project: where the Google News Lab works with the best designers around the world to tell stories with data — and make the results open source. Learn how America eats when it goes out and much more.

*LBN-VIDEO LINK: 2018 Summer Movie Preview – Everything You Need To Know — https://youtu.be/dKvcXnbBNSA

*LBN-INVESTIGATES: In 2012, scientists discovered that a primary reason penguins can swim so fast is that they have a special "bubble boost." When penguins fluff their feathers, they release bubbles that reduce the density of the water around them. The bubbles act as lubrication that decreases water viscosity, similar to competitive swimsuits.
*LBN-VIDEO LINK: What Robots REALLY Think of Humans — https://youtu.be/L3V4WuAguMY

*LBN-HISTORICAL COMMENTARY by Leonardo da Vinci: Iron rusts from disuse; stagnant water loses its purity and in cold weather becomes frozen; even so does inaction sap the vigor of the mind.

*LBN-A DIFFERENT VIEW: 
LBN E-Lert Edited By Dan Gaylord