*'Catastrophic' Lack of Sleep in Modern Society is Killing Us, Warns Leading Sleep Scientist: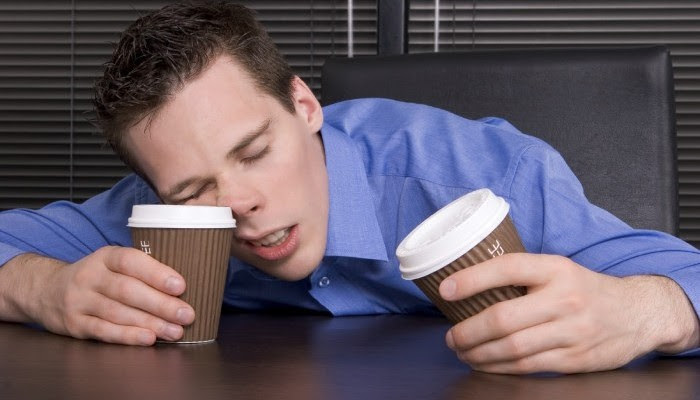 A "catastrophic sleep-loss epidemic" is causing a host of potentially fatal diseases, a leading expert has said. In an interview with the Guardian, Professor 
Matthew Walker
, director of the Center for Human Sleep Science at the University of California, Berkeley, said that sleep deprivation affected "every aspect of our biology" and was widespread in modern society. And yet the problem was not being taken seriously by politicians and employers, with a desire to get a decent night's sleep often stigmatized as a sign of laziness, he said. Electric lights, television and computer screens, longer commutes, the blurring of the line between work and personal time, and a host of other aspects of modern life have contributed to sleep deprivation, which is defined as less than seven hours a night.
*LBN-INTEL FOR INFLUENCERS: 
Now your friends, family and associates can sign up to receive LBN (if they've got the guts). Simply go to 
www.LBNElert.com
 and sign up to receive.
*Trump-Supporting Patriots Owner Bob Kraft Criticizes President for Kaepernick Rant
New England Patriots owner Robert Kraft on Sunday said he was "deeply disappointed" in President Trump's "tone" when he criticized NFL players who kneel during the national anthem. "There is no greater unifier in this country than sports, and unfortunately, nothing more divisive than politics," Kraft said, praising his players and applauding efforts to "peacefully affect social change and raise awareness in a manner that they feel it most impactful." The statement is notable because Kraft supported Trump and has been friendly with him for years.
*Six People Hurt After Acid Attack in London:
Six people were injured in an acid attack at a shopping center in eastern London on Saturday night, officials said. A 15-year-old boy was arrested in connection with the crime. According to a witness, friends of a young boy who was hit with the substance were shouting, "it is an acid attack, he is burning." Three of the six people required hospital treatment. Last weekend, American students were targeted with a similar attack in France.

*MLB Player Becomes First to Kneel During National Anthem
Oakland Athletics catcher Bruce Maxwell on Saturday night became the first Major League Baseball player to kneel during the national anthem. Maxwell's protest came a day after President Trump reignited the controversy, saying NFL owners should be able to fire a "son of a bitch" player who kneels during the anthem. "The only way we can come together is by informing," Maxwell said. "To single out NFL players for doing this isn't something we should be doing — I felt it should be a little more broad."

*LBN-BUSINESS INSIDER:   ***Equifax's chief executive had a simple strategy when he joined more than a decade ago: Gather as much personal data as possible and find new ways to sell it. The company was making good money compiling credit reports on Americans. But Wall Street wanted stronger growth. The chief executive, Richard F. Smith, delivered, releasing dozens of new products each year and doubling revenue. The company built algorithms and started scrubbing social media to assess consumers. In a big data collection coup, Equifax persuaded more than 7,000 employers to hand over salary details for an income verification system that now encompasses nearly half of American workers. As part of its pitch to clients, the company promised to safeguard information. It even sold products to help companies hit by cyber attacks protect their customers. "Data breaches are on the rise. Be prepared," the company said in one pitch. "You'll feel safer with Equifax."

fedspending.orgWe all pay taxes. A lot of taxes. FedSpending.org gives you easy ways to see exactly where, and on what, your federal tax dollars are being spent.
*LBN-VIDEO LINK:  Greatest Trick Plays in Football History —- https://youtu.be/Fj8G9dGuNkU
*LBN-R.I.P.:   ***Legendary soul singer Charles Bradley has died at 68 after being diagnosed with stomach cancer last year. A press release published on Saturday said he died surrounded by friends and family in Brooklyn. Bradley, a former James Brown impersonator whose musical career took off when he was already in his 60's, gained a devout fan base with his anguished vocals and strong live performances.

*LBN-SPOTLIGHT: "Faith is taking the first step, even when you don't see the whole staircase." – Martin Luther King Jr.  —– www.TheExcelCommunity.com
*LBN-COMMENTARY by Maureen Dowd: The idea of Mark Zuckerberg running for president was always sort of scary. But now it's really scary, given what we've discovered about the power of his little invention to warp democracy. All these years, the 33-year-old founder of Facebook has been dismissive of the idea that social media and A.I. could be used for global domination — or even that they should be regulated. Days after Donald Trump pulled out his disorienting win, Zuckerberg told a tech conference that the contention that fake news had influenced the election was "a pretty crazy idea," showing a "profound lack of empathy" toward Trump voters.

*LBN-COMMENTARY by Jimmy Fallon: I also read that Taco Bell will start serving alcohol at some locations. So the next time you think that YOU'RE having a bad day, imagine the guy who gets cut off by the cashier at Taco Bell.
*100+ Volunteers Needed for "Stand Down 2017" Homeless Veteran Benefit Event in Los Angeles
From October 26th-October 27th, Village for Vets and Brentwood School are partnering to coordinate volunteers for "The Stand Down 2017," an event providing supplies and services to homeless Veterans, such as food, shelter, clothing, health screenings and VA Social Security benefits counseling. Veterans can also receive referrals to other assistance such as health care, housing solutions, employment, substance use treatment and mental health counseling. The event is taking place at the VA Greater Los Angeles Healthcare System. 1500 homeless and family members expected to partake in one day of food, showers, housing, assessments, services and more. Volunteers needed for all services. To volunteer, sign up here: www.bwscampus.com/standdown
*DID YOU KNOW? Did you know that 21 leading executives of Amazon read LBN daily?
*LBN-COMMENTARY by Bob Dylan: People seldom do what they believe in. They do what is convenient, then repent.
*LBN-SPOTLIGHT: L.A. Best Computer Consultant –www.DataTamer.com "Winner Best of Los Angeles Award" Three (3) Years In A Row. – Mr. David Slon —(310) 788-3480
*LBN-VIDEO LINK: Jack Ma Predicts The Future —– https://youtu.be/VJBVGbe8g9g
*LBN-A DIFFERENT VIEW:….
*LBN-OVERHEARD:   ***British actor Colin Firth says he has taken Italian citizenship as a "sensible" move amid global political uncertainty. Firth, who is married to environmentalist Livia Giuggioli, says he has become a dual U.K.-Italian citizen, and his wife is applying for British nationality. Their two sons already have dual citizenship. In a statement Saturday, the 57-year-old Firth said he and his wife had never thought much about their different passports, "but now, with some of the uncertainty around, we thought it sensible that we should all get the same."   ***Gary Oldman has secretly tied the knot for the fifth time. The "Darkest Hour" star has married writer and art curator Gisele Schmidt. Oldman — who plays British World War II Prime Minister Sir Winston Churchill in his new movie — wed Schmidt at the LA home of his manager and "Darkest Hour" producer Doug Urbanski just before they headed to the Toronto Film Festival earlier this month.