*MAKE UP YOUR OWN (DAMN) MIND – READ LBN:
 Did you know that 
LBN
 is read by 12 members of the 
White House 
staff, 3 
Nobel Prize
 winners, over 100 
Academy Award 
winners, 6 
U.S. Senators
, and over 300 
Grammy Award 
winners?
*South, North Korean Leaders Hold Surprise Meeting: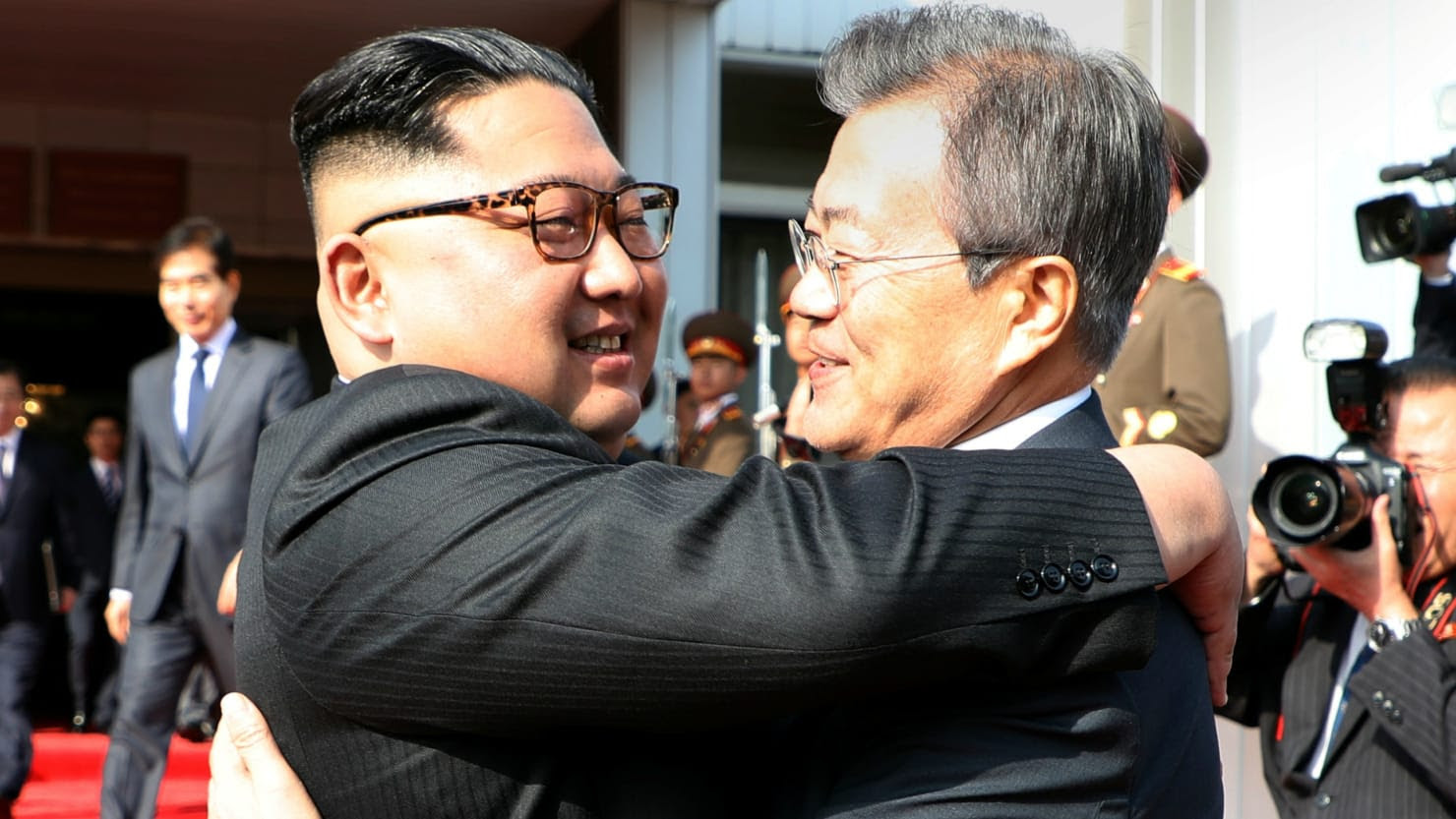 South Korean President Moon Jae-in and North Korean leader Kim Jong Un met on Saturday to discuss sticking to their commitments to peace and Kim's on-again, off-again summit with President Trump. South Korea's presidential office said the meeting took place in a border truce village at the Demilitarized Zone, the second such high-level meeting in recent weeks. Seoul offered few details on the pair's discussions but said the results would be made public on Sunday. The meeting came just hours after Trump took to Twitter to say the June 12 summit with Kim he'd canceled on Thursday may still be revived after the two sides had "productive talks."

*Trump: 'American Hostage' in Venezuela Has Been Released:
President Trump on Saturday took to Twitter to announce that a Utah resident held in Venezuela for the past two years was now free and on his way to the White House. "Good news about the release of the American hostage from Venezuela. Should be landing in D.C. this evening and be in the White House, with his family, at about 7:00 P.M.," Trump wrote. Sen.Orrin Hatch (R-UT) confirmed the news, saying in a statement that Joshua Holt and his wife Thamara were on their way "home" to the U.S. "after two years of hard work." Holt, a Mormon missionary from Utah, was thrown in a Venezuelan jailin 2016 days after arriving to meet Thamara, whom he'd met online. He was accused of stockpiling weapons but was never given a trial. His release comes a week after he released a video plea begging Washington to save him during a prison riot.

*Ireland Votes in Landslide to Repeal Abortion Ban: Exit Poll:
According to an Irish Times exit poll, conducted by Ipsos/MRBI, Ireland has voted in a landslide to repeal the country's abortion ban. "The poll suggests that the margin of victory for the Yes side in the referendum will be 68 per cent to 32 per cent—a stunning victory for the Yes side after a long and often divisive campaign," the Times reported. In particular, the referendum asked voters whether to repeal a constitutional ban on abortion, enacted as Ireland's Eighth Amendment in 1983. The debate over the motion became so massive that emigrant supporters of both repealing and upholding the law flew back to Ireland just to vote in the referendum.

*LBN-INVESTIGATES: Vacation is often a time to relax and refresh. Some experts think it could even make you more productive when you head back to work. But a whopping 49 percent of Americans won't be taking one this summer, and while lack of money certainly plays a role, it's not the only reason so many people are deciding to stay home. Bankrate, which conducted a survey of 1,000 people aged 18 or older, found that, of the 49 percent who aren't planning a vacation, 50 percent said they can't afford it, 24 percent have other family obligations and 22 percent can't take time off work.

*WHO READS LBN? Seven (7) members of the New York City Mayor's Office
*LBN-INVESTIGATES: Wine
1. The smell of young wine is called an "aroma" while a more mature wine offers a more subtle "bouquet."
2. A "cork-tease" is someone who constantly talks about the wine he or she will open but never does.
3. Red wines are red because fermentation extracts color from the grape skins. White wines are not fermented with the skins present.
4. In the whole of the Biblical Old Testament, only the Book of Jonah has no reference to the vine or wine.
5. There is increasing scientific evidence that moderate, regular wine drinking can reduce the risk of heart disease, Alzheimer's disease, stroke, and gum disease.

*LBN-HOLLYWOOD INSIDER:   ***Hollywood power player Ron Meyer and his wife of 25 years have separated. Meyer — vice chairman of NBCUniversal and CAA co-founder — and his wife, Kelly Chapman Meyer, have been quietly telling close friends about the split, we hear, and the breakup has been whispered about around town. The couple told Page Six in a statement when reached for comment: "Together, we've made the difficult decision to separate after 28 years. While we've grown apart, we remain best of friends and will always share the love we have for our beautiful family." (The couple's been together for 28 years and married for 25.)

*DID YOU KNOW?: Did you know that five (5) member of the staff of the Palm restaurant in Beverly Hills read LBN daily?
*LBN-SPORTS INSIDER:   ***LeBron James scored 46 points and preserved his reign atop the Eastern Conference for at least one more game as the Cleveland Cavaliers shook off the loss of the All-Star Kevin Love to a head injury and beat the Boston Celtics, 109-99, on Friday night to force a Game 7. James, playing in perhaps his final game for the Cavaliers in Cleveland, delivered another sensational performance — he added 11 rebounds and nine assists while playing all but two minutes — to avoid elimination and delay any decisions about his future. Now he has a chance to make his eighth straight N.B.A. finals.

*LBN-NOTICED:   ***Bradley Cooper was spotted taking a "very leisurely" stroll with his 1-year-old daughter, Lea De Seine, in the West Village of New York City Friday afternoon. "He was just on a jaunt around the neighborhood with his daughter," a spy said.

*Bob Brill, Award Winning Radio Personality Breaks Ground with New Podcast- "Interesting People with Bob Brill":
Bob Brill- Award winning radio personality, Print Journalist, and Current News Anchor at a major All-News Radio Station in Los Angeles- is shaking up the Internet with a groundbreaking new Podcast called, "Interesting People with Bob Brill."
Available for download on multiple devices, Brill, a former Edward R. Murrow Award winner, is bringing his unique style of interviewing to life with candid conversations with varied professionals. "No job is uninteresting. The famous and the not so famous lead interesting lives," Brill describes. After having traveled the globe meeting "interesting" people and covering news events, Brill has dazzled his Podcast audience with guests such as; Steve Miller- the creator of GetDismissed, an easy to use, web service, and mobile application that allows California drivers to simply fight a traffic ticket without going to court… Christopher Montgomery- a talent agent, lobbyist in the Post 9/11 world, and former White House lawyer… Dr. Srini Pillay– a Harvard Psychiatrist, "Brain Master", and author of the critically acclaimed book, "Tinker Dabble Doodle Try: Unlock the Power of the Unfocused Mind"… Hollywood Publicist and Hall-of-Fame Wrestler Rock Riddle, and Chris Voss- a former FBI Interrogator/Chief International Hostage and Kidnapping Negotiator, member of the New York City Joint Terrorist Task Force, and the CEO of Blackswan Group. "Each week a NEW Podcast will be released, unless circumstances dictate otherwise," Brill explains. "Fans of the show can learn even more about their favorite guests by using the available blog links."

*LBN-R.I.P.:   ***Michael Goldstein, a music publicist who made a fortune turning vinyl records into gold before startingThe SoHo Weekly News, a spirited newspaper that over a nine-year run was bent on silencing its rival The Village Voice, died on May 19 at his home in Manhattan. He was 79. His daughter Jocelyn Goldstein said the cause was pancreatic cancer.

*LBN-SITE OF THE DAY:
Want to wake up in a good shape? Find out the perfect bedtime or wake up time to rise feeling refreshed and energized atwww.sleep-calculator.com

*LBN-COMMENTARY by Karol Markowicz:  A Pew Researchpoll from 2016 showed that men age 18-36, exactly Michael Rotondo's demographic, were more likely to be living at home with their parents than alone, with a roommate or with a partner. That's a startling statistic, especially as the same isn't true for women. We can't blame this stagnation on the entitlement of the millennial generation when half of that generation is living their lives as intended. Part of the problem is we've been encouraging girls at the expense of boys. The language of empowerment we use around girls is absent from how we talk to boys. The expectation that males will succeed just because they are male has been smashed, just like feminists wanted, but now what? To shrug our shoulders and not care what happens to a generation of young men is to produce a generation of Michael Rotondos, adrift and living at home as they enter their 30s.

*LBN-VIDEO LINK: Shields and Brooks on North Korea summit canceled, Trump's attacks on Russia probe –https://youtu.be/p4CfcJDquJs

*LBN-COMMENTARY by Claire Cain Miller: The number of women leading the largest companies has always been small. This year, it got 25 percent smaller. The reversal is leading to a search beyond the usual explanations for why women don't become chief executives — things like not being competitive enough, failing to chase opportunities for promotion and choosing work-life balance over high-powered jobs. That's because evidence shows that the obstacles for female executives aren't just because of their individual choices. There are larger forces at work, experts say, rooted in biases against women in power, mothers who work or leaders who don't fit the mold of the people who led before them.  For many years, it seemed as if the share of women at the top of corporate America would slowly increase over time. The number of women leading companies in the Fortune 500 had grown to 6.4 percent last year, a record high, from 2.6 percent a decade earlier.

*LBN-COMMENTARY by William D. Cohan (Mr. Cohan is a journalist and author): It has long been common knowledge in farming that antibiotics can help cause animals to grow fatter faster. Time is money, particularly in the food industry, and for many years ranchers used antibiotics not just for treating diseases but also for promoting growth so that animals would be ready for the slaughterhouse sooner. (Mr. Lewis says his grass-fed steers require 27 months to get to market without antibiotics, more than twice as long as it takes cows pumped full of antibiotics.) In early 2017, the Food and Drug Administration enacted rules banning the use of human antibiotics purely for growth promotion in animals and requiring ranchers to get a prescription from a veterinarian for antibiotics that once could be purchased over the counter. The F.D.A. enacted the restrictions out of growing concern about the breeding of drug-resistant bacteria from antibiotic overuse. Those resistant bacterial strains can be transferred to humans by contact with animals or raw meat and possibly through the consumption of undercooked meat. The growing resistance of bacteria to antibiotics causes some 23,000 American deaths a year and $34 billion in financial losses annually, according to the Centers for Disease Control and Prevention. The C.D.C. also estimates that more than 400,000 United States residents become ill with infections caused by antibiotic-resistant food-borne bacteria every year, with about one in five resistant infections caused by germs from food and animals.

*LBN-VIDEO LINK:  Why California is falling apart —https://youtu.be/x9fNKWudbno

*LBN-COMMENTARY by Bret Stephens: He is prone to unhinged Twitter eruptions. He can't handle criticism. He scolds the news media for its purported dishonesty and threatens to create a Soviet-like apparatus to keep tabs on it. He suckers people to fork over cash in exchange for promises he hasn't kept. He's a billionaire whose business flirts with bankruptcy. He's sold himself as an establishment-crushing iconoclast when he's really little more than an unusually accomplished B.S. artist. His legions of devotees are fanatics and, let's face it, a bit stupid. I speak of Tesla chief executiveElon Musk, the Donald Trump of Silicon Valley. Not long ago, a wise friend with an enviable Wall Street reputation wrote me to describe his astonishment with Tesla, calling it "a situation unlike anything I have ever seen." "The stock market valuation of a well-known company is stratospheric," he said, "while at the same time its bonds are viewed as junk." "Meanwhile," he added, Musk "plays to his audience with constant tweets of claims that go largely, repeatedly and visibly unfulfilled. And the S.E.C., which is supposed to prevent companies like this that raise money from the public on false pretenses, sits idly by."

*LBN-A DIFFERENT VIEW:….Kate Moss
*LBN-OVERHEARD:   ***Alicia Silverstone is divorcing her husband of nearly 13 years. The "Clueless" actress filed for divorce from Christopher Jarecki on Friday in Los Angeles County Superior Court. The two have been separated for two years. Divorce documents say the 41-year-old Silverstone and the 47-year-old Jarecki will share custody of their 7-year-old son.   ***Britain's best-known bachelor Hugh Grant finally ties the knot — as he gets hitched to a Swedish television producer at 57 years old. After a career playing a string of commitment-phobic characters in films including Four Weddings And A Funeral and About A Boy, the actor married 39-year-old Anna Eberstein. They swapped vows in a low-key ceremony on Thursday at Chelsea register office near their West London home, before posing for photos with family and friends — wearing their wedding rings for the first time.   ***Jon Snowand Ygritte's wedding date has been revealed. "Game of Thrones" actors Kit Harington and Rose Leslie will tie the knot on June 23, according to BBC.The site reports the date has been posted at the Huntly registration office in Aberdeenshire, Scotland, where Leslie's dad owns a castle.

LBN E-Lert Edited By Renee Preston