*Trump: Summit With Kim Jong Un Is Back On:
President Donald Trump announced Friday that his June 12summit with North Korean leader Kim Jong Un in Singapore is back on. The president, who met with North Korea's Kim Young Chul this afternoon, said that the country is interested in denuclearization. "I don't even want to use the term maximum pressure anymore, because… we're getting along," the president said. Trump said the summit will be a "beginning," and told reporters that "maybe" an end to the Korean War"could come out of the meeting." He also said that "a deal will be worked out" eventually, and that North Korea has the potential to be "a great country" with the help of other nations like South Korea and Japan. "I think we will have a relationship, and it will start on June 12," he said. Kim Young Chul came to the White House to deliver a letter from North Korea to Trump, but the pair ended up meeting for about two hours. The president told reporters that the letter was a "very nice" and "interesting" letter, but later told reporters that he actually hadn't opened it yet. He said, "I may be in for a big surprise folks." This comes after Trump cancelled the summit in a letter sent to the North Koreans last week.
*LAWLESS! – Illegal border crossings remain high despite crackdown:
The number of migrants attempting to cross illegally into the United States remained high in May, according to administration officials and Border Patrol agents, an early indication that "zero tolerance" measures separating parents from their children and President Donald Trump's deployment of National Guard troops have not had an immediate deterrent effect. The Department of Homeland Security is expected to publish its closely watched monthly arrest totals in coming days, and Trump administration officials are bracing for a new eruption from the president. He has treated the statistics as a gauge for the success of his hard-line immigration policies, and when border arrests fell to historic lows in the months after his inauguration last year, Trump touted the decrease as a personal triumph. Since then, migration trends have reversed. In March and again in April, border arrests exceeded 50,000, the highest monthly totals of Trump's presidency, sending him into fits of rage, aides say. Trump unloaded on DHS SecretaryKirstjen Nielsen during a Cabinet meeting May 9, scorching her for nearly 30 minutes over the spike in illegal crossings, while demanding she "close" the border.

*FRICTION – Mattis Accuses China of 'Intimidation and Coercion' in South China Sea: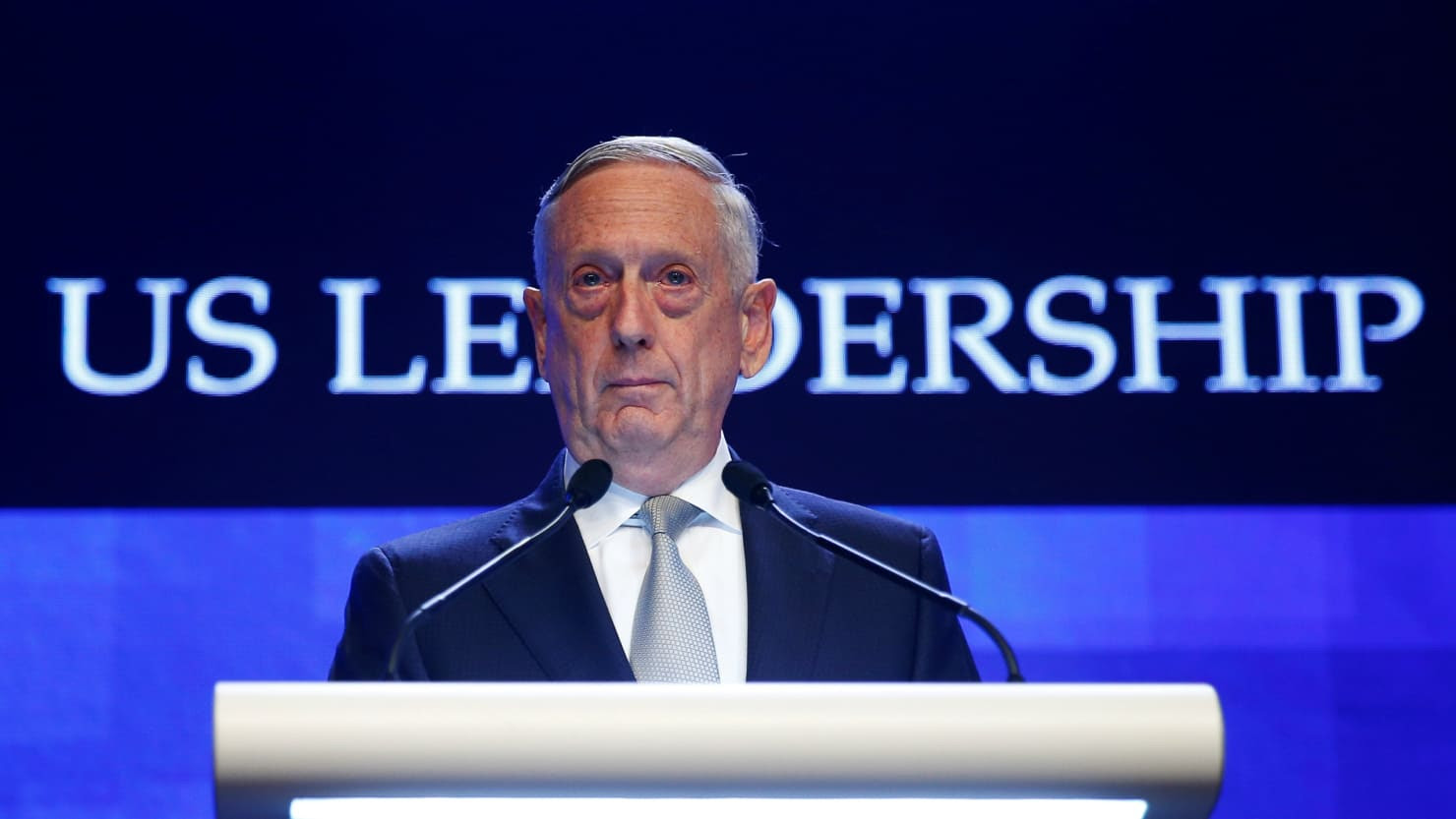 Defense Secretary James Mattis on Saturday blasted the Chinese government for deploying military equipment to disputed areas of the South China Sea, saying Beijing's militarization of the region had prompted the U.S. to rethink its "cooperative stance" on certain issues. The U.S. decided to disinvite Beijing from the world's largest annual naval exercise later this month because of its build-up of military equipment near disputed islands, a move which was intended to frighten neighbors in the region, he said. "Despite China's claims to the contrary, the placement of these weapons systems is tied directly to military use for the purposes of intimidation and coercion," Mattis said at the IISS Shangri-La Dialogue in Singapore. "I believe there are much larger consequences in the future, when nations lose the rapport of their neighbors," he told Bloomberg News. His remarks come amid rising tensions between Washington and Beijing, with the White Houseprompting new fears of a trade war earlier this week by announcing tariffs on Chinese imports.

*LBN-INTEL FOR INFLUENCERS: Now you can invite your friends, family, and associates (if they've got the guts) by telling them to go to www.LBNElert.com
*FIASCO – Buffalo Wild Wings Sorry for 'Awful' Tweets:
Buffalo Wild Wings has issued an apology after its Twitterfollowers were subjected to a string of lewd and racist postsFriday. "Well, we were hacked. And it wasn't funny. We apologize for the awful posts, which obviously did not come from us," the restaurant chain said on Twitter. The posts included several racial slurs, as well as a vulgar reference to a "secret recipe" involving bodily fluids. The company has said it intends to "pursue the appropriate action against the individuals involved."

*SHERLOCK TO THE RESCUE – Benedict Cumberbatch Credited With Saving Cyclist From Muggers:
British actor Benedict Cumberbatch rescued a London cyclist from a group of violent muggers, the Metropolitan Policerevealed Saturday. Cumberbatch, known for his depiction ofSherlock Holmes and Doctor Strange, is said to have jumped out of his Uber to chase off four assailants as they attacked a cyclist delivering food on the city's Marylebone High Street, not far from Holmes' address in the fictional detective series. Uber driver Manuel Dias told British media the incident was "surreal." "Here was Sherlock Holmes fighting off four attackers just round the corner from Baker Street," he was quoted as saying by The Telegraph. "I had hold of one lad and Benedict another. He seemed to know exactly what he was doing. He was very brave. He did most of it, to be honest," he said. Police confirmed the incident to Reuters, saying the cyclist had been "punched in the face, struck on the head, and hit with his helmet" before Cumberbatch stepped in. The incident occurred last November but had not previously been reported.

*WHO READS LBN? Prominent cosmetic surgeon Dr. Robert Kotler and legendary attorney Tom Girardi along with influencers in in all 50 of the United States and 26 foreign countries read LBN daily. ***3 Nobel Prize winners  ***12 members of the White House staff ***Over 100 Academy Award winners ***6 U.S. Senators ***Over 300 Grammy Award winners.
*Deadbeat son claims he's too broke to pay child support:

He's not just a deadbeat son, he's also a deadbeat dad.Michael Rotondo — the 30-year-old upstate man whose own parents sued him to get him out of the house — complained he was too broke to pay child support for his 8-year-old son, yet somehow managed to plunk down nearly $10,000 for a storage unit that has housed his busted 1989 Chevy Camaro for the past five years, according to court records. Rotondo fought the mother of his child tooth and nail in Onondaga County Family Court in 2016 when she asked for an increase in support — from a mere $25 a month. "He terrorized me," the 33-year-old woman railed to The Post Friday, hours after the unemployed Rotondo was kicked out of his parents' Camillus home by court order following eight years of rent-free living.

*LBN-INVESTIGATES: To avoid predators, some snakes can poop whenever they want. They make themselves so dirty and smelly that predators will run away.

LBN-VIDEO LINK:  "Without Notes" with Tom Girardi – Episode 1: The Early Years – TV's revealing interview show with the America's most prominent trial attorney, Tom Girardi.—https://www.youtube.com/watch?v=cVk3szmFMHQ

*LBN-R.I.P.:   ***Chicago bluesman Eddy Clearwater, lauded for his guitar playing and flamboyant showmanship, has died of heart failure. Alligator Records announced Clearwater, 83, died Friday in Skokie, Illinois.

*LBN-SITE OF THE DAY: 
There are millions of people in the United States. How many people have your name? with the click of a button, How Many of Me can tell you exactly how many people in the U.S. have your name.

*LBN-VIDEO LINK: Shields and Brooks on Trump trade war risks, president's political pardons — https://youtu.be/RR_LXMtOvX0

*LBN-COMMENTARY by Molly Oswaks:  My five-year relationship with my live-in boyfriend ended like this: I had an abortion, and he had an emotional affair with an Instagrammodel. Then I lost my mind. Among other attempts at self-healing, I have tried: casual sex, dating apps, uppers, downers, day drinking and sobriety. I also tried somatic healing, boxing, Buddhist meditation, Ayahuasca and finally, because it was offered to me for free by a publicist, Botox. "A few pricks may ease your blues," she wrote in an email last March. Well, I thought, at least I wouldn't look so sad. There's this horrible, aching thing about heartbreak. My sanity has been mostly restored by months of diligent work in a 12-step program for people addicted to unhealthy sexual and romantic relationships, and I don't harbor even the slimmest sliver of a desire to rekindle things with my ex. But I'm struggling to let the story of my breakup go, especially its painful end. So, when I saw an ad for something called "breakup boot camp," I knew I wanted in.

*LBN-VIDEO LINK: A Warning to Those Visiting Auschwitz —https://youtu.be/bfAnmqy5uYE

*LBN-COMMENTARY by Richard A. Friedman (Professor of clinical psychiatry and the director of the psychopharmacology clinic at the Weill Cornell Medical College, and a contributing opinion writer):  We should do all we can to protect children — especially those with psychiatric illness — from chronic and unmanageable stress. But for most young people, everyday stress is beneficial and promotes resilience. No need to shield them from the world with trigger warnings and the like. Instead, let's enhance their capacity to handle stress and succeed in the face of adversity.

*LBN-COMMENTARY by Bret Stephens: In 2014 I published a book called "America in Retreat," with the subtitle, "The New Isolationism and the Coming Global Disorder." Though an entire chapter is devoted to a critique of Tea Party foreign policy, it was mainly a lament about what I saw as PresidentObama's imprudent retreat from America's global responsibilities and the risk of returning to the disastrous foreign policy mind-set of the 1930s. Silly me. I wrote the book one administration too soon. That's the conclusion to draw fromDonald Trump's long-promised and now bluntly delivered imposition of steel and aluminum tariffs on Mexico, Canada and the European Union. And that was just after Treasury SecretarySteven Mnuchin decided to put tariffs on China "on hold" to allow negotiations to continue. What was it that Sarah Palinonce said about Obama's foreign policy — that he was "coddling enemies and alienating allies"? Well, move over, Barack.

*LBN-HISTORIC COMMENTARY by Charles Dudley Warner: The excellence of a gift lies in its appropriateness rather than in its value.

*LBN-A DIFFERENT VIEW:….
*LBN-OVERHEARD:   ***Leave it to the daughter of Larry David to get the last laugh about her ex's new relationship.Cazzie David took to Instagram on Friday with a glam shot from her recent trip to Africa, complete with a sarcasm-tinged caption nodding to her ex-boyfriend Pete Davidson's new relationship with Ariana Grande. "Been in Africa, what'd I miss??" she wrote. David and Davidson, both 24, split in the middle of May and reports emerged that the "SNL" star "casually dating" Grande just days later.   ***Artie Langeavoided jail time in his drug-related arrest. Lange, 50, was given four years' probation, 50 hours of community service and an order to attend an outpatient drug program, according toThe Blast. His sentencing was postponed in March so that he could attend a rehab facility.

LBN E-Lert Edited By Renee Preston