*GROSS! Germs in airplane cabins are bad, but it's even worse at the airport terminal:
You don't have to be a germophobe to want to slip on rubber gloves when you enter an airplane cabin. A new study confirms once again that various surfaces in the cabin of a commercial plane have many times the amount of bacteria than an average kitchen counter. But the latest study found that surfaces in airport terminals can have even higher germ counts than those in the planes. The highest number of colony-forming units of bacteria per square inch were found on those increasingly popular self-serve ticketing kiosks that are popping up in terminals around the country, including Los Angeles International Airport. Folks from the website Insurancequotes.com conducted swab tests on the surfaces of three major airports and three airlines and calculated the bacteria or fungal cell counts for several surfaces. The website declined to disclose the names of the airports and airlines that were tested. The highest germ counts in the planes were on the flush button on the toilets — 95,145 colony-forming units, followed by 11,595 CFUs on the tray tables and 1,116 CFUs on the seat buckles, according to the study. The typical kitchen counter measures 361 CFU, according to the National Science Foundation. The highest germ counts in the terminals were found on the screens of airport kiosks, 253,857 CFUs, followed by 21,630 CFUs on bench armrests and 19,181 on drinking fountain buttons, the study said.

*PANDEMONIUM – Philadelphia Goes Berserk After First Eagles Super Bowl Win
What better way to celebrate your city's first Super Bowl win than risking your life to perform a trust-fall off the Ritz-Carlton? Philadelphia went absolutely wild on Sunday night after the Eagles won Super Bowl LII—beating the New England Patriots 41-33. Fans tweeted footage of dumpster fires, smashed shop windows, and the eventual collapse of the canopy at the Ritz-Carlton at the Bellevue. The celebrations are likely to go on for days, with the Eagles' official victory parade reported to be happening Wednesday.

*Report: Pentagon Agency Has No Idea Where $800 Million Went
The Defense Logistics Agency in the Pentagon has reportedly "lost track" of hundreds of millions of dollars that it has spent, according to a Politico report about an internal audit. Accountants from Ernst & Young are said to have conducted the audit and found the agency did not properly document more than $800 million in construction projects—and it's only one of the audit's examples of a lack of receipts and unreliable financial tracking system. The documents, according to Politico, renew questions about whether the Department of Defense as a bureau can handle managing its $700 billion annual budget, which President Trump has called to greatly increase. "If you can't follow the money, you aren't going to be able to do an audit," said Iowa Republican Sen. Chuck Grassley.

*WHOOPS – DHS Anti-Terrorism Dossier for the Super Bowl Left on a Commercial Plane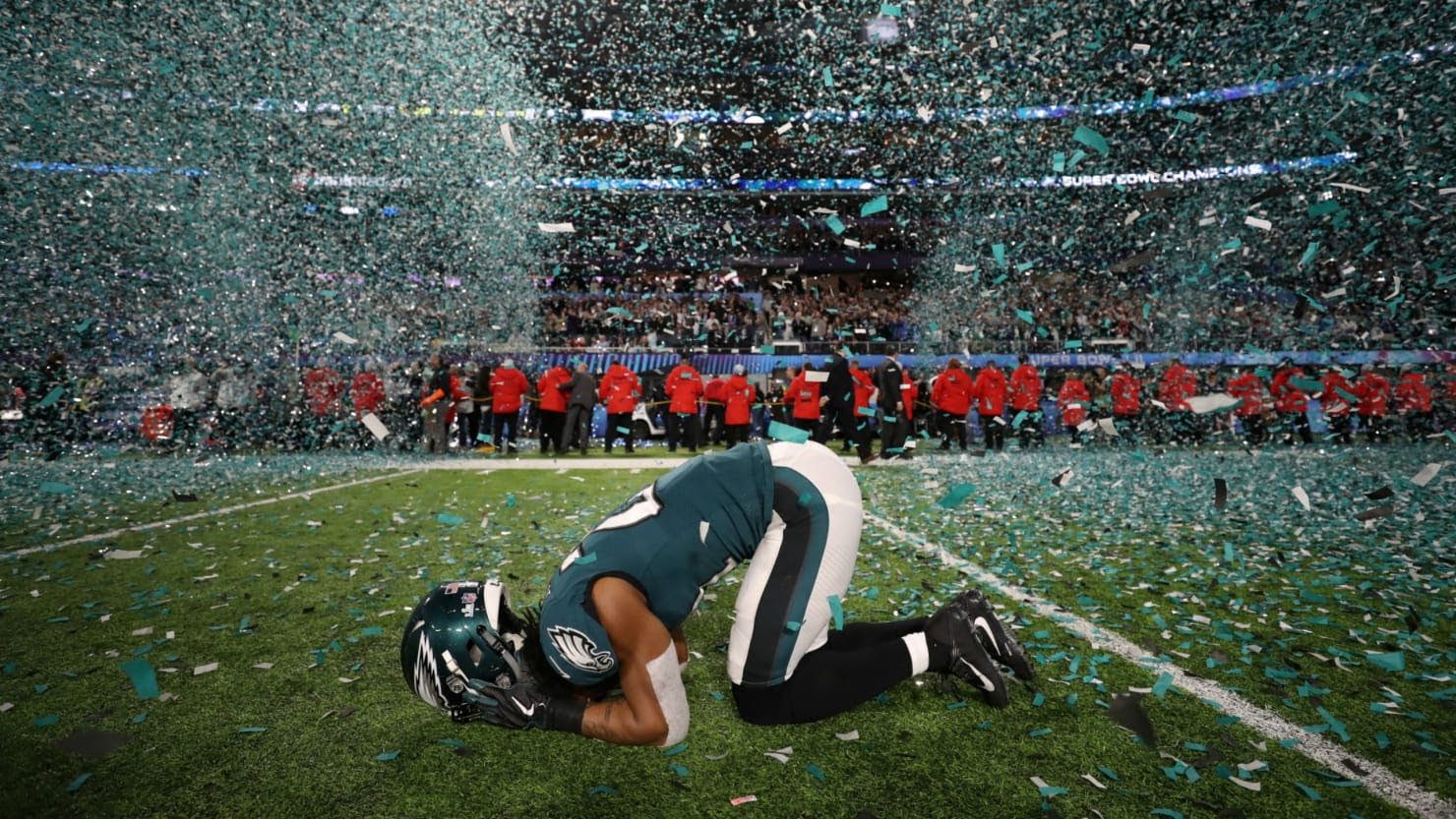 Sensitive Department of Homeland Security documents that criticized the planned response to a simulated anthrax attack in preparation for Super Bowl Sunday were left behind on a commercial flight. The papers were found by a CNN employee in a seat-back pocket. The documents were allegedly marked "important for national security" and "For Official Use Only." They were supposed to be shredded before being discarded. CNN contributor Juliette Kayyem, who used to work as a DHS official, called the breach "a really stupid thing," adding: "Who knows who else could have picked this up!"

*Women Can Now Join U.S. Army's 101st Airborne Division
The U.S. Army, which only two years ago lifted its ban on women serving in "infantry and armor jobs," has just opened up three more posts for female service members to fill—including the elite 101st Airborne Division, dubbed within the military as the "the tip of the spear." The "Screaming Eagles" have been deployed everywhere from behind Nazi lines ahead of D-Day and with Iraqi forces wresting back control of Fallujah and Mosul from ISIS, to provide air assault capability. Along with the vaunted 101st, women are also open to join 4th Infantry Division and 1st Armored Division. "There are female infantry and armor soldiers, in training now," spokesman Paul Boyce told Army Times. "These soldiers will start arriving at the additional installations as soon as April 2018."

*Early Facebook and Google Employees Form Coalition to Fight What They Built:  
A group of Silicon Valley technologists who were early employees at Facebook and Google, alarmed over the ill effects of social networks and smartphones, are banding together to challenge the companies they helped build. The cohort is creating a union of concerned experts called the Center for Humane Technology. Along with the nonprofit media watchdog group Common Sense Media, it also plans an anti-tech addiction lobbying effort and an ad campaign at 55,000 public schools in the United States. The campaign, titled The Truth About Tech, will be funded with $7 million from Common Sense and capital raised by the Center for Humane Technology. Common Sense also has $50 million in donated media and airtime from partners including Comcast and DirecTV. It will be aimed at educating students, parents and teachers about the dangers of technology, including the depression that can come from heavy use of social media.

*Larry Nassar Gets His Final Sentencing
Larry Nassar, the USA Gymnastics team physician who accrued 260 sexual-assault reports and 13 convictions before today, received his third and final sentencing early Monday in a Eaton County, Michigan, courtroom. Judge Janice Cunningham sentenced Nassar to an additional 40 to 125 years in the Michigan Department of Corrections, tacking on to his previous sentences of 60 years in federal prison for child pornography, and 40 to 175 years in the state's Ingham County. Before the sentencing, Nassar said the nine days of victim-impact statements had "impacted me to my innermost core[…] With that being said, I understand now that it pales in comparison to the pain, trauma, and emotions that you all are feeling." Nassar must first serve his federal prison sentence, then will serve his state prison sentences at the same time.

*LBN-SEE IT:…Alan Ball, the creator of "True Blood" and "Six Feet Under," returns to HBO with "Here and Now."
*LBN-INVESTIGATES: "ISIS fighters are fleeing Syria and Iraq," the homeland security secretary, Kirstjen Nielsen, said in remarks in Washington last week. "Jihadists are going underground, dispersing to other safe havens, including on the internet, and returning to their home countries." Gen. Paul J. Selva, the vice chairman of the Joint Chiefs of Staff, told reporters last week that the remaining Islamic State leadership, even while on the run, still had "fairly robust" communications with its shadowy network of fighters now on the lam.

*Study: More U.S. Teens Identify as Transgender Than Previously Thought
More American teens identify as transgender or gender nonconforming than previously known, according to a new study that analyzed a 2016 statewide survey of nearly 81,000 teens in Minnesota in ninth and 11th grades. About 2,200 in that group—or 3 percent—identified as transgender or gender nonconforming. Previous studies estimated that 0.7 percent of teens aged 13 to 17 are transgender. According to the latest study, published in Pediatrics on Monday, the kids who identified as transgender or gender nonconforming have also been reporting worse mental and physical health than others. Those findings are similar to previous research, which has determined that bullying and discrimination are likely contributing factors. "Diverse gender identities are more prevalent than people would expect," said the study's chief author, Nic Rider. "With growing trans visibility in the United States, some youth might find it safer to come out and talk about gender exploration."

*LBN-MEDIA INSIDER:   ***The online blowback was swift fo rRam on Sunday after the carmaker used a sermon given by the Rev. Dr. Martin Luther King Jr. as the voice-over for a Super Bowl ad. The general sentiment: Did the company really just use Dr. King's words about the value of service to sell trucks? The commercial showed scenes of people helping others while Dr. King extolled the virtues of service. At the end, the phrase "Built to Serve" was shown on the screen, along with the Ram logo. "MLK wanted equal rights and for me to buy a Dodge Ram," one Twitter user wrote. Another wrote: "Black people cant kneel and play football but MLK should be used to sell trucks during the super bowl. Unbelievable."

*Students Hate Quotes from Trump's State of the Union, Until Realizing They Are Obama's: 
Some students reacted negatively to quotes they believed were from President Donald Trump's recent State of the Union Address, until realizing they were actually quoting Barack Obama. Campus Reform's Cabot Phillips spoke to students outside John Jay College in New York City, who unanimously criticized the supposed Trump quotes, describing them as "warmongering," "aggressive," and "immature." The quotes, taken from some of Obama's State of the Union addresses, included threats to destroy the Islamic State, statements of America's military strength, and attacking China's economic policy.

*THINK FREELY – READ LBN:
*Guess co-founder slams Kate Upton's harassment claim:  
Guess co-founder Paul Marciano fired back at Kate Upton's allegations of sexual harassment. "Five days ago, Kate Upton tweeted that I abused my position at Guess to 'sexually and emotionally harass women,'" Marciano told TMZ in a statement on Sunday. "Ms. Upton provided no details. Just the hashtag '#MeToo.' She leveled this malicious and false accusations only hours before a gala event at our headquarters in Los Angeles unveiling a new Guess campaign. That same evening, she told TMZ that 'I'm excited to tell my whole story.'" "As of today, Ms. Upton still has provided no facts, no details, no dates and no circumstances to back anything she has alleged," the statement continued. "I am told that she has been working with others for some time to defame me and will claim that I groped her and other things. The accusation is false. I have never touched Kate Upton. I have never been alone with Kate Upton. I have never acted inappropriately towards her." Marciano added that "many models, photographers, stylists and others" reached out to him with support, but did not specify these supporters by name. He also claimed to have been defamed and bullied online following Upton's tweet.

*LBN-BUSINESS INSIDER:   ***Janet Yellen ended her long career at the Federal Reserve with concerns over how high the stock market has surged under her watch. The S&P 500 has soared 315 percent since the March 2009 bear market lows and about 53 percent since she took over as chair of the central bank in 2004. Yellen said in an interview with CBS News that market valuations are the source of some concern as she headed into private life following a 14-year Fed career, the last four as the chair. She spoke as the market finally took a breather from what has been a breathtaking move higher, with the Dow industrials falling 666 points Friday. "Well, I don't want to say too high. But I do want to say high," she said. "Price/earnings ratios are near the high end of their historical ranges."

*LBN-MUSIC INSIDER:   ***A year after Migos' Culture debuted atop the Billboard 200, the Atlanta trio repeated the feat as their Culture II opened at Number One with 199,000 total copies sold.   ***Legendary singer-songwriter Paul Simon announced his final tour this spring will be the "Homeward Bound – The Farewell Tour." "I've often wondered what it would feel like to reach the point where I'd consider bringing my performing career to a natural end. Now I know: it feels a little unsettling, a touch exhilarating and something of a relief," Simon said in a statement. "I love making music, my voice is still strong, and my band is a tight, extraordinary group of gifted musicians. I think about music constantly. I am very grateful for a fulfilling career and, of course, most of all to the audiences who heard something in my music that touched their hearts." The North American leg of Simon's farewell tour begins May 16th in Vancouver and works its way east before concluding June 20th at Nashville's Bridgestone Arena. Tickets for the trek go on sale this Friday; check out Simon's website for complete ticket information.   ***Music mogul Charlie Walk has filed a complaint with authorities claiming he was being extorted by a former radio station owner who threatened to unleash the #MeToo movement against him in the months before he was accused of sexual harassment. Walk's lawyers have filed a complaint with the Manhattan District Attorney's office alleging that Tom Gilligan, a general manager of MM Group Radio in Ohio for three years (beginning in 1990), who then went on to own a series of stations, sent Walk a series of bizarre threatening texts and voicemails threatening to "use all of my powers … and blow your life up." Sources say Republic Records president and "The Four" judge Walk and Gilligan haven't talked in 20 years, but Gilligan began sending threatening messages in December, promising to report Walk to the #MeToo movement, saying he had three women ready to go public with claims.

*LBN-R.I.P.:   ***Lin Bolen, who as the executive in charge of NBC's daytime programming in the early 1970s was the highest-ranking woman in television, died on Jan. 18 in Santa Monica, Calif. Most online sources put her age at 76. Her friend Lisa Demberg confirmed the death. The cause was not specified.

*LBN-SITE OF THE DAY:    
Dribbble is a community of designers answering that question each day. Web designers, graphic designers, illustrators, icon artists, typographers, logo designers, and other creative types share small screenshots (shots) that show their work, process, and current projects. Dribbble helps the world's design talent share their creations and get hired. It has become a go-to resource for discovering and connecting with designers around the globe.

*LBN-COMMENTARY by Kevin Fallon: For someone so recently tone-deaf, it's remarkable that Justin Timberlake managed to get out a note at all during his Super Bowl halftime show. Then again, the sound design was so poor—Timberlake's vocals were only decipherable when no instruments were playing—even that meager commendation is arguable. What's inarguable is that after a string of jaw-dropping extravaganzas from the likes of Lady Gaga, Bruno Mars, and Beyoncé, Justin Timberlake delivered the worst halftime show of the tradition's recent pop-star era. May the ghost of Prince haunt him forever. It's one thing when a cynical media is preemptively eager to drag a performance. From the unjust optics of Timberlake's redemption for his part in the Janet Jackson nip-slip fiasco to the rumors that he'd be using a hologram of The Purple One against his family's wishes, the lead-up to Sunday night's show was mired in controversy. But it's another when the abysmal end product merits the inevitable snark. Listless, muted, lacking any cohesion and spectacle, it was the Big Game's biggest fumble.

*LBN-COMMENTARY by Carole Lieberman (Author): 3 Lessons from Super Bowl 2018: 1) Underdogs should never give up! 2) Don't ever become complacent! 3) When Americans come together to show patriotism it lifts our spirits! (Not only did no one kneel during the National Anthem, people sang with more heart).

*LBN-VIDEO LINK: "An incredible interview with an incredible man" — Meet One Of Harvard's Most Fascinating Thinkers — Without Notes with Dr. Srini Pillay – Episode 2: Inception of the Book — https://youtu.be/7e4lBLSxuck
*LBN-COMMENTARY by Scott Wilson: For those who think California politics is on the far-left fringe of the national spectrum, stand by. The next election season, already well underway here, will showcase a younger generation of Democrats that is more liberal and personally invested in standing up to President Trump's Washington than those leaving office. Here in the self-labeled "state of resistance," the political debate is being pushed further left without any sign of a Republican renaissance to serve as a check on spending and social policy ambitions. Even some Republicans are concerned about the departure of Gov. Jerry Brown (D), who proved to be fiscally cautious after inheriting a state seven years ago in deep recession. The race to succeed him, as well as contests for U.S. Senate and statewide offices, probably will feature a November ballot exclusively filled with Democrats. The top two primary finishers compete in the state's general election regardless of party, setting up several races between the Democrats' left and even-more-left wings in the nation's most-populous state, races that could signal the direction of the party's future.

*LBN-VIDEO LINK: Natalie's Rap 2 – SNL —https://youtu.be/QS8bma7LRX4
*LBN-A DIFFERENT VIEW:…
*LBN-OVERHEARD:   ***She may have earned Golden Globe and Oscar nominations, but Mary J. Blige continues to face plenty of drama off-screen. Her ongoing divorce from estranged husband and former manager Martin "Kendu" Isaacs has forced Blige, 47, to attend to her own business matters. "I'm just being straight-up honest," she told New York magazine. "I never wanted to do all this stuff, but after what I've been through and the mess that I'm in …" Blige has mountains of debt and owes million to the IRS. Plus, she's paying Isaacs $30,000 a month in spousal support.   ***Jennifer Lopez and Alex Rodriguez celebrated their one-year anniversary together at the Super Bowl at a dinner with their kids, Page Six has exclusively learned. Lopez performed at a Super Saturday Night concert for DirecTV, during which she said to A-Rod in the audience: "We've been together for one year today. I don't want to get all mushy or anything, but baby, this song's for you. I love you." She also performed in a jersey with a No. 13 as an ode to the former Yankees slugger.

LBN E-Lert Edited By Dan Gaylord