*U.S. Moves to Build Prototypes for Mexican Border Wall:
The Department of Homeland Security took the first major step
on Thursday
 toward building a barrier on the border with Mexico, a key campaign promise of President 
Trump
, as officials announced that they had awarded contracts to build several prototypes of a concrete wall. Four companies will build the prototypes in the San Diego area, said officials at Customs and Border Protection, an agency within the department. The companies selected will each have 30 days to complete the projects after the agency gives them the order to proceed. "The border wall prototypes and designs will complement other tools we employ to secure our borders," said 
Ronald D. Vitiello
, acting deputy commissioner at Customs and Border Protection. Mr. Vitiello said that the prototypes would be about 30 feet high and that the contracts were between $400,000 and $500,000 each. The department has reallocated $20 million from other programs to pay for the prototypes and related costs.
*Report: Trump Calls Bannon, Other Outside Advisers When Kelly Isn't Around
President 
Donald Trump
 reportedly calls outside advisers from his personal cellphone when Chief of Staff 
John Kelly
 isn't around. According to The Washington Post, the outside advisers include former chief strategist 
Stephen Bannon
. Before Kelly's arrival, the Post reports, Trump's friends would be able to call the White House and be transferred directly to the president, and those inside the West Wing were able to walk in at any time and speak with Trump. Kelly's crackdown has limited access to the Oval Office, and some individuals close to Trump are referring to the chief of staff as "the church lady," the Post reports.
*Homeland Security Warned of Antifa 'Terrorist' Attacks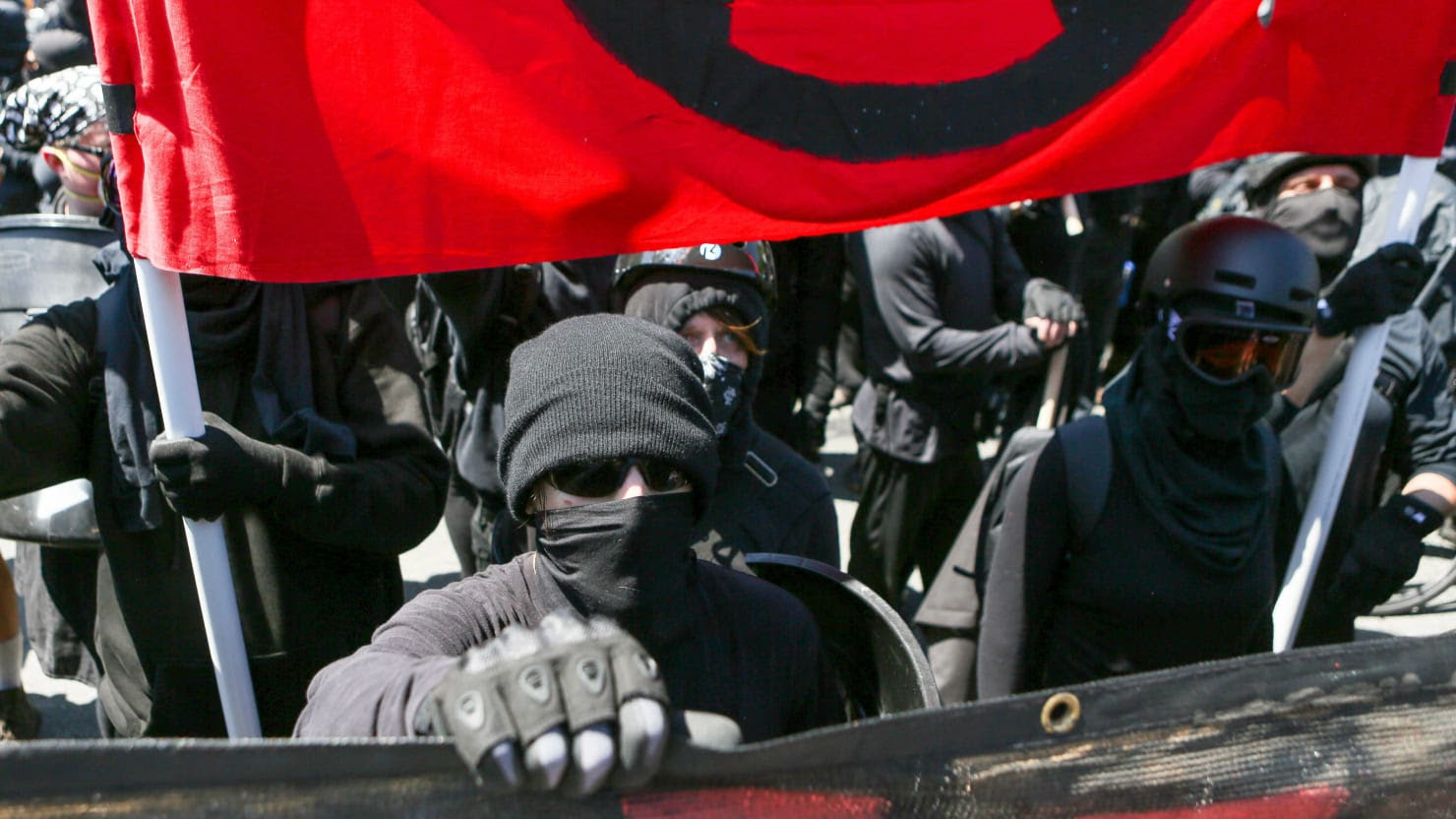 Federal authorities have reportedly warned local and state officials that the "antifa"—the label for anarchist groups that have been countering white supremacists—has become increasingly confrontational, referring to members' actions as "domestic terrorist violence," Politico reports. The Department of Homeland Security issued warnings to other law enforcement agencies on the increasing likelihood that confrontations between right-wing white-supremacist groups and the left-wing anarchists would turn lethal. As early as April 2016, authorities described the group's members as "anarchist extremists" in previously unreported, confidential documents from DHS and the FBI. "It was in that period [as the 
Trump
campaign emerged] that we really became aware of them," said one senior official. "These antifa guys were showing up with weapons, shields and bike helmets and just beating the shit out of people.… They're using Molotov cocktails, they're starting fires, they're throwing bombs and smashing windows."
*OFF THE ICE – Olympic Figure Skating Star Gracie Gold is Taking Time Off to Seek 'Professional Help'
Olympic figure skater Gracie Gold announced Friday that she will be taking time off before the next Winter Olympics "to seek some professional help." She did not elaborate. "My passion for skating and training remains strong," Gold said. "However, after recent struggles on and off the ice, I realize I need to seek some professional help and will be taking some time off while preparing for my Grand Prix assignments. This time will help me become a stronger person, which I believe will be reflected in my skating performances as well." The two-time U.S. figure skating champion and 2014 Olympic team bronze medalist is taking off just five months before the start of the 2018 Olympics in February. She will be missing the invitational Japan Open in October and her November Grand Prix assignments in Beijing and Grenoble, France.

*Trump Rips 'Rigged System' over Claim Comey Cleared Clinton before Probe Ended:
President 
Trump
on Friday
 slammed what he called a "rigged system" following reports that former FBI Director 
James Comey
 began drafting an "exoneration statement" for 
Hillary Clinton
 before interviewing her in connection with her private email use as secretary of state. "Wow, looks like James Comey exonerated Hillary Clinton long before the investigation was over…and so much more. A rigged system!" Trump tweeted early Friday. The president was referring to allegations made this week by Senate Judiciary Committee Chairman 
Chuck Grassley
, R-Iowa, and Sen. 
Lindsey Graham
, R-S.C. In a news release 
Thursday
, the senators said Comey began drafting the exoneration statement in April or May 2016, which was before the FBI interviewed 17 key witnesses, including Clinton herself and other top aides.
*LBN-WHERE THE ELITE AND UNDERDOGS MEET:
*LBN-SEE IT:….A rendering of a concept for a border wall, which officials at Customs and Border Protection said would have to foil climbing aids and prevent tunneling.
*WHO READS LBN? Realtor Paul Grisanti
*Homeless Man Claiming to be Vampire Rips Pigeon's Head Off, Drinks Blood in NYC Bryant Park:
Cops have arrested a self-proclaimed "vampire" seen dining al fresco on a pigeon in Bryant Park in NYC, guaranteeing a stint in a darkened jail cell — or a rubber room, police said
Thursday
. 
Daniel Ventre
 is facing animal cruelty charges for killing at least one pigeon near the Midtown park's fountain about 
2:30 p.m.
Wednesday
. Witnesses saw the homeless man ripping off the head of a pigeon while standing shin-deep in the park's fountain and slurping down the dead bird's blood. He told horrified onlookers that he was a vampire and needed the bird's blood to survive.
*LBN-VIDEO LINK: The Road To Mastering Your Craft —- https://youtu.be/g8O2WOa-CE4
*LBN-R.I.P.:
   ***
Shelley Berman
, whose brittle persona and anxiety-ridden observations helped redefine stand-up comedy in the late 1950s and early '60s, died early 
Friday
 morning at his home in Bell Canyon, Calif. He was 92. His official website said the cause was complications of Alzheimer's disease.   ***
Richard Anderson
, a character actor known for playing sturdy authority figures in films and on television, most notably the government agent who doled out perilous missions on two popular series, "The Six Million Dollar Man" and "The Bionic Woman," died 
on Thursday
 at his home in Beverly Hills, Calif. He was 91. 
Jonathan Taylor
, a spokesman for the family, confirmed the death.   ***
Syd Silverman
, who for three decades was the owner of Variety, the show-business bible that transmogrified slanguage with neologisms like deejay, sitcom and kidvid as it covered an industry in transition, from the cathode ray tube to YouTube, died 
on Sunday
 in Boca Raton, Fla. He was 85. His death was confirmed by his son Michael.
*LBN-VIDEO LINK:Faith Goldy: How To Fix Europe's Jihad Problem —–  https://youtu.be/4-NrsWjHg0Q

*LBN-COMMENTARY by David Brooks: The Lebanese-born writer Amin Maalouf made an interesting point about identity: Other people often pick ours for us. The anti-Semite elevates the Jewish consciousness in the Jew. The Sunni radical elevates Shiite consciousness in the Shiite. "People often see themselves in terms of whichever one of their allegiances is most under attack," Maalouf writes. The people who exclude us try to reduce our myriad identities down to one simplistic one.Amartya Sen calls this process "miniaturization." You may be an athletic Baptist Democratic surgeon with three kids and a love for Ohio State, but to the bigot you're just one thing: your faith or skin color or whatever it is he doesn't like. The odd thing is, people are often complicit in their own miniaturization.
*LBN-COMMENTARY by Tom Sykes: Some of the world's most high-profile Instagram users are nervously waiting to see if their private pictures and messages have been accessed in the "Doxagram" hack. Pop star Selena Gomez's account was accessed by the hackers this week. They posted nude photos of her ex, Justin Bieber, on her account. The posting of the pictures appears to have been a stunt to draw attention to the hack rather than the fruits of the hack itself, as the pictures of Bieber were already in the public domain. Now, however, comes the more worrying possibility that other intimate images may have been accessed.
*LBN-COMMENTARY
 by
 René Rodriguez 
(Founder,
www.innerspartan.com
) : My hobbies include having no time for bullshit.
*LBN-COMMENTARY by Grace Slick (Jefferson Airplane singer): We've got a president who is orange — everybody's least favorite color. Bill Maher said never underestimate the stupidity of the American public, and, at this point in time, he is right. But I realized what a patriot I was when he got elected [because] it made me so sad thinking about how there were 12 or 15 guys who, now 240 years ago, started an entire country. Although they may not have practiced all their ideas — they had slaves and were talking about how all men were free — some in the Constitution are still used.  And they were wonderful ideas as far as how to treat each other and yourself. Then you get this nut-job goofball as our president, and it's embarrassing. He shouldn't be running a country. Guy is a mess.

*LBN-A DIFFERENT VIEW:….
*LBN-OVERHEARD:Tyler Perry just took "Love thy neighbor" to the next level. The "Boo 2! A Madea Halloween" star donated $1 million to Hurricane Harvey relief efforts — with $250,000 of that cash going to Joel Osteen's Lakewood Church in Houston. Osteen, 54, came under fire this week after he allegedly refused to open Lakewood's doors to residents who were displaced by severe flooding from Hurricane Harvey last week.