*U.S. Hits Iran With New Sanctions: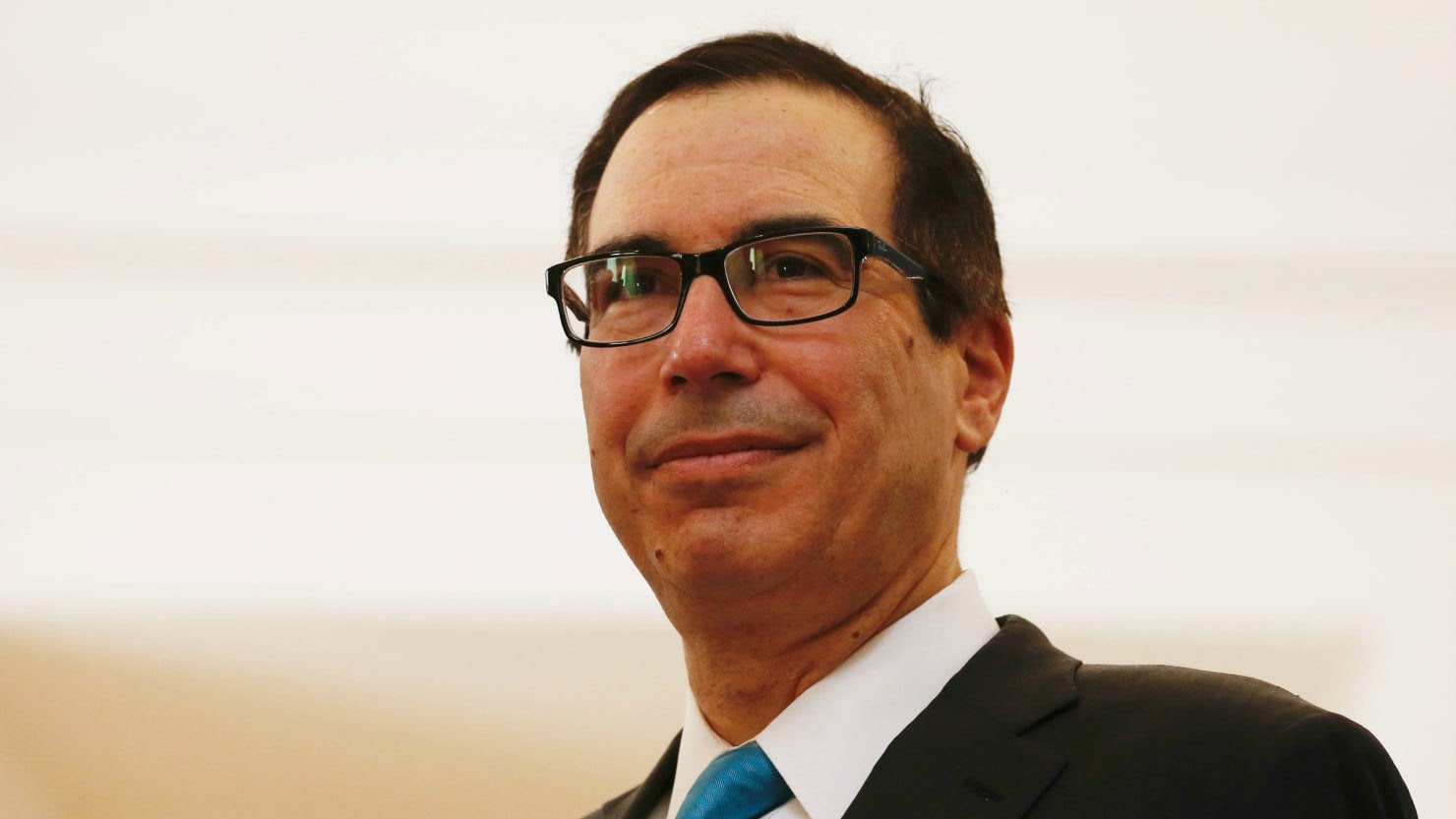 The U.S. Treasury Department on Thursday slapped sanctions on several Iranian companies, individuals, and officials accused of running an illegal currency-exchange scheme to fund a blacklisted elite military unit. In tandem with the United Arab Emirates, the Treasury Department singled out three companies and six individuals accused of funneling U.S. currency to the Quds Force, a wing of the Islamic Revolutionary Guards Corps, through front companies in the Emirates. "Countries around the world must be vigilant against Iran's efforts to exploit their financial institutions to exchange currency and fund nefarious actions of the IRGC-QF and the world's largest state sponsor of terror," Treasury SecretarySteven Mnuchin said in a statement. The move came just two days after President Trump withdrew from the 2015 nuclear deal and vowed to reimpose sanctions against Tehran, and just one day after Israel accused the Quds Force of launching a rocket attack against Israeli targets in the Golan Heights.
*John Kelly: Undocumented Immigrants 'Don't Integrate Well; They Don't Have Skills':
White House Chief of Staff John Kelly has defended theTrump administration's harsh policies against undocumented immigrants by claiming most of those seeking to illegally cross the U.S. border are "rural people" with limited skills. In an interview with NPR due to air on Friday's Morning Edition, Kelly said the "vast majority" of undocumented immigrants are "not bad people" or criminals who belong to the MS-13 street gang, a narrative often pushed by President Trump himself. But they are also "not people that would easily assimilate into the United States into our modern society," according to Kelly, the former Homeland Security secretary. "They're overwhelmingly rural people. In the countries they come from, fourth-, fifth-, sixth-grade educations are kind of the norm. They don't speak English; obviously that's a big thing… They don't integrate well; they don't have skills," he was quoted as saying. His comments come three days after the Trump administration vowed to separate families caught illegally crossing the U.S. border as part of a strict new "zero-tolerance" policy.

*Kirstjen Nielsen, Chief of Homeland Security, Almost Resigned After Trump Tirade:
Kirstjen Nielsen, the homeland security secretary, told colleagues she was close to resigning after President Trumpberated her on Wednesday in front of the entire cabinet for what he said was her failure to adequately secure the nation's borders, according to several current and former officials familiar with the episode. Ms. Nielsen, who is a protégée ofJohn F. Kelly, the White House chief of staff, has drafted a resignation letter but has not submitted it, according to two of the people. As the head of the Department of Homeland Security, Ms. Nielsen is in charge of the 20,000 employees who work for Immigration and Customs Enforcement. Mr. Trump's anger toward Ms. Nielsen, who was sitting several seats to his left at the meeting, was part of a lengthy tirade in which the president railed at his cabinet about what he said was its lack of progress toward sealing the country's borders against illegal immigrants, according to one person who was present at the meeting.

*Frightened Rabbit Frontman's Body Found After Disappearance:
Police searching for the frontman of Scottish indie bandFrightened Rabbit have confirmed they have found his body.Scott Hutchison was reported missing Wednesday and was last seen in South Queensferry, a small coastal town near the Scottish capital Edinburgh. A body was found Thursdayevening and was later identified by Hutchison's family. The band and Hutchison's family had appealed to people in the area to help search for him. Comedian Sarah Silverman, who had urged the British public to help find Hutchison, tweeted Friday: "To [Hutchison's] brothers and family I'm so sorry. I'm just so sorry." Hutchison tweeted late Tuesday night: "Be so good to everyone you love. It's not a given. I'm so annoyed that it's not. I didn't live by that standard and it kills me. Please, hug your loved ones," before adding: "I'm away now. Thanks."

*The Tech to Monitor Inmate Calls Is Able to Track Civilians, Too:
Securus Technologies' programs are used in thousands of prisons and detention centers nationwide to track calls to inmates, but the company's offerings are also capable of tracking and geolocating people's cellphones without any warrant or oversight, The New York Times reports. Securus obtains location information though data from major cellphone providers the same way marketers do. It also advertises the technology to law-enforcement agencies as a tool to find murder suspects, missing people, and those at-large—but the feature can easily be abused for access to millions of cellphone users. One Missouri sheriff used the service at least 11 times between 2014 and 2017, and secretly tracked state highway patrol members and a judge, prosecutors said. While the company said it "required customers to upload a legal document" to certify the location lookup, the Federal Communications Commission claims Securus did not "conduct any review of surveillance requests"—giving law enforcement tracking power without verification of approval or oversight.

*Complete Remains of Ancient Horse Discovered at Pompeii:
Archaeologists have been able to cast a complete figure of a horse that died in the volcanic eruption at Pompeii in 79 A.D. Using the same technique that has allowed them to recreate the final poses of dozens of the eruption's victims—which involves injecting liquid plaster into the cavities left behind when the bodies entombed in volcanic matter decomposed—they were able to cast the horse as it would have looked when it died 2,000 years ago. Archaeologists believe the area where the horse was found was, unsurprisingly, a stable—complete with the remains of a trough. Its size and traces of an iron and bronze harness suggest the animal was a specially bred horse of considerable value. This is the first time archaeologists have unearthed the complete outline of a horse.

*GAIN PERSPECTIVE – READ LBN: Now you can invite your friends, family, and associates (if they've got the guts) by telling them to go to www.LBNElert.com
*LBN-INVESTIGATES: Mongolia is the most sparsely populated nation in the world, with only 4.3 people per square mile.

*LBN-HOLLYWOOD INSIDER:    ***As buzz builds on his directorial debut, "A Star Is Born," Bradley Cooper looks to have found his next directing vehicle. The A-lister will helm and star in the Leonard Bernstein biopic "Bernstein," sources say.Paramount Pictures and Amblin Entertainment will co-finance the film from a script by Josh Singer. Cooper — through his Joint Effort banner — will produce with Steven Spielberg, Martin Scorsese, Fred Berner, Amy Durning, andKristie Macosko Krieger.

*LBN-R.I.P.:  ***Art Shay, a photographer who chronicled the famous and powerful, including nine presidents, as well as the everyday life of mid-20th-century Americans, died on April 28 at his home in Deerfield, Ill. He was 96. The cause was heart failure, his son Richard said.   ***Stanley Falkow, a much-honored Stanford professor who discovered how antibiotic resistance spreads among bacteria and how bacteria cause disease, died on May 5 at his home in Portola Valley, Calif. He was 84. His wife, Lucy Tompkins, who is also a professor at Stanford, said the cause was complications of myelodysplastic syndrome, a rare disorder in which the bone marrow fails to generate blood cells properly.

*LBN-SITE OF THE DAY:  
Astronomy news and interactive guides to the night sky.
*LBN-COMMENTARY by David Brooks: We're all educated by our peers, and, over the years, a good portion of Donald Trump's peers have been thugs. Operating in the New York construction world meant dealing with S&A Concrete, co-owned by "Fat Tony" Salerno of the Genovese crime family, and John Cody, the notorious head of Teamsters Local 282, who was convicted on racketeering and tax evasion charges. Building casinos in Atlantic City brought Trump into similarly genteel circles. Trump's hero was Roy Cohn, who unfortunately was born too late to serve the emperor Caligula. To go to Trump parties in the 1980s was to be surrounded by C-list celebrities and shady business types voted Most Likely to be Arraigned in high school. Trump's fixer Michael Cohenemerged from the same galaxy of gray-market hustlers. Early in his career Cohen worked for a lawyer who pleaded guilty to bribing insurance adjusters. His ex-business partner in the taxi industry was convicted of assault in New York, arrested on battery in Miami and pleaded guilty to criminal mischief in New Jersey. About 15 years ago Cohen set up businesses for two doctors, one of whom was later charged with insurance fraud and grand larceny, the other indicted on racketeering charges. As a personal injury lawyer, he frequently represented people accused of insurance fraud. An uncle provided medical services to the Lucchese crime family.

*LBN-COMMENTARY by Tim Egan: Steve Jobs had outlasted an initial death sentence — three to six months to live, the doctors had said — when he told Stanford graduates that the threat of an early demise was perhaps the most liberating thing that ever happened to him. I was thinking of Jobs, who died seven years after a diagnosis of deadly pancreatic cancer, while watching the public tutorial of Senator John McCaingoing through what may be his final days. McCain is not just plotting the details of his own funeral, but living it. He's lucky. Most of us don't get the chance to tell friends and family members how much we love them, to put things in order — and in return, to hear from those people about what a difference a life made to them. "Then I'd like to go back to our valley and see the creek run after the rain and hear the cottonwoods whisper in the wind," said McCain in an excerpt he read from his forthcoming book, "The Restless Wave." You could hearHemingway, the senator's favorite author, in those words.

*LBN-HISTORICAL COMMENTARY by Mark Twain: Habit is habit and not to be flung out of the window by any man, but coaxed downstairs a step at a time.

*LBN-INVESTIGATES: Death
1. Just three days after dying, the enzymes that help break down a person's food begin to eat that person's body.
2. Approximately 150,000 people die each day around the world.
3. In New York City, more people commit suicide than are murdered.
4. During the death process, the larynx loses it cough reflex, which creates a buildup of mucous. This causes a "death" rattle, or the gurgling or rattle-like sound of someone dying.
5. Soon after death, a person's eyeballs flatten due to the loss of blood pressure.
6. Between 1 to 9 minutes after death, a person's pupils begin to dilate and cloud over. The cloudy look is from the potassium in the red blood cells breaking down. Because most people die with their eyes open, the process usually occurs fairly quickly, though it can take up to 3 hours in some cases.
7. Mistakes on a doctor's note, mainly due to messy handwriting, kill over 7,000 people in the U.S. each year.
8. The emergence of funeral rites is the best indicator of the emergence of modern man (Homo sapiens).
9. Even after 6 hours of dying, a person's muscles continue to spasm periodically.
10. Compared to right-handers, left-handers die at least 3 years earlier.
11. As a person dies, his or her hearing is the last sense to go.
12. Sharks kill about 12 people a year. People kill about 11, 417 sharks—an hour.
13. In Ethiopia, a child is 30 times more likely to die by his or her 5th birthday than a child in Western Europe.
14. Lack of physical exercise is one of the leading causes of preventable deaths worldwide.
15. Air pollution kills over 7 million people per year.

*LBN- A DIFFERENT VIEW:….
*LBN-OVERHEARD:   ***Elvis Presley may have been The King onstage, but compared to Marlon Brando, the rock legend was a peasant between the sheets, says Rita Moreno. "[Brando] slayed me good 'cause he was the king of everything. Eeeeeeverything," Moreno, 86, told Wendy Williams on Thursday. "He was the king of movies … he was really one of the most sexual men on Earth. It was one of those very tempestuous love affairs. It lasted eight years, on and off, on and off, on and off." The "West Side Story" star admitted that she'd wanted to marry Brando, but that he wouldn't have it — but she kept going to bed with him regardless and was heartbroken when she realized he was still sleeping with other people.   ***Brooke Burke isn't giving future romance much thought after splitting from longtime husband David Charvet. "Will I ever date again?" she joked to Us Weekly. "I don't know if I'll ever go on a date. I've just squashed every possibility." Burke filed for divorce in April, citing irreconcilable differences as the cause of the split. They had legally separated in late January.   ***Huma Abedin has become close pals with someone whose high-profile husband is even more of a creep than her own — Harvey Weinstein's soon-to-be-ex-wife,Georgina Chapman. Abedin, the long-suffering spouse of serial sexter Anthony Weiner, told Vogue the two were already friendly because their sons went on playdates, but once the Weinstein news broke, "We just . . . bonded. In allll kinds of ways." "This particular club, ironically it's not such a small one: women who have had to endure it all in such a public way, women like Georgina and me," the former Hillary Clinton aide told the June issue of the magazine, released Thursday.

LBN E-Lert Edited By Renee Preston