*GUSHER –  U.S. Oil Output Expected to Outstrip Saudi Arabia
U.S. crude oil production is this year set to exceed the output of Saudi Arabia for the first time in the modern era, according to the International Energy Agency. The Wall Street Journal reports that U.S. production is also expected to hit more than 10 million barrels per day for the first time since 1970. "This year promises to be a record-setting one for the U.S.," the agency said, noting that in 2017, the American shale industry "beat all expectations" thanks to "cost cuts, stepped up drilling activity, and efficiency measures enforced during the downturn." In 2017, Russia produced approximately 11 million barrels per day.
*The Dow's 31% gain during Trump's first year is the best since FDR:
Donald Trump lifted the Dow Jones industrial average in his first year in office more than any other president since Franklin Roosevelt. The Dow has surged more than 31 percent since Trump's inauguration on Jan. 20, 2017. That marks the index's best performance during a president's first year since Roosevelt. The Dow skyrocketed 96.5 percent during Roosevelt's first year in office.

*STONE COLD – Shirtless Vladimir Putin Takes a Plunge in Freezing Waters
Vladimir Putin took part in a Russian tradition marking the Orthodox Epiphany, which required the Russian president to plunge into icy waters— bare-chested, of course. During the ceremony at a lake outside Moscow, the temperature hovered at 23 degrees Fahrenheit and the Russian president was surrounded by Orthodox priests and "glittering religious icons." The president stripped down to his swimming trunks and stepped into a hole cut into the lake's ice. When a journalist asked Putin if it was cold, he responded, "No, it's great." The ceremony marked the first time that Putin took part in the ritual publicly, but his spokesperson noted that he had been "plunging into an ice hole for a number of years now." The event usually takes place on Jan. 18th and 19th across Russia, and last year two million people plunged into frigid waters.

*57.9% of Illegals Caught at U.S.-Mexico Border in FY17 Not Mexican; From 111 Other Countries
Only 42.1 percent of the "deportable aliens" that the U.S. Border Patrol apprehended along the U.S.-Mexico border in fiscal 2017 were citizens of Mexico, according to data collected by U.S. Customs and Border Protection. A significant majority—57.9 percent—came from 111 other countries. In fact, during fiscal year 2017, the Border Patrol apprehended deportable aliens along the U.S.-Mexico border who came from 84 countries that are not in the Americas. In fiscal 2017, according to a U.S. Customs and Border Protection spreadsheet, the Border Patrol apprehended a total of 310,531 "deportable aliens" in all 20 Border Patrol sectors. (These include nine sectors along the Southwest Border with Mexico, eight along the Northern Border with Canada, and three along the nation's Coastal Border.) Of the total 310,531 "deportable aliens" the Border Patrol apprehended, 303,916 (or about 97.9 percent) were apprehended in the nine sectors along the Southwest Border with Mexico.

*Joel McHale to Launch Weekly Late-Night-Style Show on Netflix
Joel McHale announced on Friday morning that he will be returning to his roots next month with a new weekly half-hour topical series on Netflix. According to a Netflix press release,The Joel McHale Show with Joel McHale will feature "celebrity guests, comedy sketches, and insane video clips from the worldwide realms of TV, sports, politics, celebrity culture, and every corner of the internet." The green screen that features prominently in the show's first teaser is a nod to The Soup, the pop culture commentary show that the former Community star hosted for more than 11 years on E!. Writer/director Paul Feig (Bridesmaids, Ghostbusters) will executive produce the series, which is scheduled to premiere on Sunday, February 18th, exactly four months after Chelsea Handler announced her weekly Netflix talk show would be ending.

*LBN-INVESTIGATES: The spring months of March, April, and May have consistently shown to have the highest suicide rate, 4-6% higher than the average for the rest of the year. Christmas season is actually below average. Some studies suggest greater seasonality in suicides in rural rather than urban areas.

*LBN-SEE IT:…A proposal to charge drivers in the busiest parts of Manhattan is designed to unsnarl city streets. Midtown traffic now crawls at an average of 4.7 miles per hour.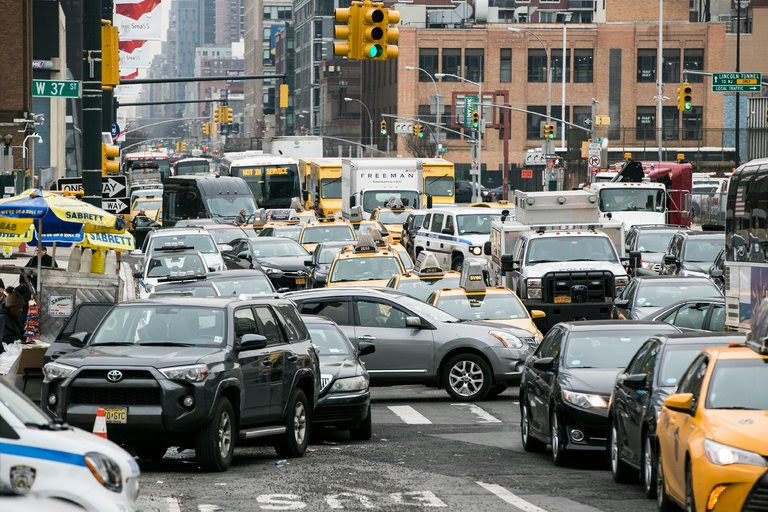 *Baltimore Fires Another Police Commissioner, After Record High Murder Rate: 
The mayor of Baltimore abruptly announced on Friday that she had relieved the city's police commissioner of duty after a year of unprecedented violence in the city. Mayor Catherine Pugh said that Darryl De Sousa, a 30-year veteran of the department who was most recently a deputy police commissioner, would replace Kevin Davis, who became commissioner in 2015. Mr. De Sousa will be Baltimore's ninth police commissioner since 1994. Baltimore experienced a record murder rate last year and had by far the highest rate of the largest 30 cities in the United States. There have been more than 300 homicides in the city in each of the past three years, including 343 recorded in 2017. By comparison, New York, which has a population more than 10 times that of Baltimore, experienced only 286 murders last year.

*DID YOU KNOW? Did you know that LBN is read daily in 26 foreign countries daily?
*LBN-BUSINESS INSIDER:   ***The executive in charge of Facebook's efforts to court China has left the company, a fresh setback for the social network as it seeks to get its products into China's huge internet market. Wang-Li Moser, who as Facebook's lead liaison with Beijing had become a symbol of its ambitions in the country, resigned in December, according to two people familiar with the matter. Ms. Moser had been brought in from Intel to professionalize Facebook's efforts to court China's government. Her job was a tough one. She set up and presided over negotiations between China's most powerful officials and a social network that many of them believed could be dangerously destabilizing.

*LBN-NOTICED:   ***Brooke Shields at Il Gattopardo in NYC.   ***Super-CPA Phil Libertore and his wife Dana up from Orange Country last night to have dinner at a packed Baltaire restaurant in Brentwood.   ***Paul McCartney at Ristorante Morini in NYC.

*LBN-MUSIC INSIDER:   ***The Eagles have settled a lawsuit filed last year to prevent a Mexican hotel from calling itself Hotel California. The hoteliers, Hotel California Baja LLC, withdrew their application for a U.S. trademark, according to Reuters. The decision to dismiss the suit was mutual. The band had sued the company, which operates the Todos Santos hotel in Baja California Sur, with the U.S. District Court in Los Angeles, but both parties agreed to call it off Wednesday. The news services said that the decision coincided the same day that the U.S. Patent and Trademark Office accepted the company's request to abandon its application.   ***Dolly Parton, the winner of countless awards over a career that spans decades, can now boast an accolade that precious few can. She currently holds two Guinness World Records for her chart-topping music. On Wednesday, the country music star was awarded the world record for "Most decades with a Top 20 hit on the US Hot Country Songs chart" as well as "Most hits on the US Hot Country Songs chart by a female artist."

*LBN-VIDEO LINK:  President Ronald Reagan "Tear Down This Wall" Speech at Berlin Wall —  https://youtu.be/Ei1HnWwzmNk

*LBN-TODAY'S BIRTHDAY: 
Janis Joplin (1943)
Joplin began singing folk rock in Texas bars after running away from home at the age of 17. In 1966, she moved to San Francisco and became lead vocalist of the rock band Big Brother and the Holding Company. The band catapulted Joplin to stardom. By the late 1960s, she was almost as well known for her unconventional lifestyle as for her gritty, memorable vocals. Before her death from a heroin overdose at 27, she released hit albums with two other bands beside Big Brother.

*LBN-VIDEO LINK: And they're out: When TV guests walk off the set — https://youtu.be/qNrDXicLyEA

*LBN-SITE OF THE DAY:    
Simply put, Divianart is the world's largest art gallery in your hand. DeviantArt is the largest online social community for artists and art enthusiasts, allowing people to connect through the creation and sharing of art. They entertain, inspire, and empower the artist in all of us.

*LBN-R.I.P.:   ***Stansfield Turner, who led the Central Intelligence Agency through four tumultuous years underPresident Jimmy Carter, starting small covert actions against international communism that grew into some of the biggest battles of the Cold War, died on Thursday at his home in Redmond, Wash. He was 94. Mr. Turner's longtime administrative assistant, Pat Moynihan, confirmed the death.   ***Peter Mayle, an Englishman who started a writing career in his 30's with sex-education books for children before making a spectacularly successful switch to the travel memoir genre with "A Year in Provence," his 1989 best seller about relocating to Southern France, died on Thursday at a hospital near his home there. He was 78.   ***William W. Bain Jr., who founded the business consulting firm Bain & Company and was an early mentor to Mitt Romney, died on Tuesday at his home in Naples, Fla. He was 80. His wife, Ann Dean Bain, said the cause was complications of Alzheimer's disease.

*LBN-COMMENTARY by David Brooks: In 1945, the Austrian physician René Spitz investigated an orphanage that took extra care to make sure its infants were not infected with disease. The children received first-class nutrition and medical care, but they were barely touched, to minimize their contact with germs. The approach was a catastrophe. Thirty-seven percent of the babies died before reaching age 2. It turns out that empathetic physical contact is essential for life. Intimate touch engages the emotions and wires the fibers of the brain together. The power of this kind of loving touch is long lasting. The famous Grant Study investigated a set of men who had gone to Harvard in the 1940s. The men who grew up in loving homes earned 50 percent more over the course of their careers than those from loveless ones. They suffered from far less chronic illness and much lower rates of dementia in old age. A loving home was the best predictor of life outcomes. If the power of loving touch is astounding, the power of invasive touch is horrific. Christie Kim of N.Y.U. surveyed the research literature on victims of child sexual abuse. The victims experience higher levels of anxiety throughout their lifetimes. They report higher levels of depression across the decades and higher levels of self-blame. They are more than twice as likely to experience sexual victimization again.

*LBN- A DIFFERENT VIEW:……..
*LBN-OVERHEARD:   ***The Situation is ready for his day in court. The former "Jersey Shore" star, born Michael Sorrentino, arrived at US District Court in Newark on Friday around 11 a.m. and was expected to plead guilty to tax evasion charges. He agreed to a deal earlier this week after initially scoffing at the offer. The Situation, 35, and his brother Marc were charged with conspiracy to commit fraud in 2014 after the government claimed they did not pay all of the federal income tax owed on The Situation's $8.9 million income from 2010 to 2012.

LBN E-Lert Edited By Dan Gaylord