*YIKES! Illegal Immigration on Border Surges Back to Obama Levels:
Illegal immigration across the Southwest border has surged back to Obama-era levels, according to the latest data released Friday that suggests the gains President Trump made early in his tenure have worn off. Nearly 40,000 illegal immigrants were nabbed attempting to sneak in at the border in November, which was up about 12 percent compared to October, and more than twice the monthly numbers from March and April, when Mr. Trump touted his early accomplishments. Perhaps just as worrisome for officials is the rise in families traveling together, which surged 45 percent last month, and unaccompanied minors traveling without parents, which rose 26 percent in November. U.S. Customs and Border Protection called the rise an "uptick."
*Trump to MS-13: We're Throwing You 'Hell out of the Country'
President Trump vowed to throw "the savages of MS-13" the "hell out of the country" in a speech at the FBI Academy on Friday. "To any member of MS-13 listening" Trump said, "I have a message for you: We will find you, we will arrest you, we will jail you, we will throw you the hell out of the country." "And somehow I like it better than jail," he continued. "Jail we have to take care of them. Who the hell wants to take care of them?" In the same address, Trump said he would continue efforts at cracking down on sanctuary cities. "These are people that are sadists in many cases," Trump said of criminal illegal alien gangs. "We don't want them. We don't want them. They are getting out of here. Our cities should not be sanctuaries for criminals. They should be sanctuaries for Americans. It is our duty to serve the hardworking citizens of our country who raise our families, cherish our values, salute our flag, and make this land our home."

*ABC Fires Mario Batali After Review of Sexual-Misconduct Claims
ABC has fired celebrity chef Mario Batali after investigating sexual-misconduct claims made against him in an Eater.com exposé published last week. "Upon completing its review into the allegations made against Mario Batali, ABC has terminated its relationship with him and he will no longer appear on The Chew," an ABC spokesperson told EW.com. "While we remain unaware of any type of inappropriate behavior involving him and anyone affiliated with our show, ABC takes matters like this very seriously as we are committed to a safe work environment and his past behavior violates our standards of conduct." Batali initially stepped away from all of his business ventures—including his restaurant empire and co-hosting The Chew—following the initial accusations, admitting in a statement that the allegations "match up" with his past behavior.

*Firefighter Killed Battling Huge California Wildfire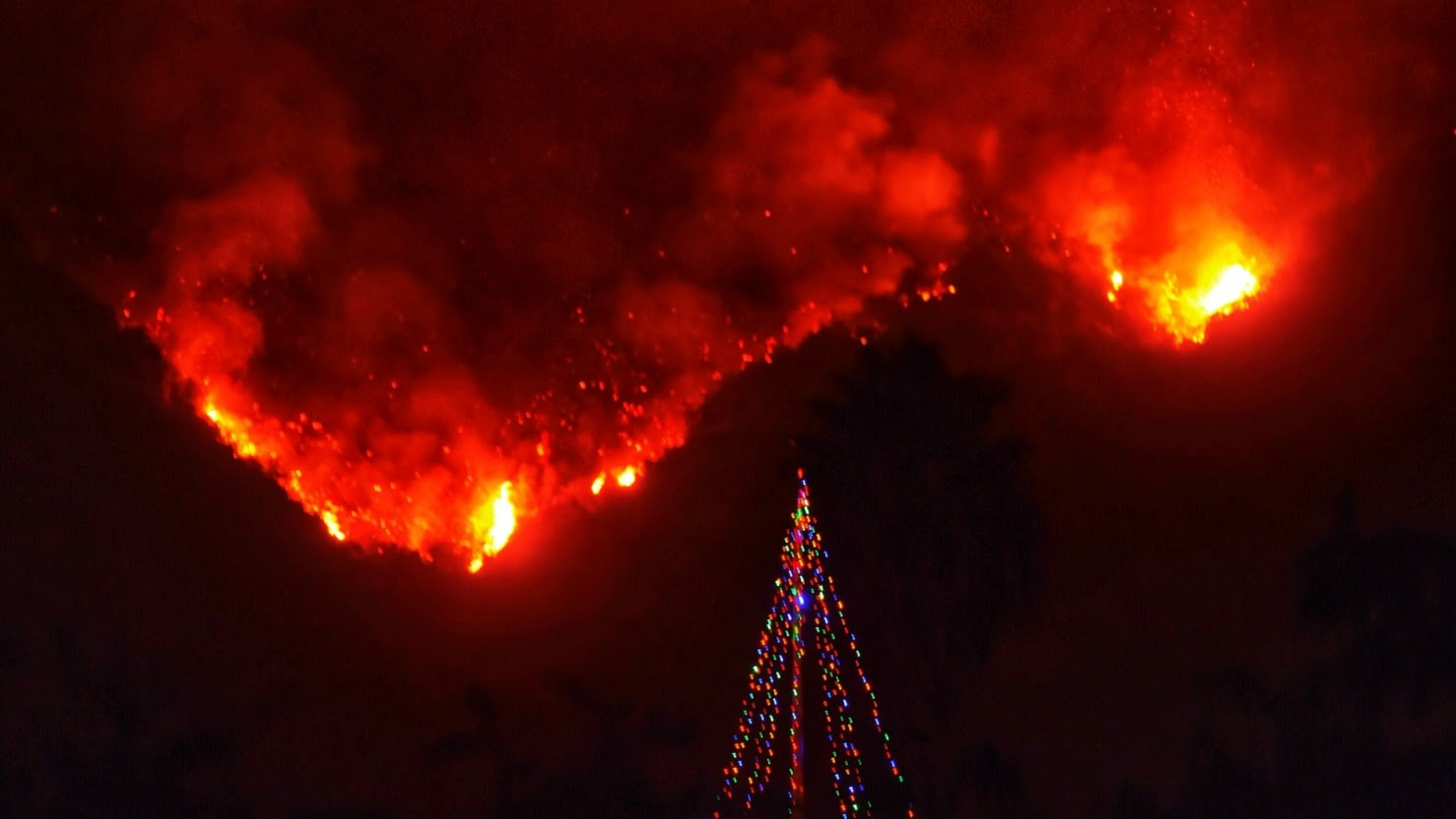 A firefighter died Thursday while battling the massive Southern California wildfire that has burned through multiple counties since it erupted last week. Fire Chief Ken Pimlott of the California Department of Forestry and Fire Protection said at a press conference he was "deeply saddened" by the death of 32-year-old Cory Iverson, who leaves behind a pregnant wife and 2-year-old daughter. Pimlott gave no further details on how Iverson died but said the incident is under investigation. Iverson's death marks the first fatality among firefighters since the Thomas Fire exploded north of Santa Paula on Dec. 4. A 70-year-old woman was killed last week while trying to flee the blaze, which now covers 379 square miles and has destroyed 970 buildings in Ventura and Santa Barbara counties. As of Thursday, the fire was 30 percent contained. "The firefight in front of us continues to go on. The communities we are protecting are depending on us and we will not fail," Pimlott said.

*Sean Spicer: 'I Don't Know' Why Omarosa Was Hired
Even Trump's first White House press secretary has no idea why Omarosa Manigault-Newman, recently ousted as a Trump aide in highly dramatic fashion, was hired in the first place. Appearing on Laura Ingraham's Fox News show, Spicer was asked what drove the president to employ the ex-Apprentice contestant in the first place. "I don't know," he said. Pressed on whether Omarosa had any qualifications, Spicer added: "Look, she was very loyal to the president… I think the president brought a lot of people who wanted to fulfill his agenda. And that's his prerogative." He concluded: "I wish her the best. But I don't—I'm not really sure."

*LBN-VIDEO LINK: Joe Biden Consoles Meghan McCain in Powerfully Emotional TV Moment — https://www.youtube.com/watch?v=3Sa8G-VR13Q

*USI-Tech Develops Bitcoin Investment Opportunity with Unprecedented High Yields. 
Bitcoin started 2017 at $968.23 per coin, and in December of 2017 reached up to $18,000+, exceeding all projections. It now has a market cap of almost $300 billion. Experts expect continued significant gains in 2018, suggesting that Bitcoin could top $100,000 by year end 2018. USI-Tech has developed software for trading in the market of digital currency which has yielded returns averaging a 40% increase over 140 trade days.  USI-Tech invites consumers to register for free and explore their  website: bitcoinforinvesting.com. (Disclaimer from USI-Tech: Past performance does not guarantee future results. Investing in cryptocurrencies is subject to substantial risk of loss. Investing in these markets is not for everyone. No representation is being made that this investment opportunity will guarantee profit or ensure freedom from loss.)

*LBN-VIDEO LINK:  "Without Notes" with Susan Estrich – Episode 5: That Was Then, This Is Now. —https://youtu.be/gpq8aT3a5cU

*LBN-INVESTIGATES: Christmas trees usually grow for about 15 years before they are sold.
*LBN-VIDEO LINK: "8:04" – Science Fiction Short Film — https://www.youtube.com/watch?v=JAJwnMytpFg
*LBN-COMMENTARY by David Brooks: In 1989, the Berlin Wall fell and Communism fell with it. Liberal democracy seemed triumphant. Democracies sprouted in Central Europe. Apartheid fell in South Africa. The Oslo process seemed to herald peace in the Middle East. Then it all went bad. Tribalism and authoritarianism are now on the march while the number of democracies declines. Far worse has been the degradation of democracies, especially in our own country. The Congress barely functions. We have a president who ignores facts and violates basic decency. On college campuses, according to a Brookings/UCLA survey, 50 percent of students believe that "offensive" speech should be shouted down and 20 percent believe it should be violently crushed. In short, we used to have a certain framework of decency within which we held our debates, and somehow we've lost our framework. We took our liberal democratic values for granted for so long, we've forgotten how to defend them. We have become democrats by habit and no longer defend our system with a fervent faith. So over the next few months I'm going to use this column, from time to time, to go back to first principles, to go over the canon of liberal democracy — the thinkers who explained our system and why it is great. I'm going to start with Thomas Mann's "The Coming Victory of Democracy." Mann, possibly the greatest novelist of his era, fled the Nazis and came to America. In 1938, he gave a series of lectures against fascism, Communism and the America Firsters.

*LBN-A DIFFERENT VIEW
LBN E-Lert Edited By Dan Gaylord