*"Tell YOUR Story" – "The Best Promotional Deal On The Web" 
Now YOU can tell YOUR unique story in the world-famous LBN E-Lert – www.LBNElert.com – and communicate directly with LBN readers in all 50 of the United States and 26 foreign countries.
Amazing coverage with YOUR story, YOUR headline, YOUR photo and YOUR website. And then, of course, you can share this LBN story on all YOUR Social Media! And it's really easy to do. Simply send your story (not to exceed 250 words) including a photo and link to: LBNElert@TimeWire.net. We will approve and run.
The cost is a mere $250 payable via PayPal or credit card. This is (by-far) one of the best deals in the world of digital promotion and only available to LBN subscribers.

*Trump Should Win Nobel Peace Prize, Says South Korean President
Donald Trump should win the Nobel Peace Prize for helping to broker peace between North and South Korea, South Korean President Moon Jae-in said Monday. Relations between North and South have taken remarkable steps over the past two months, culminating in a historic summit between the country's two leaders at the border last week. "President Trump should win the Nobel Peace Prize. What we need is only peace," Moon told a cabinet meeting, according to an official who briefed media. Moon previously said Trump "deserves big credit for bringing about the inter-Korean talks. It could be a resulting work of the U.S.-led sanctions and pressure." The two Koreas have agreed to bring an official end to six decades of hostility since the end of the Korean War, and Kim Jong Un pledged to work toward the "complete denuclearization" of the Korean Peninsula. Trump will hold his own summit with Kim in late May or early June.

*LBN-INVESTIGATES: Today, 2,500 Americans will try cocaine for the first time.

*China Prepares a Hard-Line Stance on Trump's Trade Demands: 
China will refuse to discuss President Trump's two toughest trade demands when American negotiators arrive in Beijing this week, people involved in Chinese policymaking say, potentially forcing Washington to escalate the dispute or back down. The Chinese government is publicly calling for flexibility on both sides. But senior Beijing officials do not plan to discuss the Trump administration's two biggest demands: a mandatory $100 billion cut in America's $375 billion annual trade deficit with China and curbs on Beijing's $300 billion plan to bankroll the country's industrial upgrade into advanced technologies such as artificial intelligence, semiconductors, electric cars and commercial aircraft. The reason: Beijing feels its economy has become big enough and resilient enough to stand up to the United States.

*Trump Hints at Holding Kim Jong Un Summit on Korean Border
Donald Trump has dropped a major hint that he wants to hold his upcoming summit with Kim Jong Un on the border between North and South Korea. The demilitarized zone between the countries was where Kim Jong Un and his South Korean counterpart, President Moon Jae-in, held their historic meeting last Friday and now Trump has suggested he holds his summit there, too. It was previously believed the summit would be held in a third country, such as Singapore or Mongolia. Trump tweeted Monday morning: "Numerous countries are being considered for the MEETING, but would Peace House/Freedom House, on the Border of North & South Korea, be a more Representative, Important and Lasting site than a third party country? Just asking!" Earlier Monday, President Moon said Trump deserved the Nobel Peace Prize for his part in repairing relations between the Koreas.

*Netanyahu to Announce 'Dramatic News' About Iran's Nuclear Program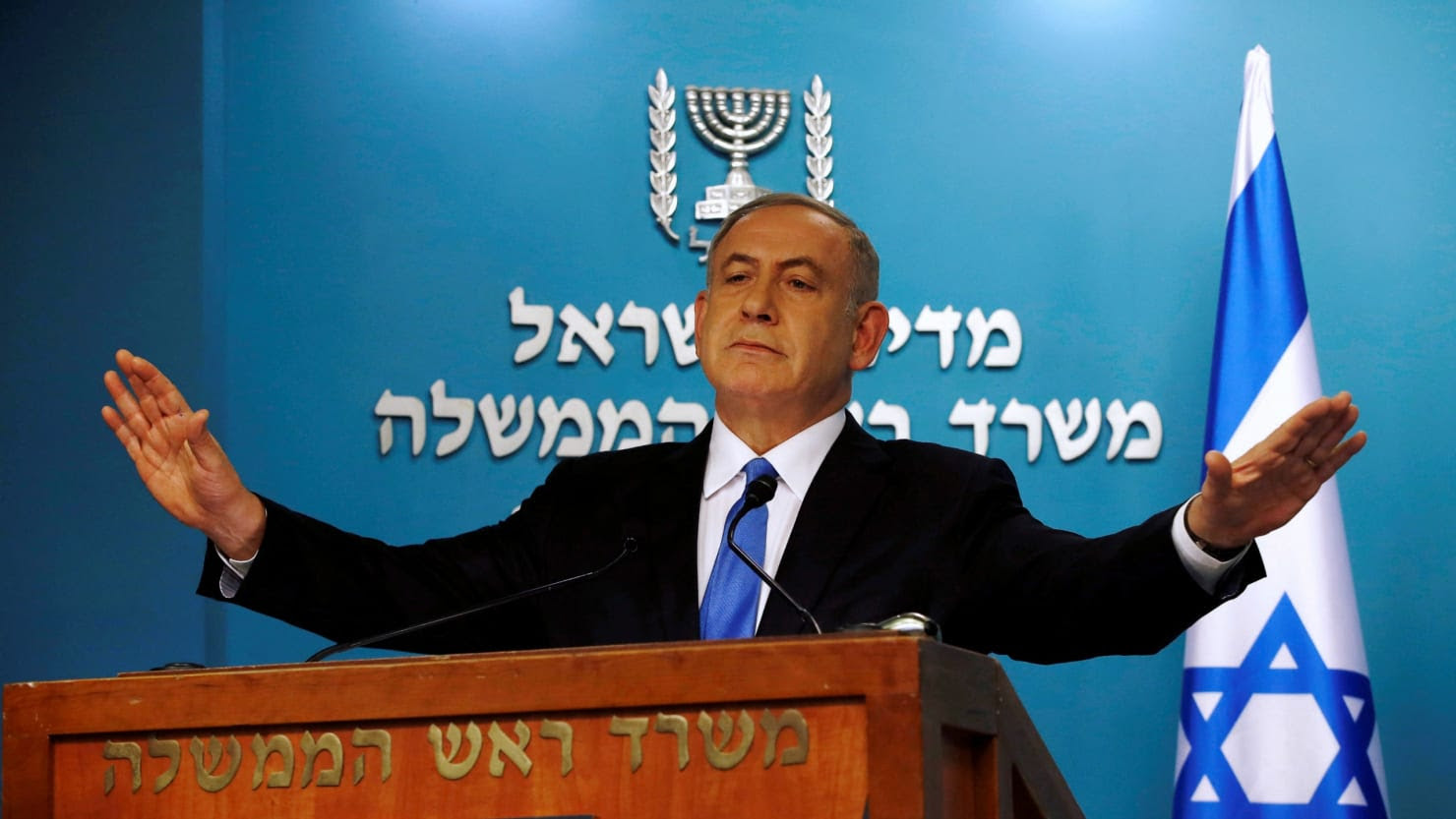 Prime Minister Benjamin Netanyahu will address the nation in Israel on Monday, reportedly to tell of "dramatic news" about Iran's nuclear program. "Prime Minister Benjamin Netanyahu will make a statement on a significant development regarding the nuclear agreement with Iran," a statement issued his office read; the speech is set to begin at 1 p.m. ET. Israeli National Security Council chief Meir Ben Shabbat will reportedly call the U.K. and France "to update them about developments with the Iranian nuclear program." According to The Jerusalem Post, Prime Minister will not address the apparent airstrikes the country conducted in Syria over the weekend. Newly minted U.S. Secretary of State Mike Pompeo visited Netanyahu on Sunday.

*LBN READ ALL OVER THE WORLD: Did you know that LBN is read daily in 26 foreign countries? Pari is a LBN reader from Delhi, India.
*Report: FDA Finds Weedkiller Glyphosate in Common Foods
Internal emails from the U.S. Food and Drug Administration obtained by The Guardian show the agency had found traces of a chemical herbicide in common food items. The FDA was testing food samples for glyphosate, the active ingredient in weedkillers, for "two years, but has not yet released any official results," the newspaper reports. "I have brought wheat crackers, granola cereal, and corn meal from home and there's a fair amount in all of them," an FDA scientist wrote to colleagues in January 2017—noting that broccoli was the only food he tested that was glyphosate-free. Another FDA scientist found "over-the-tolerance" levels of the chemical in corn, and found glyphosate in honey and oatmeal. Documents show the agency "suspended testing after those findings" because they were "not part of its official glyphosate residue assignment." While weedkillers with glyphosate, like Roundup, have been used on produce for more than 40 years, the FDA only started testing its affect in food recently. An agency spokesperson told The Guardian that it has not "found any illegal levels in corn, soy, milk, or eggs," which it considers part of its "special assignment" for the chemical.

*Bill Gates Says Trump Asked Him to Be Science Adviser
Donald Trump asked Bill Gates if he would think about joining his administration as a science adviser—the Microsoft founder let him down gently by saying he didn't think it was the "a good use of [his] time." Trump has failed to fill the vacant position since the last director of the White House Office of Science and Technology Policy, John Holdren, resigned at the end of the Obama administration. Gates brought up his concern about the vacancy during a meeting with Trump, recalling to Stat News: "I mentioned: 'Hey, maybe we should have a science adviser.' He said: Did I want to be the science adviser?" He recalled telling the president: "That's not a good use of my time." Gates also claimed he got Trump "super interested" about the pursuit of a universal flu vaccine.

*LBN-BUSINESS INSIDER:   ***Sprint and T-Mobile announced on Sunday that they had reached a deal to merge, moving to create a new telecommunications giant — and betting that regulators will finally allow the American wireless market to shrink to just three national players. A combined company, they said, would have more than 100 million subscribers — and the resources to build out a next-generation wireless network and challenge the longtime market leaders,Verizon and AT&T. Sprint and T-Mobile also said the merged company — which would keep the T-Mobile name and be run by T-Mobile's chief executive, John Legere — would create thousands of jobs by building out that next-generation network and opening hundreds of new stores in rural areas.

*LBN-HOLLYWOOD INSIDER:   ***Bernardo Bertolucci criticized fellow filmmaker Ridley Scott's decision last year to replace Kevin Spacey in All the Money in the World with Christopher Plummer after Spacey was accused of sexual assault by more than a dozen men. During the world premiere of his restored film Last Tango in Paris on Saturday night at the Bari International Film Festival, Bertolucci had harsh words for Scott. Bertolucci said that when he learned Scott had agreed to erase all of Spacey's scenes in the film, his first reaction was to message Scott's frequent editor Pietro Scalia, "to tell Scott that he should be ashamed," said Bertolucci, who thought Scott was succumbing to pressure.

*LBN-SPORTS INSIDER:   ***Some fans take the NFL draft a bit too seriously — just ask the Tampa Bay Buccaneers' front office. Team security officials are investigating a threatening tweet directed at general manager Jason Licht after the Bucs drafted North Carolina cornerback M.J. Stewart on Friday with the 53rd-overall pick, in the second round, prompting a fan in Texas to chime in on Twitter with a GIF of a gruesome murder scene from the 1990 film "King of New York," the Tampa Bay Times reports. "When I see Jason Licht the next time I roll through Tampa," Mike Rogers, 38, of Houston, posted after the Bucs' pick, complete with a bloody depiction of a drug lord killing a New York City police detective.

*LBN- SITE OF THE DAY:    
The Scam Awareness Alliance is a nonprofit organization operated exclusively for the promotion of social welfare, specifically focusing on increasing consumer awareness about scams. By providing tools and information about scams and how to identify them, the Scam Awareness Alliance hopes to help consumers avoid being victims of fraud.

*LBN-VIDEO LINK: Do You Have Any Republican Friends?—https://youtu.be/VKYfarmt-N4

*LBN-R.I.P.:   ***Actress Pamela Gidley — best known for her role as Teresa Banks, the murder victim from the "Twin Peaks" prequel, "Fire Walk With Me" — passed away earlier this month. The 52-year-old died "peacefully" at her home in New Hampshire on April 16, according to family members. Her death was announced Sunday in an obituary. The cause was not immediately clear.

*LBN-COMMENTARY by Jay Michaelson: Larry Harvey, the co-founder of Burning Man who died Saturday at age 70, changed my life.When I first went to Burning Man, in 2001, I was a scared, largely closeted man who felt he was wasting his life. It is not an exaggeration to say that the community-event-city-alternate reality (anything but festival, please) enabled me to leave a career I hated, quit lying about who I was and who I loved, and pursue my passions both professionally and avocationally. Within a year of that first Burn, I had started a garage rock band and an online magazine; gone on my first extended meditation retreat; and met my first boyfriend. Perhaps most importantly, I stopped being as fearful, insular, and obnoxious as I had been. I grew up as a human being. This may all sound surprising if you've heard that Burning Man is some massive party in the desert, where privileged tech-bros go to get high, get laid, and maybe get some new contacts for their LinkedIn account. It's funny how that reputation has stuck throughout all these years (and evolved—there were no tech-bros or LinkedIn in 2001, let alone 1986 when Burning Man began). I first wrote about it in 2009. It's almost like Burning Man has a smoke screen of stupidity around it, a set of misconceptions and clichés that keep the masses away.

*LBN-VIDEO LINK: The Best of "Without Notes" – TV's revealing interview show —– Without Notes – World's acclaimed brain expert and author –  Dr. Gary Small (Pt. 3) – https://youtu.be/0CZvidDEULE

*LBN-COMMENTARY by Peter Suderman (Mr. Suderman has written about movies for Vox.com, National Review and other publications): Modern Hollywood is ruled by franchises, and these days, there's no bigger franchise than the Marvel cinematic universe. The release last week of "Avengers: Infinity War" marks the 19th film in the superhero series. "Infinity War" is the culmination of 10 years (going back to "Iron Man") of story lines and character arcs, a sprawling finale that is at times exhilarating and exhausting, overlong and underdeveloped, predictable yet also, in its final moments, genuinely shocking. It has been mocked for aspiring to be the most ambitious crossover event in movie history, and although no studio executive appears to have ever said those precise words, the label captures the grandiose spirit of Marvel's project. It's a $300 million superhero opera on a cosmic scale. That an overstuffed picture like this holds together at all is impressive enough. Yet messy as it is, "Infinity War" actually works reasonably well. Which makes it a fitting quasi-conclusion to a franchise that has been defined not by excellence but by being consistently and reliably pretty good. Marvel's commitment to pretty good filmmaking has made it enormously successful and helped reshape the business of studio filmmaking. But it has also come at a cost — not only for superhero movies, but for ambitious studio filmmaking writ large.

*LBN-HISTORICAL COMMENTARY by Hubert H. Humphrey:You cannot go around and keep score. If you keep score on the good things and the bad things, you'll find out that you're a very miserable person. God gave man the ability to forget, which is one of the greatest attributes you have. Because if you remember everything that's happened to you, you generally remember that which is the most unfortunate.

*LBN-A DIFFERENT VIEW:…
*LBN-OVERHEARD:   ***Peta Murgatroyd's patience and willpower were tested Saturday night after she was forced to bow out of a show. "I need to apologize to the people who attended our Grand Prairie, Texas show," the "Dancing with the Stars" pro, who co-stars in the Maks.Val.Peta Confidential tour, said in a message to fans on Instagram. "I have never missed a show due to illness in my entire dancing career." As the 31-year-old recalled, she woke up feeling nauseous. She thought it was food poisoning and opted to sleep it off, but by the evening, her condition had worsened.

LBN E-Lert Edited By Dan Gaylord