*North Korea Is Giving Chemical-Weapons Supplies to Syria, U.N. Experts Say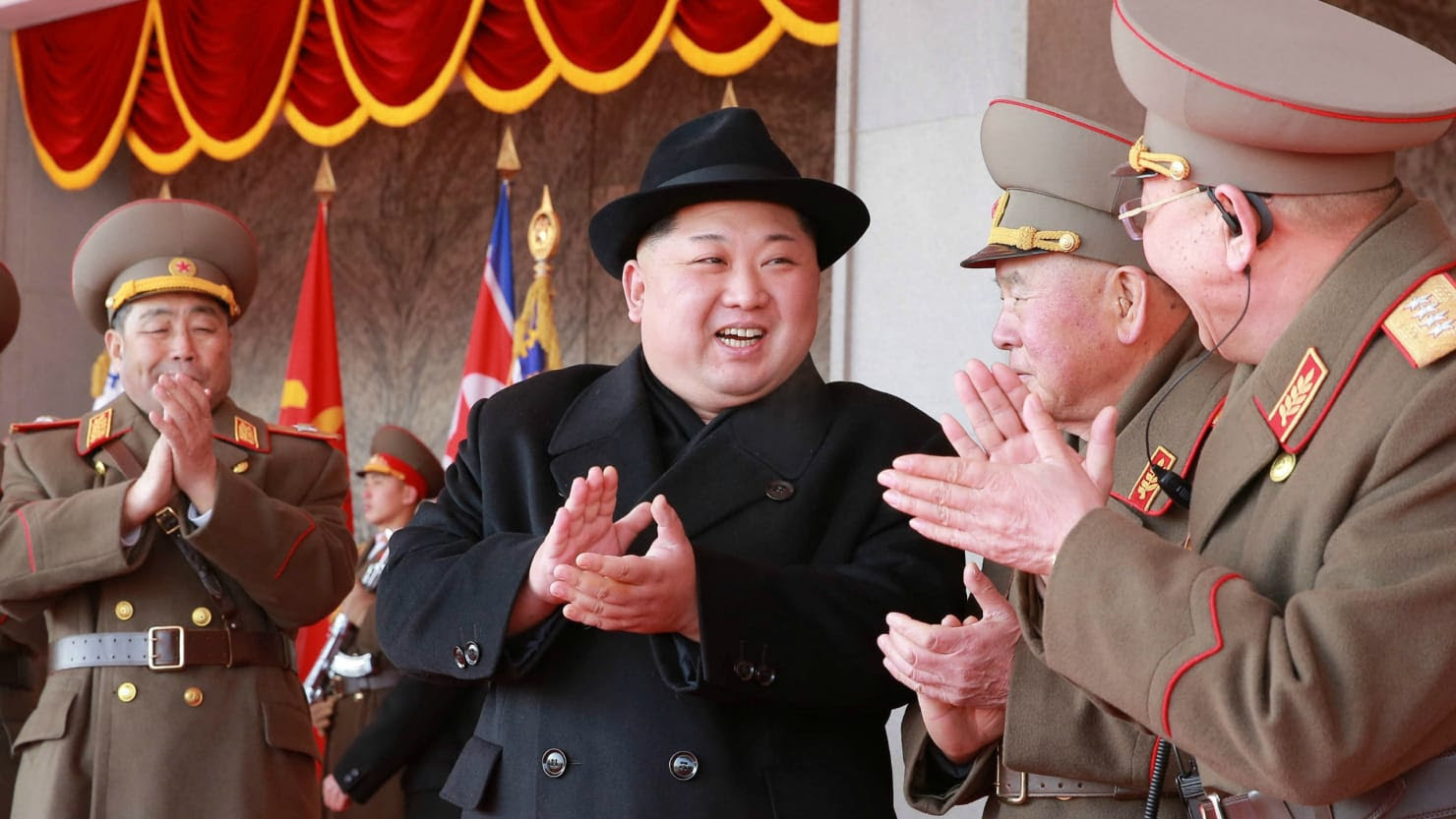 North Korea has been shipping supplies to the Syrian government that could be used to make chemical weapons, according to a shocking new report Tuesday morning from experts at the United Nations. The investigators' report—which was obtained by The New York Times—said the supplies include acid-resistant tiles, valves, and thermometers, and goes on to claim that North Korean missile technicians have also been seen working at weapons facilities inside Syria. The report comes amid news that a chemical-weapons watchdog is investigating attacks in the besieged eastern Ghouta region of Syria to determine the veracity of reports of the Assad government's repeated use of chlorine bombs this month. According to the Times, the U.N. report details 40 shipments of prohibited missile parts and materials from North Korea to Syria between 2012 and 2017. The report warns that such illicit trade between North Korea and Syria could allow Syria to maintain its chemical-weapons arsenal while also providing North Korea with money to advance its nuclear-weapons program.

*Trump Picks Brad Parscale to Run 2020 Campaign
Donald Trump is running for re-election. This was known many months ago when the president filed paperwork with the Federal Election Commission forming a committee for a re-election bid. But it was given a new boost on Tuesday by the Drudge Report, which announced, breathlessly, that the president was indeed making a 2020 bid. The real news, however, was who Trump will task to run his campaign. That job is being handed to Brad Parscale, the top digital strategist and digital-media director for Trump's 2016 campaign, who, the Drudge Report said, is reportedly slated to be the president's top man in 2020. It is an interesting choice for Trump, who was also considering Nick Ayers, a top aide to Vice President Mike Pence, and Jason Miller, the communications director on his 2016 campaign. Parscale started working for the Trump Organization in 2011. Because of the role he played on the first campaign, he has been a focus of investigators looking into potential ties between the campaign and the Russian government. Parscale has maintained his innocence. He appears now to be the first-ever digital strategist tasked with running a presidential campaign.

*Bob Corker Decides to Retire After Reconsideration
Sen. Bob Corker (R-TN) is sticking with his decision to retire this year, his chief of staff told Politico on Tuesday. "He's always believed and served as though he were only going to be in the Senate for two terms," said Tom Womack, Corker's chief of staff. "And he was willing to listen to folks but he really believes the decision he made in September was the right one and is going to be leaving the Senate at the end of the year." Last year, Corker was embroiled in a nasty feud with President Trump and announced he would not be running for a third term in the Senate. Womack said Tuesday there was a "path" to the GOP nomination, but Corker ultimately decided it was time to pass the torch. "What he would tell you is that serving in the Senate has been the privilege of his lifetime and when people approach you and ask you to reconsider you certainly do it," he said.

*Newspapers Launch PAC to Fight Google, Facebook
The News Media Alliance, a trade group of more than 2,000 U.S. newspapers, is launching the industry's first-ever political action committee. The News Media Alliance PAC is being established to raise money to fight for its two biggest issues: "a safe-harbor exemption to compete against Google and Facebook and stopping Canadian newsprint tariffs," Axios reports. Its website also states the PAC will "help elect candidates who understand the importance of public policies that facilitate production of high-quality journalism, necessary for a functional democracy." This comes as the NMA has been vying for an antitrust pass to negotiate with Google and Facebook jointly since last year—creating a united front of media to better bargain with the digital giants.

*Pussy Riot Says Two Band Members Are 'Missing' in Crimea
Russian punk protest group Pussy Riot says two of its members have gone missing after being "detained" by Russia's security agency in Crimea. In a post on social media, the band said two members—Olya Borisova and Sasha Sofeev—had "disappeared" after being detained by the FSB; the modern successor to the KGB. Alongside a photo of the two missing members, the band wrote: "Two Pussy Riot members are missing. Olya Borisova & Sasha Sofeev disappeared in Crimea yesterday. FSB detained them several times. Yesterday cops broke their phones and computers. We can not reach out to them. We don't know what has happened to them." A report on Radio Free Europe claims members of the band were in Crimea to protest in support of Ukrainian filmmaker Oleh Sentsov who was sentenced to 20 years in prison on charges of plotting terrorist acts in a trial condemned by the U.S. and the European Union.

*Scientists Recreate Genome of a Bird That's Been Extinct for 700 Years
These scientists were so preoccupied with whether or not they could, they didn't stop to think if they should. In a breakthrough straight out of Jurassic Park, Harvard scientists have managed to recreate a nearly complete genome of the little bush moa—a bird that went extinct more than 700 years ago. The project brings scientists one step closer to being able to "de-extinct" species by inserting the genome of a disappeared species into the eggs of living species. The moa's DNA was reconstructed from the toe bone of a specimen in a museum. Stewart Brandof conservation group Revive and Restore, which aims to bring species back from the dead such as the woolly mammoth, said: "De-extinction is coming, gradually and certainly. It will eventually be seen as just another form of reintroduction," like bringing "wolves back to Yellowstone Park [and] beavers back to Sweden and Scotland."

*Report: There Was a 57% Spike in Anti-Semitism in 2017
Jewish civil-rights group the Anti-Defamation League has reported a 57 percent jump in anti-Semitic incidents in the U.S. in 2017 and placed the blame on the "divisive state of our national discourse." The group recorded 1,986 anti-Semitic incidents last year, up dramatically from 1,267 in 2016 and the highest figure the ADL said it has found in more than two decades. The reported incidents include 952 instances of vandalism and 1015 examples of harassment, including 163 bomb threats against Jewish institutions. Jewish leaders said far-right extremists in the U.S. had been emboldened in the past year, with Rabbi Shmuel Herzfeld, whose synagogue received a bomb threat last year, telling the AP that anti-Semitism was becoming virulent "in a way I have not seen in my lifetime." ADL CEO Jonathan Greenblatt said: "There's no question we would love to see the president call out anti-Semitism as consistently and clearly as he does other issues."

*Ivanka Trump is reportedly dividing the White House:  
First daughter Ivanka Trump is grating on other West Wing staffers and has frustrated White House chief of staff John Kelly, who has complained that she is just "playing government," according to a report Tuesday. The retired Marine general believes President Trump's daughter is trying to have it both ways, serving as a senior adviser to her father one moment and then acting like his daughter the next, depending on the situation, CNN reported. Kelly has also dismissed her policy agenda and referred to her child tax credit as "a pet project," the report said. She's married to Jared Kushner, who also plays a leading role in the White House and has come under scrutiny because he's been unable to get a permanent security clearance.

*Amy Schumer promised oral sex in wedding vows:  
If her vows are any indication, Amy Schumer's marriage toChris Fischer will be entertaining. The 36-year-old comedian opened up about tying the knot and her first few weeks of wedded bliss by recounting the details of her big day on the Sirius XM show "You Up with Nikki Glaser," reports E! News. Speaking of their vows, Schumer exclaimed, "Mine sucked! I thought mine were good, I wrote mine in like, 20 minutes. I was crying when I wrote them, but his blew me out of the water so hard." "In my vows I go, 'But I promise I'll keep going down on you, even though everyone tells me I won't,'" she chuckled. "And his were like, heckling me too. He was like, 'The other day I lost a tennis match and you called me a f–king loser.' It was all like awful s–t." So far, things have been great between the couple, who tied the knot on Feb. 13 in a secret ceremony.

*LBN-BUSINESS INSIDER:   ***Jerome H. Powell, the new chairman of the Federal Reserve, painted an optimistic picture of the United States economy on Tuesday and signaled that he will continue to bolster strong growth during testimony before Congress in his public debut as head of the central bank. Mr. Powell, in remarks to the House Financial Services Committee, said the job market and business investment continued to strengthen, and that headwinds once holding back the American economy had now turned into tailwinds. But he emphasized that he planned to continue the policies of his predecessor, Janet L. Yellen, who managed to gradually raise interest rates during her four-year term while still encouraging broad economic growth.

*LBN-BOOK NEWS:   ***Los Angeles Times staff writer Amy Kaufman's new book, "Bachelor Nation: Inside the World of America's Favorite Guilty Pleasure" (Dutton, out March 6), pulls back the velvet curtains on one of the highest-rated reality shows on television, ABC's "The Bachelor." And it's not all rose petals and champagne flutes. Kaufman reveals that the show's supervising producer, Scott Jeffress, would motivate the other producers with cash, keeping a wad of $100 bills for anyone who delivered the goods. "The first producer to get tears? A hundred bucks! You get [the bachelor] to make out with the right girl? A hundred bucks! Catch a chick puking on-camera? A hundred bucks!" The conditions in the "Bachelor" mansion set the stage for a chaotic, stressful environment: Contestants "sometimes sleep 12 to a room in bunk beds," and they aren't allowed to leave the property, listen to music, read books or magazines, work out or catch up on the news. "It's all part of a well-designed producer strategy called 'The Bubble,'" writes Kaufman. "Inside the bubble, all that matters is the show."   ***""Guerrilla P.R. "(HarperCollins) celebrates its 25th anniversary this year (2018) as the best-selling P.R. book of all-time.

*THINK FREELY – READ LBN:
*Saudi King Shakes Up Military and Security Leadership:  
King Salman of Saudi Arabia is shaking up the leadership of the kingdom's military and internal security services, elevating younger officials at a time of increased military engagement abroad and sharp economic and social change at home. In a series of royal decrees announced late Monday, the king discharged dozens of officials across the government, bringing in a new chief of staff for the Saudi military and new officials for security and economic policy. A number of younger princes were named deputy governors and a woman was appointed deputy labor minister, a rare occurrence in the ultraconservative kingdom.

*Charlize Theron used to be a stoner:
Charlize Theron's rise and grind routine once included a bit of green. "I was a wake-and-baker for most of my life," the 42-year-old actress shared of her history with marijuana with E! News. When asked about her first time trying pot, Theron noted she "didn't mess around with anything" until she was older. "I really appreciated marijuana way more than alcohol or anything else," she explained. "My chemistry was really good with it when I was younger and then it just changed one day. Like, in my early thirties I just became boring on it and I would just stand in front of my fridge, so that's no good."

*LBN-HOLLYWOOD INSIDER:   ***Paramount Network, Network Entertainment and "I Am Heath Ledger" producerDerik Murray will team for a comprehensive documentary look at the life and death of "The Fast and Furious" actor Paul Walker. Adrian Buitenhuis, who directed the Ledger doc, will direct "I Am Paul Walker."

*LBN-INVESTIGATES: With unprecedented speed, the Trumpadministration has already implemented nearly two-thirds of the 334 agenda items called for by the Heritage Foundation, a pace faster than former President Reagan who embraced the conservative think tank's legendary "Mandate for Leadership" blueprint. Thomas Binion, director of congressional and executive branch relations at Heritage, said that Trump has implemented 64 percent of the "unique policy recommendations" from the group.

*LBN-MEDIA INSIDER: Comcast may have found a way to disrupt Walt Disney Company's plan to buy most of 21st Century Fox: topping Fox's bid to buy the British satellite broadcaster Sky with its own $31 billion takeover offer. The bid, announced on Tuesday, seizes upon 21st Century Fox's difficulties buying the piece of Sky that it does not already own. British regulators have expressed repeated concerns about giving Rupert Murdoch and his family more control over the country's media, stretching the approval process out over more than a year and forcing 21st Century Fox to offer more concessions.Comcast has said that buying Sky would help it expand in Europe, where the broadcaster has 23 million customers and owns rights to show the English Premier League and other professional soccer leagues. Disney, too, has been keen on expanding internationally, with the British company serving as an important part of its $52 billion plan to buy a significant portion of 21st Century Fox.

*LBN-MUSIC INSIDER:   ***American Songwriter interviewsMichael Sigman about the loss of his father Carl Sigman'smusic archives in the recent Ventura wildfires. "Most of what's gone is irreplaceable. There were hundreds of pieces of original, annotated sheet music — some for songs that eerily conjured the disaster…What I'll miss most perhaps is a messy drawerful of Carl's titles for songs that never got written — mad scribblings on whatever he could get his hands on, from matchbooks to napkins to gas receipts."

*THINK FREELY – READ LBN:
*LBN-SPORTS INSIDER:   ***With the support of many N.F.L. owners, Commissioner Roger Goodell is prepared to escalate his public feud with Jerry Jones, the owner of the Dallas Cowboys and long one of the most influential people in the league, by ordering him to pay millions of dollars for his efforts to derail negotiations to renew Goodell's contract and for his outspoken defense of a star player who was suspended, according to five league officials with direct knowledge of the situation. The punishment will be issued in the coming weeks by Goodell, who will declare that Jones's actions were detrimental to the league, which rarely shows such acute signs of acrimony among owners and the commissioner's office. Goodell has been reluctant to be seen as exacting retribution for the way Jones tried to sabotage his contract talks, but he was urged to bring the penalties by several owners who believed that Jones had crossed an unspoken boundary by threatening his colleagues. In November, Jones hired the high-profile lawyer David Boies and said he was prepared to sue the six owners on the league's compensation committee, which had been working for months on extending Goodell's contract. Jones also lobbied loudly for running back Ezekiel Elliott not to be penalized, and reportedly tried to influence league officials deciding his case. Elliott had been suspended by the league for six games before the season after the N.F.L. investigated domestic-assault allegations

*LBN-VIDEO LINK: What An Andrew Dice Clay Presidency Would Look Like — https://youtu.be/T8XUpNhs9pk

*LBN-SITE OF THE DAY:    
Kelly Blue Book: What's My Car Worth
Find out what your car is worth. Get the Kelley Blue Book Value for your used car or trade-in vehicle.

*LBN-COMMENTARY by David Brooks: I've been going around to campuses asking undergraduate and graduate students how they see the world. Most of the students I've met with so far are at super-competitive schools — Harvard, Yale, the University of Chicago and Davidson — so this is a tiny slice of the rising generation. Still, their comments are striking. The first thing to say is that this is a generation with diminished expectations. Their lived experience includes the Iraq war, the financial crisis, police brutality and Donald Trump — a series of moments when the big institutions failed to provide basic security, competence and accountability. "We're the school shooting generation," one Harvard student told me. Another said: "Wall Street tanked the country and no one got punished. The same with government." I found little faith in large organizations. "I don't believe in politicians; they have been corrupted. I don't believe in intellectuals; they have been corrupted," said one young woman at Yale. I asked a group of students from about 30 countries which of them believed that the people running their country were basically competent. Only one young man, from Germany, raised a hand. "The utopia of our parents is the dystopia of our age," a Harvard student said, summarizing the general distemper. It's not that the students are hopeless. They are dedicating their lives to social change. It's just that they have trouble naming institutions that work. A number said they used to have a lot of faith in the tech industry, but they have lost much of it. "The Occupy strategy was such a visible failure, it left everyone else feeling disillusioned," one lamented. "We don't even have a common truth. A common set of facts," added another.

*LBN-COMMENTARY by Amy Zimmerman: A recently-leaked audio clip, which appears to reveal a well-known Los Angeles-based acting teacher named Lesly Kahn advising a student to change her name and present as Latinx, has been circulating on social media. The Daily Beast spoke with the woman who recorded the conversation, who asked to remain anonymous. She confirmed that it was a recording from an intro acting class of Kahn's last Saturday. In the controversial clip, Kahn can be heard urging an aspiring actress to change her name to "Rosa Ramirez," insisting that, "Just the fact that your name is Rosa Ramirez is gonna get you a meeting." When the young woman, who describes herself as "100% Ashkenazi Jewish," says that no one has ever told her to change her name, Kahn expresses incredulity.  After confirming that the woman isn't already on IMDb, Kahn proceeds to outline a plan of action for "Rosa Ramirez," telling her to "wear something fucking red, wear some fucking sparkly earrings" and get new headshots taken. After reiterating that she should "come up with the most Latin name you can come up with," Kahn further advises her to "stop admitting to being a huge Jew" because "it's just not going to help you." In the background, others can be heard laughing as Kahn says to "keep us posted" on "the saga of Rosa Ramirez." Later, Kahn even advises the student to document her transformation on Instagram, suggesting that the exposure might be able to help the not-currently-working actress book a series.

*LBN-COMMENTARY by Sarah Watts:  In January, famed theoretical physicist Stephen Hawking celebrated his 76th birthday. And despite the fact that Hawking's research has changed the way people think about the creation of the universe, turning 76 may actually be one of his most impressive accomplishments to date: Hawking was never supposed to have survived past the age of 25. While pursuing a research position at Cambridge in 1962, Hawking was diagnosed with a motor neuron disease, later revealed to be amyotrophic lateral sclerosis, or ALS. When a patient is affected by ALS, the motor neurons in his brain and spinal column start to progressively weaken and die, which in turn affects muscles that control voluntary movements. At first, these muscles will weaken or stiffen, which can result in slurred speech or an inability to button or zip clothes. But eventually, these muscles will cease to function altogether, and within months or years, patients lose the ability to walk, speak, and breathe independently.  According to information from the ALS Association, the majority of patients with ALS die between two and five years after being diagnosed. Only ten percent of patients go on to live ten years past their diagnosis. So far, Hawking has managed to survive an astounding 57 years.

*LBN-COMMENTARY by Andrew Friedman:  Spago opened on January 16, 1982. Wolfgang Puck was so insecure that he told [his investor] Don Salk to invite his wife's enormous extended family to ensure a somewhat full house. But when the dentist and his family arrived, they were confronted with eighteen Rolls-Royces in the parking lot and had to wait hours for a table. The restaurant did 170 covers that night. When the doors first opened," remembers Barbara Lazaroff, "I was still shoeless standing on top of the kitchen counter getting the track lights correct. I thought of it as a stage. I used to study theater lighting and design; that's what I did. So I said, 'That's my star. These are my stars. I'm lighting them up.'" "I never even got to realize what I was in the middle of because who would have thought Spago, which became what Spago was overnight, would become that?" says Nancy Silverton, who was the restaurant's pastry chef. What Silverton calls the "floods" came the minute the doors opened. Because there was only the open kitchen, she had to clear out by 4 P.M., when Ed LaDou, the pizza maker, came in. She'd prepped days' worth of ingredients prior to opening night, but it was all gone by closing time. hings were even more discombobulated on the hot line. Of that first night, Kazuto Matsusaka remembers: "The timing was horrible. And nobody knew what to do. There's no system. There's no preopening meeting or preopening discussions. There was nothing. And the food started to run out. That was the craziest opening I've ever done. Mark [Peel] was next to me; he was on pasta. He was making a pasta at six. Later, he was cutting [more fresh] angel hair pasta."

*LBN-HISTORICAL COMMENTARY by Thomas Carlyle: What we become depends on what we read after all of the professors have finished with us. The greatest university of all is a collection of books.

*LBN-A DIFFERENT VIEW:….
LBN E-Lert Edited By Dan Gaylord